Editor's note: This story has been updated.
Read Advisory Board's take: 2 steps to improve some of the "worst" jobs
CareerCast recently released its 2019 Jobs Rated Report, which ranks genetic counselor as the best job in health care and the fifth-best job overall.
Methodology
For the report, CareerCast categorized the critical aspects of each job into four "core criteria," or "general categories that are inherent to every job." Those categories were:
Environment, including both the physical and emotional environment of a job;
Income, including median income and potential for income growth;
Outlook, including the potential for employment growth, the potential for income growth, and unemployment data; and
Stress, including the amount of travel the job demands, deadlines, and competitiveness.
The best (and worst) jobs in health care
Of the 224 jobs ranked by CareerCast, the 10 worst-ranked jobs in health care were:
Emergency medical technician;
Nursing assistant;
Nurse's aide;
Home health aide;
Registered nurse;
Personal care aide;
Surgeon;
Dentist;
Physician assistant; and
Physician.
The worst-ranked job overall was taxi driver.
Meanwhile, the 10 highest ranked jobs in health care were:
Genetic counselor;
Medical services manager;
Speech pathologist;
Dental hygienist;
Audiologist;
Radiation therapist;
Physical therapist;
Optometrist;
Medical records technician; and
Biomedical engineer.
The top-ranked job on the list overall was data scientist (CareerCast 2019 Jobs Rated Report, accessed 5/7; CareerCast 2019 Jobs Rated Report methodology, accessed 5/7).
Advisory Board's take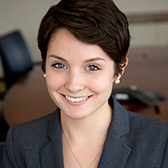 Sarah Evans, Practice Manager, Physician Executive Council
It's undeniable that physicians have faced record levels of stress, burnout, and workflow disruption in recent years. But do physicians (and physician assistants and surgeons) really have some of the "worst jobs" in healthcare? We're not fully convinced—but we do know that many health systems have significant running room to improve physician engagement and address common pain-points of the profession. Here are two main areas health systems can focus on:
Crafting a positive experience the moment providers sign on to the job through robust onboarding. One element of effective onboarding is facilitated face time with executive leaders, as well as networking or mentorship with peer physician colleagues. Helping physicians build these connections on day one means they have a well-established support network from the start and can help them stay more engaged in the future. For more details about what best-in-class physician onboarding looks like, make sure you download our infographic.


Creating ongoing forums where physicians can provide meaningful input on the system's day-to-day and strategic decision-making. Last year, we conducted an analysis on CMO's top opportunities to inflect physician engagement. In this analysis, we looked for drivers that had a statistically significant impact on engagement, did not require outsized investment, and on which organizations nationally had significant room to improve. Of the six drivers that met these criteria, over half of them boil down to physicians seeking more input and partnership with the organization:
The actions of this organization's executive team reflect the goals and priorities of participating clinicians;
I view this organization as a strategic partner in navigating the changing healthcare landscape;
This organization is open and responsive to my input;
I am interested in physician leadership opportunities at this organization.
This organization is well prepared to meet the challenges of the next decade;
This organization recognizes clinicians for excellent work; and
Creating ongoing forums—both to surface common pain-points and collaborate on system-strategy—doesn't require outsized investment. Rather, we've found that organizations can move the dial on engagement by improving day-to-day communications and meeting structure—and by involving physicians early on in new change initiatives. See our recent blog post for just one example of how organizations have achieved this.
Improve Communication Read the Blog
Then, to learn 14 data-driven best practices to engage physicians today, download our new research report, the Data-Driven Road Map for Physician Engagement.
Learn more: The proactive plan to engage newly hired physicians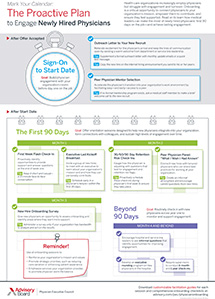 Hospitals increasingly employ physicians but continue to struggle with engagement and turnover. Robust physician onboarding is leaders' critical opportunity to sustain—and build on—new hires' naturally high engagement levels during their first year of tenure.
Download this infographic to learn how to drive engagement across physicians' first 90 days at your organization and beyond.