About three in five pregnancy-related deaths are preventable—a statistic that suggests providers could play a key role in reducing pregnancy-related deaths, according to a CDC report released Tuesday.
Infographic: Take a closer look at women's pregnancy care preferences
Report details
For the report, CDC researchers analyzed U.S. pregnancy-related deaths using 2011-2015 data from the agency's national Pregnancy Mortality Surveillance System. The researchers determined the share of pregnancy-related deaths that were preventable and analyzed the factors contributing to pregnancy-related deaths using 2013-2017 data from 13 state maternal mortality review committees.
Findings
Overall, the researchers found about 700 U.S. women die annually from pregnancy-related complications. The researchers found from 2011 to 2015:
31% of pregnancy-related deaths occurred during pregnancy;
36% of pregnancy-related deaths occurred at or in the week after delivery; and
33% of pregnancy-related deaths occurred one week to one year postpartum.
The researchers found about 60% of pregnancy-related deaths could be prevented.
According to researchers, heart disease and stroke accounted for about one-third of pregnancy-related deaths. The leading causes of pregnancy-related death varied based on the time of death. For example, the researchers found hemorrhaging caused the most pregnancy-related deaths on the day of delivery, with 123 such deaths from 2011 to 2015.
The researchers estimated the overall rate of U.S. pregnancy-related deaths at 17.2 per 100,000 live births from 2011 to 2015. However, the researchers found significant racial and ethnic disparities. For example, black women, American Indian women, and Alaskan Native women were about three times more likely to die from pregnancy-related complications than white women during the period studied. 
The researchers attributed the preventable pregnancy-related deaths to a number of factors, including:
A lack of access to appropriate care;
A lack of knowledge among patients and providers about warning signs of complications; and
Missed and delayed diagnoses.
The researchers recommended states and communities establish policies to ensure that pregnant women with a high risk of complications deliver their babies at hospitals where they can access specialized health care providers and equipment. However, the researchers said no single intervention will be sufficient to reduce pregnancy-related deaths. They recommended a multipronged strategy, including "reviewing and learning from each death, improving women's health, and reducing social inequities across the life span, as well as ensuring quality care for pregnant and postpartum women."
Comments
CDC Director Robert Redfield said, "Ensuring quality care for mothers throughout their pregnancies and postpartum should be among our nation's highest priorities. Though most pregnancies progress safely, I urge the public health community to increase awareness with all expectant and new mothers about the signs of serious pregnancy complications and the need for preventative care that can and does save lives."
Emily Petersen, co-author of the report and medical officer in the CDC's Division of Reproductive Health, said the racial disparities in pregnancy-related deaths are "still being explored, and one emergent theory is the effect of weathering or early aging of the body due to chronic stress related to structural racism or systemic racism and its impact on health." She added, "There's also a growing body of research on the role of structural racism and implicit bias in health care and its impact on patient care and outcomes," noting a number of hospitals have launched training programs to address the issue.
Lisa Hollier, immediate past president for the American College of Obstetricians and Gynecologists, said multiple factors contribute to the racial and ethnic disparities in pregnancy-related deaths, but that the high share of preventable deaths means health care providers can play a role in reducing disparities.
Laura Riley, chair of obstetrics and gynecology at Weill Cornell Medicine and chief obstetrician at New York Presbyterian Hospital, said, "Once you can start to understand the causes of these deaths and the contributing factors, you can start to create meaningful interventions. Preventability is very important and puts the responsibility squarely on providers, public health groups and hospitals" (Ross Johnson, Modern Healthcare, 5/7; Bever, Washington Post, 5/8; Caryn Rabin, New York Times, 5/7; O'Reilly, Axios, 5/7; Borter, Reuters, 5/7).
Take a closer look at women's pregnancy care preferences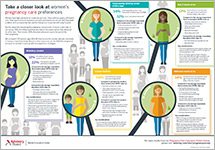 Explore the care preferences of five key pregnancy personas to consider in your growth and experience strategies.