Meghan Markle, the Duchess of Sussex, Monday morning gave birth to a baby boy, and while the duchess initially planned to deliver her baby at home, The Daily Mail reports she was "whisked off" to a hospital in secret.
Infographic: Take a closer look at women's pregnancy care preferences
Meghan's royal birth
Traditionally, members of the royal family give birth at St. Mary's Hospital in London, where Prince Harry, the duchess' husband, his brother, Prince William, and William's three children were born.
However, Harry and Meghan elected to have their baby outside of St. Mary's, at their home, Frogmore Cottage, on the Windsor Estate. The plan was to have an all-female midwife-led delivery.
In the United States, the American College of Obstetrics and Genecology advises against home births. However, the United Kingdom's National Institute for Health and Care Excellence, which sets childbirth guidelines, considers home births appropriate and possibly even beneficial for nearly half of low-risk births. The institute says high-risks births at home are OK if age is the only factor.
Given her age, 37, Meghan's pregnancy was classified as "high risk." Pregnancy is considered high risk when a woman is 35 or older.
While Meghan had planned to deliver at home, The Daily Mail reports that Meghan was instead "whisked off" to a private London hospital where she delivered her newborn son on Monday at 5:26 a.m. local time. The couple on Wednesday announced their son's name, Archie Harrison Mountbatten-Windsor.
The details of what happened are not publicly known, though Meghan was reportedly a week overdue. The duchess stayed overnight before the baby was born, though it's not clear whether she was induced, according to Women's Health.
Meghan isn't the first royal to break with convention with her delivery plans, nor is she the first to have things not go according to plan. Here are a few other cases where the royal birth went differently than usual.
Queen Victoria's chloroform
In the mid-19th century, Queen Victoria's physicians advised against the queen using chloroform as a form of anesthetic during birth. They believed the pain relief would slow the process of labor, and that it was not a theologically acceptable practice.
Nevertheless, Queen Victoria wanted the drug, and in 1853, before the birth of her eighth child, Prince Leopold, Queen Victoria was allowed to inhale chloroform for 53 minutes from a handkerchief. She enjoyed it, calling it "blessed chloroform, soothing, quieting, and delightful beyond measure."
While chloroform was once used as an anesthetic in surgery, doctors stopped using it once they became aware of its harmful effects on the liver and kidneys, according to CDC.
A royal maternal death
Princess Charlotte was the only child of George IV, Prince of Wales. At age 21 in 1817, she went into labor with her first child. During the labor, the chief ministers of the crown were summoned as Princess Charlotte's baby was unusually large.
Sir Richard Croft, the male attendant for Princess Charlotte, decided against using forceps. Princess Charlotte endured 50 hours of labor before giving birth to a nine-pound stillborn son. A few hours later, after complaining of severe abdominal pain, she died of internal bleeding.
Cabinet members in the delivery room
In 1948 when the future Queen Elizabeth II was awaiting the birth of her first child, Charles, her father, King George VI did away with a centuries old custom of having a group of cabinet ministers and, sometimes, the archbishop of Canterbury attend royal births.
The custom reportedly was born in the late 1600s as a way to ensure the royal heir's legitimacy. In 1688, Queen Mary, the second wife of James II, gave birth to a baby boy, which surprised many as it was believed she could not bear healthy children.
As a result, rumors began to circulate that the baby was from another mother and had been smuggled into Mary's delivery room in a birthing pan. For the next 200 years, a group of cabinet ministers and, sometimes, the archbishop of Canterbury attended royal births as a way to ensure their legitimacy.
However, Elizabeth elected against this custom and approved only the presence of the home secretary in her delivery room. But the decision wasn't without controversy, and an envoy from Canada argued that everyone from all six of the United Kingdom's dominions had a right to witness the birth. That proposal wasn't well-received, and the next day, Buckingham Palace announced it would no longer engage in the "archaic custom" (Barry, New York Times, 5/6; Puente, USA Today, 5/7; Miller, Women's Health, 5/7; Nicholl, Vanity Fair, 5/7; English, Daily Mail, 5/19; CDC fact page, accessed 5/8).
Take a closer look at women's pregnancy care preferences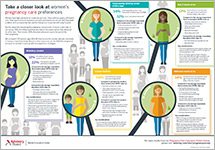 Explore the care preferences of five key pregnancy personas to consider in your growth and experience strategies.