The hospital's score for injuries stemming from sharp objects is less than half the national average score for teaching hospitals, in today's bite-sized hospital and health industry news from California, Michigan, and Pennsylvania. 
California: Stanford Hospital will open a new clinic for victims of sexual assault. The clinic was proposed after local rape crisis centers expressed a need for additional crisis centers in the area. The clinic will provide another place for patients to receive rape kit exams administered by specially trained nurses (Cook, Becker's Hospital Review, 11/5).


Michigan: Kenneth Myers, former CEO of Beaumont Hospital, died last week at age 86. Myers, who was a leader at Beaumont for 30 years, was a member of the hospital's board of trustees and served as chair of the Michigan Hospital Association's board. The obituary described Myers as "a born leader [who] inspired countless people throughout his lifetime" (Frank, Modern Healthcare, 11/6).


Pennsylvania: Our Lady of Lourdes Medical Center is one of five teaching hospitals injury rates stemming from sharp objects that fall below the national average, according to a study by the Association of Occupational Health Professionals in Healthcare. Lourdes had a sharps injury score of 1.3 sharps injuries per 100 full-time staff compared with the national average of 2.7 for all teaching hospitals. Peg Johnson, RN and employee health clinician for the health system, said, "Self-closing safety caps and self-contained withdraw needles have made a big difference," but "the key is training practitioners on how to use [needles] properly" (George, Philadelphia Business Journal, 11/6).
The 4 foundational cracks that are undermining your nurses' resilience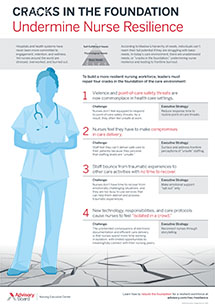 Check out our infographic to learn which four cracks in the care environment leaders must repair to rebuild the foundation for a resilient workforce.