Doctors today have more diagnoses to offer patients than ever before, but in the New York Times' "Well" Dhruv Khullar, a physician at NewYork-Presbyterian Hospital, questions whether this so-called "medicalization" of everyday conditions could lead to harmful treatment plans.
New report: 10 imperatives for primary care today
The rise of medicalization
"There is great power in diagnosis," Khullar writes. For clinicians, a diagnosis can provide professional satisfaction, Khullar writes, noting, "Doctors, through their training and mandate, are motivated to package a constellation of symptoms into something that can be understood, named, and treated."
For patients, Khullar writes, a diagnosis "can be comforting, terrifying, and sometimes, even healing." He cites evidence showing that patients newly diagnosed with fibromyalgia—a condition that went unrecognized until about 30 years ago and for which there remains few treatment options—"may have fewer symptoms, be more satisfied with their health, and possibly incur lower costs."
But as modern medicine recognizes an increasing number of conditions, there's a risk that providers are "medicalizing much of normal human behavior—labeling the healthy as diseased, and exposing them to undue risk of stigma, testing, and treatment," Khullar writes.
"Trouble sleeping is now insomnia," Khullar explains. "Shyness is social phobia. Grief is depression. Infidelity is sex addiction." He adds, "It's not that these diseases don't exist—the spectrum of human behavior is broad, and the extremes do represent real pathology—but we may be drawing lines in the wrong places, with negative health and financial consequences."
That's likely because, diagnoses often lead to some form of treatment, Khullar writes. They also increase the risk of misdiagnosis, which could lead to inappropriate prescriptions.
That could help explain the sharp rise in drug prescriptions for children, Khullar writes. Around 12% of American children now have an ADHD diagnosis, and there was a 40-fold increase in bipolar diagnoses between 1994 and 2003. In part due to the rise in these diagnoses, around 25% of children and teenagers are now regularly taking prescription drugs.
What providers can do to prevent inappropriate medicalization
One way providers can combat inappropriate medicalization is by placing a greater emphasis on nonprescription treatment when appropriate, Khullar writes. For example, lifestyle changes can be just as effective as medications for many conditions.
And after a diagnosis is given, patients and doctors should frequently revisit it to ensure it still applies, Khullar writes. Patients with some conditions, such as asthma or depression, may not meet the criteria for diagnosis when reassessed later.
Providers should also "reconsider where the upper and lower bounds of diagnosis should be," Khullar writes, as many experts now believe that "much of normal human behavior" now classifies as a treatable condition.
"Diagnosis is complicated. It can be a path to acceptance and treatment, or a road to risk and stigma," Khullar writes. "More diagnoses mean more patients can heal but also that more might suffer. Figuring out who will be helped—and who will harmed—might be the most important diagnosis we make" (Khullar, "Well," New York Times, 11/6).
One key to improving your hospital's quality: Identify clinical variation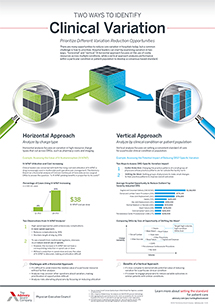 There are many opportunities to reduce care variation in hospitals today—but how should you prioritize those opportunities?
You should start by examining variation in two ways: "horizontal" and "vertical." A horizontal approach focuses on the use of costly resources across multiple conditions, while a vertical approach analyzes performance within a particular condition or patient population to develop a consensus-based standard.
Our infographic gives an example of each approach and explains the challenges of a horizontal approach versus the benefits of a vertical one.