Editor's note: This popular story from the Daily Briefing's archives was republished on Sept. 5, 2019.
When Cincinnati Children's Hospital Medical Center realized that its list of expectations for nurse managers had grown so extensive that success was impossible, the organization revamped the role—and rejuvenated interest in the position, Jennifer Thew reports for HealthLeaders Media.
Your top 3 questions on nurse retention—answered
Detecting a problem
According to Thew, it's become increasingly common for nurse managers to oversee multiple nursing units, which can lead to the manager overseeing a large number of direct reports.
About seven years ago, Cheryl Hoying, SVP of patient services at Cincinnati Children's, noticed how those growing demands were placing unrealistic expectations on nurse managers. "I was seeing all the directors getting out of here at 7 or 8 o'clock at night and not being able to get home in a timely manner," she said. "And we were hiring from the outside for every nurse manager position that came along."
Making change
In response, Hoying made three key changes to redefine nurse management's scope of responsibility to set more reasonable expectations and to make the job more appealing.
  1. Revamp the manager-to-staff ratio
First, Hoying tackled work overload by setting a 1:25 ratio of managers to full-time employees—but this meant creating new nurse manager roles. To make the change, Hoying solicited $1 million from the organization's CEO at the time to establish nurse manager roles to support nursing directors, Thew reports.
According to Thew, the new staff was assigned to units based on overall staffing levels, so that a unit with 75 full-time-employees, for instance, would have a nurse director and two new nurse managers. "I think by that [1:25] ratio, you're able to connect with the staff and provide the mentoring with the staff that's needed," Hoying said.
  2. Allocated management to off-shifts
With more nursing managers on hand, the organization was able to assign some managers to oversee staff working on off-shifts, Thew reports—and that managerial availability helped Cincinnati Children's meet millennial staff's expectations in the workplace. "With millennials especially, when they ask a question, they expect an answer pretty quick," Hoying explained. "By having those managers there, they're able to help problem solve and observe the clinical practice of folks. That was kind of a criticism before. How could you evaluate my practice if you weren't there to observe?"
  3. Establish a manager pipeline
The new configuration helped establish a manager pipeline by giving directors time to coach nurse managers in areas such as budgeting, HR, and overtime variations, Thew reports. "We build in (time) for the director to help mentor and coach the nursing group that's coming up in the ranks," Hoying said.
Along with director-manager mentoring, Cincinnati Children's offered several leadership development programs, such as:
The beside leader program, aimed at nurses who want to improve bedside skills by growing leadership capabilities to improve patient care and outcomes;
The emerging leader program, which seeks to facilitate leadership development succession planning by cultivating a pool of bedside nurses who show clinical excellence and have an interest in professional advancement;
The new manager program, geared toward helping frontline managers build confidence; and
The experienced leaders, which provides experienced leaders with opportunities for in-depth analysis and discussion of the issues they see in their roles.
In addition, Hoying each year sends a nurse manager to the American Organization of Nurse Executives' (AONE) nurse manager fellowship program. "What I want to happen is for them to meet 29 other colleagues from across the country [whom] they can call up and brainstorm with."
Results
Based on feedback from nursing directors and managers, Hoying said the response has been largely positive.
For instance, nursing directors said their workloads had improved and they felt more comfortable delegating to managers rather than feeling they had to resolve issues themselves. Nursing directors also reported more time for strategic planning, networking, process improvement, education, and mentoring. In addition, nurses said they had seen increased managerial coverage in off-shifts, while directors and managers noted they were receiving fewer calls during off-hours.
And applications for manager and director positions have increased, Hoying said. For instance, in 2010, there were a total of 19 applications for manager and director positions in the patient services department; in 2016, there were 240 applications for 31 positions. And because of the mentorship program, "we have been able to fill these open positions internally rather than seeking these candidates from the outside," Hoying said (Thew, HealthLeaders Media, 2/1). 
The four foundational cracks that are undermining your nurses' resilience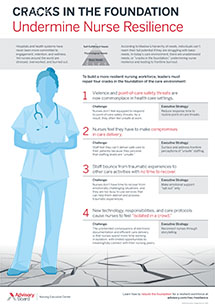 Hospitals and health systems have never been more committed to engagement, retention, and wellness. Yet nurses around the world are stressed, overworked, and burned out.
Check out our infographic to learn which four cracks in the care environment leaders must repair to rebuild the foundation for a resilient workforce.