CMS last week published a notice that ends a 2008 policy requiring teaching physicians to redo any patient medical record notes written by medical school students, Virgil Dickson writes for Modern Healthcare.
Get 4 key strategies to mitigate physician burnout
Background
CMS under former President Barack Obama's administration barred providers from using student notes in patient medical records in response to growing frustration that such notes often lacked basic information, Dickson reports. Under the Obama administration's policy, teaching physicians had to re-write every note their students entered into patients' records.
According to Kelly Caverzagie, an associate professor of internal medicine at University of Nebraska Medical Center, the rule had a discouraging effect on medical education. "Medical students were not allowed to participate in the medical record process at all after that at some institutions, for fear that a physician would end up breaking the rules," he said.
Donald Brady, a professor of medical education and administration at Vanderbilt University Medical Center, said in some cases, if a physician was "pressed for time, [he or she] would choose to do the documentation themselves." As a result, medical students were not taught how to properly document medical records, Dickson reports.
CMS' new policy
CMS' new policy no longer requires teaching physicians to redo notes written by medical students. Instead, physicians need to review and verify that the information entered by medical students is accurate. Doctors have praised the new policy, saying it will allow physicians to spend less time on paperwork.
Chris Ghaemmaghami, CMO of the University of Virginia Medical Center, said, "The improvement lies in the fact that we will reduce the duplication of data entry into electronic health records." He added that the new policy will "allow our physicians to spend more time with the patients and teaching our learners … (which) will actually improve our patients' care and experiences."
Doctors also say the policy will address a cause of physician burnout, as physicians will no longer have to spend hours redoing a student's notes. According to Erica Brownfield, the assistant dean of medical education at Emory University School of Medicine, said, "Physician burnout has increased dramatically since these requirements have been in existence."
Martin Makary, a professor of surgery at Johns Hopkins School of Medicine, said the new policy won't lead to an increase in medical errors, as students' notes will be reviewed by physicians based on their own patient exams. "Doctor[s] use their clinical judgment to determine which information is reliable and which needs to be verified," he said (Dickson, Modern Healthcare, 2/8).
Mitigate physician burnout with these 4 key strategies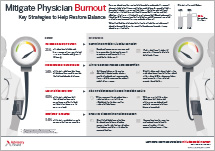 Physician burnout links to a 16% decrease in patient satisfaction, an 11% increase in reported medical errors, increased turnover, and early retirement. Act now to prevent further damage to your business, physicians, and patients.