Editor's note: This popular story from the Daily Briefing's archives was republished on Oct. 18, 2018. This story originally ran Feb. 13, 2018. That's the point of reference for dates and details mentioned in this story. 
With a severe influenza season underway, orange juice sales are seeing an unexpected upturn—but experts caution that vitamin C's cold-and-flu-fighting benefits are overblown.
Traveling this winter? How to avoid the flu when you fly.
Background
CDC on Friday said the number of individuals seeking care in physician offices and EDs for flu symptoms has reached levels not seen since the 2009 swine flu pandemic. "This does not mean we're having a pandemic," CDC Acting Director Anne Schuchat said. "But it is a signal of how very intense the flu season has been. We may be on track to break some recent records."
According to the Washington Post's "To Your Health," pandemics occur when an outbreak of a new disease affects people in a wide geographic area. This year's flu season does not include any new strains of the flu, although the predominate strain this year—H3N2—is particularly severe.
Overall, according to CDC one in every 13 doctor visits last week was for flu symptoms, a rate higher than any other flu season since 2003, when officials altered how they tracked flu activity. Forty-three states in the latest reporting period had high patient traffic for the flu, CDC said, up from 42 states last week. All states except Hawaii and Oregon continue to report widespread levels of the flu.
Hospitalizations also are significantly higher than the level normally seen at this point in the flu season, according to Schuchat, and there are no "signs of hospitalizations leveling off yet." Overall, the latest CDC report shows a hospitalization rate of 59.9 per 100,000 population, up from 51.4 hospitalizations in the previous reporting week.

According to CDC, hospitalizations are unusually high among non-elderly adults. The rate among 50 to 64-year-olds is 63.1 per 100,000 population, according to CDC, though hospitalizations overall are highest among adults ages 65 years and older, at 263.6 per 100,000 population. Overall, 63 children have died from the flu so far this season, CDC said.
Officials continue to urge residents to get a flu vaccine, though Schuchat has acknowledged that the vaccine's effectiveness rate may be as low as 17%. Meanwhile, officials are reporting local shortages of antiviral medication. Typically, flu activity rises and falls at different times in different places, but this year, the flu became widespread in nearly all states at the same time—meaning there are more simultaneous prescriptions for antiviral drugs than usual, according to Schuchat.
Orange juice sales surge
As the hard flu season continues, the Wall Street Journal reports that orange juice sales have seen an unexpected spike, rising 0.9% in the four weeks that ended Jan. 20
The beverage is often touted for its presumed—if unsupported—immune-boosting benefits, but over the past decade orange juice consumption has fallen, as consumers became more wary of the drink's high sugar content, the Journal reports. In addition, environmental factors have led to increases in the price of oranges, making orange juice less cost-competitive when compared with other beverages.
In fact, according to Nielsen, the sales surge this year marks the first year-over-year increase for orange juice in almost five years—though analysts say the trend will not last much longer than the flu season itself. That said, it's not the first time orange juicers have benefited from a rough flu season: Sales of orange juice grew 8% during the 2009 swine flu pandemic, the Journal reports.
The vitamin C myth
Despite orange juice's reputation as an immune-boosting beverage, thanks largely to its high vitamin C content, experts say the juice—and the vitamin—do not hold nearly the cold- and flu-fighting powers people seem to think it has.
According to Vox, the myth of vitamin C's immune-boosting powers can arguably be traced back to scientist Linus Paulin, who in 1970 released a book that advised Americans to consume 3,000 mg of vitamin C daily. However, in a 1971 JAMA review, Franklin Bing called the book "irritating," writing, "Unfortunately, many laymen are going to believe the ideas that the author is selling." And they did, Vox reports. For instance, a 1971 newspaper article noted a surge in sales for vitamin C.
But more recent research suggests Pauling's zeal for vitamin C is largely unfounded. A Cochrane review of 30 studies into vitamin C and the common cold found the vitamin reduced the length of a cold by only 8%—effectively taking about 10 hours off a five-day cold. And no research indicates that the vitamin, or any natural product, can provide a meaningful defense against the flu, according to NIH. According to NIH, the flu vaccine remains the best protection (Wernau, Wall Street Journal, 2/9;  Sun/Bever, "To Your Health," Washington Post, 2/9; Stobbe, AP/Sacramento Bee, 2/9; CDC, "FluView," 2/9; Thielking, Vox, 2/27/15 .
Traveling this winter? How to avoid the flu when you fly.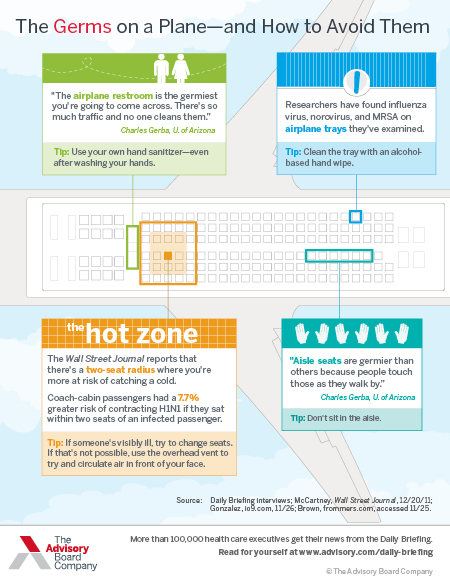 Download this infographic to learn about both the obvious and less obvious locations where germs on planes are rampant.