Biometric technology has improved in recent years and is now used in everything from law enforcement to unlocking your smartphone—and increasingly hospitals are adopting the technology to improve patient identification and reduce harm, Brian Gormley reports for the Wall Street Journal.
Innovation 101: Cheat sheets for today's digital world
The patient identification problem
Patient identification is becoming more and more challenging, Gormley reports. Health systems are merging and opening new outpatient centers that give patients new ways to enter their networks—and have caused patient volumes, and records, to grow. As a result, health systems can into cases where thousands of patients share the same name and birthdate, Gormley reports.
That was the case for "Maria Garcia" at Harris Health System in the Houston area. According to Harris' CIO Tim Tindle, the system has records for 2,833 Maria Garcias—and 528 of them have the same birth date. The system has 138,000 cases where two or more patients share the same birth date and first and last name, according to Tindle.
Situations like this can have serious consequences, such as treatment mix-ups, Gormley writes.
A 2012 survey by the College of Healthcare Information Management Executives revealed that one-fifth of the health care executives surveyed knew of one patient misidentification incident in the last year that led to a patient being harmed.
A better way to identify patients
In lieu of a national patient identification system, hospitals are turning to biometric technology, which uses people's fingerprints, palms, irises, and other physical features for identification. According to Pew Charitable Trusts, hundreds of hospitals currently use the technology, and 40% of providers are projected to employ some form of biometrics identification technology by 2022.
For example, Harris Health System adopted palm-vein scanning in 2011 to prevent clinicians from confusing patients' medical records. The technology has also helped the system identify people who intentionally present the wrong identity in order to obtain drugs, as well as patients who are too injured to identify themselves, according to Tindle.
Other health systems, like NYU Langone, have found biometrics can improve the patient experience. Nader Mherabi—CIO of NYU Langone Health, which uses palm-scanning—said the technology has sped up patient services. After an initial registration, patients can sign in at registrars and kiosks using their palm and date of birth. 
New York-based Northwell Health in September 2018 began implementing facial recognition and iris scanning to avoid patients having to re-enter their information at different Northwell facilities. The 23-hospital system has more than 700 physician offices and urgent care centers, and expects to complete the technology's integration early next year.
Barriers to 'going national'
While more and more hospitals are beginning to warm up to biometric technology, there are a few barriers to widespread adoption, according to Gormley.
For one, some patients are still wary of biometric scanning, which can present a challenge for health systems transitioning to the technology, Gormley reports.
At Harris Health System, patients can receive treatment in the ED regardless of whether they submit to palm-vein scanning, but its clinics can turn away patients who opt out of the screening, according to Tindle.
Northwell has other identification policies in place in case a patient refuses biometric identification, Gormley reports.
But instances in which patients refuse biometric identification are rare, Tindle said. In fact, Mike Hill, assistant VP of information and analytics services at North Carolina-based Atrium Health, said about 4% to 5% of patients opt out of the system's palm-vein scanning technology. Hill said participation is voluntary so patients who opt out are still treated.
According to Mherabi, "[T]he public is much more understanding of what this is," now that biometric technology is being incorporated into smartphones and other forms of security. He added, "It should be the standard."
But, Steve Wretling, chief technology and innovation officer for Healthcare Information and Management Systems Society, said biometrics might not be "foolproof" enough to be used alone—and perhaps not at a national level. "It works a lot better than it used to, with a lot more consistency, but there's always a need for a backup," he said (Gormley, Wall Street Journal, 2/6).
Ready-to-present slides: 2019 Health Care IT Industry Trends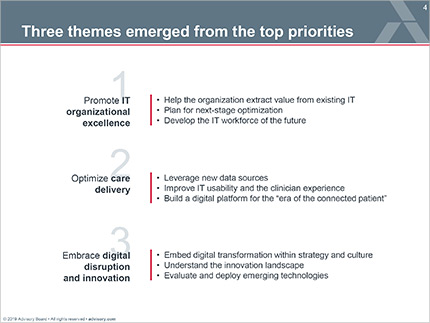 Want the latest information for your next IT strategy meeting? This ready-to-use industry trends deck covers the current state of the health care IT market and addresses how health systems can leverage technology to achieve organizational excellence, optimize care delivery, and embrace digital disruption and innovation.
You can use these slides to frame your next strategy meeting and build a strong foundation for your presentation.