Editor's note: This popular story from the Daily Briefing's archives was republished on Jan. 2, 2020.
Read Advisory Board's take: 4 steps to cut down your program's time-to-treatment
Cleveland Clinic cut the time between a cancer patient's initial diagnosis and first treatment by 33% in the five years after it launched targeted, multidisciplinary programs, Alok Khorana, the vice chair of clinical services for Cleveland Clinic's Taussig Cancer Institute, and Brian Bolwell, chair of the Taussig Cancer Institute, write in NEJM Catalyst.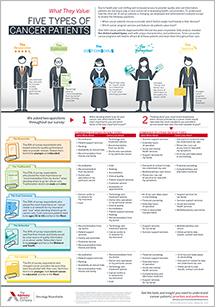 What they value: Get to know the 5 types of cancer patients
According to Khorana and Bolwell, research shows newly diagnosed cancer patients can wait more than six weeks at large academic medical centers to receive their first treatment. That's a problem, Khorana and Bolwell write, because "[d]elays in time-to-treatment have potentially been associated with worsened survival in certain cancers, particularly in early stages," as well as "anxiety and distress" among patients.
Cleveland Clinic launches program to get cancer patients their first treatment sooner
"[T]o address this health care delivery issue," the Cleveland Clinic in 2014 launched a series of programs to "reduce median time-to-treatment from [the clinic's] baseline of 39 days across all cancers to [fewer than] 30 days," Khorana and Bolwell write.
The programs initially focused on high-volume cancers, such as genitourinary and breast cancer. Each program targeted a specific type of cancer and included a multidisciplinary team consisting of two leaders from different specialties—typically medical and surgical oncology—and prioritized collecting metrics on time-to-treatment.
Khorana and his colleagues "found … separately focusing on different disease entities was helpful because barriers to access and coordinated care" differed substantially for different types of cancer. For instance, Khorana and Bolwell note how "a plastic surgeon early in treatment planning was important in localized breast cancer, but not required in rectal cancer, where the focus was on integrating care with the radiation therapy team."
But Khorana and Bolwell also note that "many barriers to reducing time-to-treatment were shared between disease sites." So they developed a reporting structure to allow each program "to learn from one another's successes and failures."
For example, Khorana and Bolwell write that the breast cancer program found communication gaps between surgery schedulers and medical oncology "delay[ed the] initiation of therapy." To fix those gaps, the team "developed a weekly face-to-face huddle between schedulers." The huddle helped reduce delays, and other programs eventually adopted the same approach.
Overall, the groups identified several reasons for delays in treatment, including:
A patient's preference for a specific physician;
A patient's work-related issues or family commitments;
The three to five business days patients wait to receive approval for a scan; and
The three to five business days patients wait to receive approval for a cancer treatment.
Based on their findings, Khorana and Bolwell decided to hire program managers to partner with the leaders of each group to support the separate programs, which reduced the administrative burden placed on physicians. They also found they needed to hire new staff to coordinate patient access and follow-up visits between specialties.
Cleveland Clinic reduces delays in cancer patients' first treatments
Since the programs' launch, the median number of days between a patient's cancer diagnosis and first treatment at Cleveland Clinic has decreased from a baseline rate of:
41 days for externally diagnosed patients in 2014 to 31 days in 2018; and
29 days for internally diagnosed patients in 2014 to 25 days in 2018
The clinic also saw the proportion of patients experiencing delays longer than 45 days across all the clinic's cancer programs fall by 53%, from a baseline rate of 30% to 14%.
Khorana and Bolwell write that the program provided "additional value in the organizational development … as it led to clinical alignment across a complex health care delivery system," as well as "more physician engagement and … more uniform, higher-quality, and cost-effective clinical care."
How other providers can reduce the time it takes for cancer patients to start treatment
Khorana and Bolwell write that cancer centers looking to reduce the time it takes for cancer patients to receive their first treatments must first understand the access points cancer patients use to seek care. After that, centers should:
Establish multidisciplinary teams focused on specific types of cancer that include physicians, nurses, social workers, schedulers, patient advocates, and others who interact with patients receiving care;
Educate providers and others involved in a cancer patient's care about the importance of time-to-treatment, which includes preventing anxiety and distress among cancer patients;
Develop a data infrastructure to maintain metrics that allow "deep dives into specific issues;" and
Use existing committees to report and discuss the data (Khorana/Bolwell, NEJM Catalyst, 2/14).
Advisory Board's take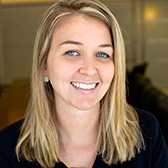 Deirdre Saulet, Practice Manager, Oncology Roundtable
"96% of referring physicians rank appointment timeliness as "extremely important" in their referral decision."
A long turnaround time from suspicious finding to diagnosis to treatment start can have significant clinical implications (like increased patient anxiety and even worse outcomes for certain diagnoses), in addition to important financial implications for providers. Cancer programs with long wait times risk losing referrals—in one survey, 96% of referring physicians rank appointment timeliness as "extremely important" in their referral decision. Not to mention, as patients become increasingly self-directed, they are more likely to spend time Googling other options if they have to wait a long time to speak with or see someone at your organization.
In the past, many cancer programs were able to add staff or expand their facilities to improve access, but tightening margins and workforce shortages make those investments difficult today. To address the underlying barriers to timely care, programs must focus—like Cleveland Clinic did—on making process improvements and redesigning care pathways.
Through our research, we've identified four steps for programs to reduce patient wait times—both for their first appointment and during subsequent appointments:
Programs must carefully evaluate their clinic schedule. To begin, they should pull data from the EHR, the scheduling system, and even real-time location systems to help understand their appointment availability, visit duration, appointment distribution, and schedule feasibility. For instance, at Dana-Farber Cancer Institute, they track three accessibility metrics—next-day, five-day, and 30-day appointment availability—within each disease group. If any one of those metrics falls below established goals, it triggers a schedule reassessment and remediation aimed at resolving the problem.

To get a sense of the metrics you should be tracking, as well as benchmarks for different types of programs, be sure to visit our Scheduling Improvement Toolkit.

Next, they should consider options to optimize and simplify the scheduling process. This may include assessing whether centralized or decentralized scheduling models would work best (use our diagnostic assessment here to help decide); improving scheduling templates to help nonclinical experts perform scheduling and standardize appointment length times; or incorporating data from the EHR and scheduling systems to distribute volumes. For instance, Stanford Health Care partnered with LeanTaas, a health care big data company, to improve their infusion center schedule. They used predictive analytics based on historical EMR data to predict demand and distribute volumes evenly through the day—leading to a 31% reduction in wait times, lower costs, and the ability to accommodate a 21% increase in patient volumes.
To decrease the amount of patient no-shows and to make appointments as efficient as possible, programs should make it standard practice to remind all patients what to bring to their visit, explain what they should expect, and provide them with a list of questions to ask during the visit. Best practice programs go even further by identifying patients that may have barriers to access and helping patients address them proactively. For instance, when Montefiore Medical Center noticed that high patient no-show rates were creating operational inefficiencies, they conducted a retrospective study to determine the patient factors that correlated with being a no-show. They then used these factors to proactively identify high-risk patients and connect volunteers (under the supervision of a social worker) to these high-risk patients to help them identify and address barriers to care.
Depending on patient and referring provider preferences, along with market dynamics, some cancer programs may find it beneficial to offer rapid access appointments. These programs reduce the time-to-first-appointment for new patients, which alleviates patient anxiety and can also differentiate a cancer program from its competitors. However, there are also many limitations to having a new patient seen within 24-48 hours, including provider hesitations and concerns that they'll not have all of the diagnostic and testing information they need to discuss treatment options. Dana-Farber has navigated these tensions by providing new patient coordinators with scripting to offer next-day appointments whenever possible. But the coordinators also explain that the physician will not have the medical records they need to create a care plan. Nurses also call patients before their first appointment to answer any questions and prepare patients for the appointment, with the added benefit of establishing a relationship with the patient before they even walk through the center's door.
Want to know more about how to support newly diagnosed patients? Oncology Roundtable members shouldn't miss our national meeting where we'll discuss newly diagnosed patients' preferences and priorities, along with strategies for you to provide them support when they need it the most.
We've also done much more research on the how cancer programs can improve their appointment timeliness and assembled best practices on how to optimize patient throughput in order to increase capacity and decrease delays in care. To learn more about the tactics we'd suggest, be sure to read our report on offering Timely Care for Oncology Patients.