Read Advisory Board's take: Why providers should carefully evaluate TV ads
U.S. hospitals are increasingly relying on direct-to-consumer television advertisements to attract patients amid growing competition and rising health care costs—but some analysts say the ads could be misleading, Kaiser Health News' Shefali Luthra reports.
How hospitals are advertising to their potential patients
Between 2011 and 2015, hospitals and health care systems increased their advertising spending by 41%, according a report from Advertising Age. By 2015, hospital advertisements represented nearly a quarter of all health care advertisements—and by 2017, U.S. hospitals spent more than $450 million on advertising overall, according to data from Kantar Media.
In most cases, hospital advertisements highlight an institution's specialties, such as its organ transplant or orthopedic surgery program. For example, the University of Pittsburgh Medical Center (UPMC) has been airing a commercial touting UPMC's liver transplant program. The commercial states, "If you're waiting patiently for a liver transplant, it could cost you your life."
Dean Walters, UPMC's chief marketing officer, said the commercial "is truly an awareness educational campaign" intended to make sure the nearly 14,000 patients who need a liver transplant in the United States are aware UPMC is an option.
Other hospital ads take a different tone, KHN reports. For example, Yale New Haven Hospital has a national TV ad featuring a cancer survivor at a bicycle race who tells viewers the hospital "did give me my life back." New York City's Hospital for Special Surgery, an orthopedic hospital, also aired a minute-long ad featuring upbeat music and people of all ages being physically active. The ad states, "How you move is why we're here."
The upsides of direct-to-consumer advertising
According to KHN, direct-to-consumer advertisements can help hospitals build stronger brand recognition and gain a national or international reputation as a prestigious provider in a given specialty or procedure.
Gerard Anderson, a health policy professor at Johns Hopkins who is an expert on health care pricing, said advertisements allow hospitals to suggest their facilities provide better care than competitors. Anderson explained, "You're differentiating yourself from everyone else by saying, 'I can do this very sophisticated thing that no one else can do. Therefore, sign up with me.'"
The advertisements also serve to attract profitable patients to hospitals—which create demand from patients that KHN reports hospitals can leverage during negotiations with insurers. Martin Gaynor, a Carnegie Mellon health care economist, said, "[Insurers] want Hospital A in their network even more, which means Hospital A can extract more from insurers—mainly in the form of higher prices."
Why some analysts are raising red flags about direct-to-consumer ads
But some analysts are concerned hospital advertisements don't offer patients a complete picture of their health care services and argue that the ads should be subject to more stringent regulations.
Yael Schenker, an associate professor of medicine at the University of Pittsburgh, said, "We want to spend our money wisely, and need information about the quality and cost of health care services," but "[h]ealth care advertising—which purports to offer that information and fill that need for consumers—really doesn't."
Schenker also noted that unlike pharmaceutical advertisements, which are regulated by FDA, hospital ads are regulated by the Federal Trade Commission, which oversees advertising for most other consumer goods. Schenker said that oversight means the federal government treats hospital advertisements "the same way we treat ads for cars and cereal."
But unlike choosing a car or cereal, Schenker said, health care choices are more complex. He said, "[I]t's not as easy to figure out if we've made a good choice" when it comes to choosing health care services (Luthra, Kaiser Health News, 11/19; Gooch, Becker's Hospital Review, 11/19; Baker, "Vitals," Axios, 11/20).
Advisory Board's take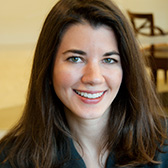 Alicia Daugherty, Managing Director, Service Line Strategy Advisor
While hospitals spending large amounts on TV ads isn't particularly new, the recent spending increase is likely a reflection of several market changes:
More health systems are expanding their geographic reach—many with aspirations of being a destination medicine hub—which requires that they introduce themselves to consumers in new markets;
Consumers are becoming more active in making care decisions, and systems are banking on the fact that the awareness and brand preference that TV ads contribute to are deciding factors for their choice;
Physician networks are increasingly aligned, resulting in less opportunity to drive growth via spending on improving physician relationships—and thus systems are turning to consumer-focused growth instead; and
Increasing ad spend across all industries is making it more expensive for systems to advertise in general.
"Getting an understanding of ROI is essential, as is being deliberate in which patients you're targeting."
Regardless, just because spending is increasing doesn't necessarily mean that I'd advise all providers to follow suit. Rather, I'd encourage leaders to carefully evaluate the actual benefits of these ads—and particularly to measure their effectiveness through consumer choice surveys and brand preference studies. These studies assess the importance of brand in patients' decisions about where to seek care, and the extent to which local customers' perceptions (of the system and its value compared to competitors) changed before and after the ad campaign.
Getting an understanding of ROI is essential, as is being deliberate in which patients you're targeting. For instance, our consumer choice surveys have found that hospital 'brand' is more of a decision factor for older, Medicare age patients than younger, commercially insured patients. And it has a greater influence for certain types of services (like oncology or specialty surgery).
In addition, I would encourage leaders not to overestimate the value of TV ads in provider network negotiations. Rather, as employers seek to manage health benefit spend—and adopt narrow network or center of excellence models—employees' preferences for specific hospitals or health systems are less influential than they used to be. To choose a hospital/health system that's more expensive, employers would need to know that their employees are willing to pay more in monthly premiums or point-of-service cost-sharing, or the job market needs to be sufficiently tight that employers feel the need to compete on benefits.
Want to learn more about what consumers actually want and how to prioritize your consumer marketing? Download our research briefs to learn:
How to create a consumer-focused digital strategy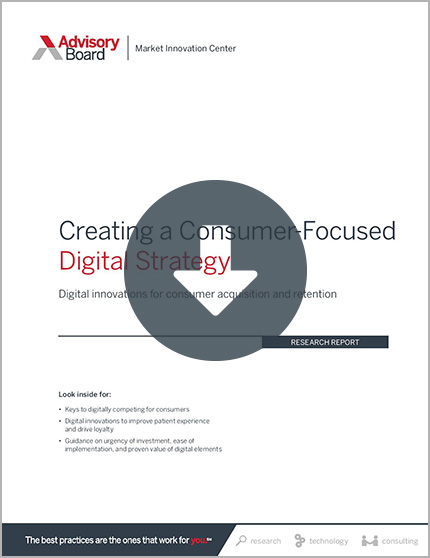 This research report explores how innovative provider organizations have created strong digital strategies by grounding their investment approach in two consumer-centric goals: attracting consumers and retaining them.