The hallmark of Wellstar's lung cancer detection program is their approach to reduce time from screening to treatment. Instead of fitting the patient into the clinician workflow, Wellstar built a workflow around the patient. They call this a synchronous, patient-centric approach internally branded as "STAT Clinics."
To implement this new vision, Wellstar made two operational changes:
1. Centralized all services and clinicians involved in lung cancer detection, staging, and treatment decisions.
2. Established two 7-day cycles with goals and processes for each, holding clinicians to an established timeline.
Program success relies on strong patient navigators to support patients and facilitate clinician decision making.

STAT Clinic Cycles
Navigators initiate both 7-day cycles, which begin with multidisciplinary consensus (MDC) meetings. Throughout these cycles navigators also provide additional administrative support, such as obtaining insurance authorizations.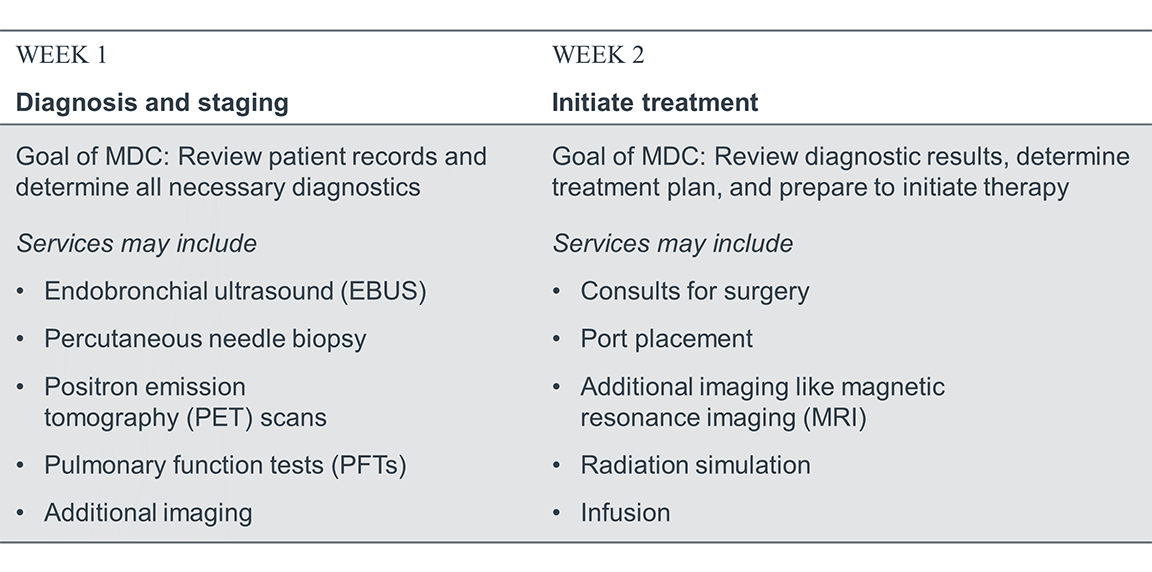 Importantly, multidisciplinary consensus meetings occur while the patient is in the clinic. This allows patients to leave each appointment with results and next-steps in hand.
Wellstar continues to iterate with process improvements that will cut time to diagnosis and move patients to treatment faster. The STAT Clinic approach has allowed Wellstar to improve survival rates, improve patient satisfaction, and reduce unnecessary testing and visits (reducing total cost).