Editor's note: This popular story from the Daily Briefing's archives was republished on Dec. 16, 2019.
When Tami Ochs, a behavioral health nurse at Atlantic Health's Overlook Medical Center, realized she could find a smarter way to make disposable bags used to hold the belongings of ED patients, she came up with a solution that reduces blue sterile wrap waste—and could save her hospital $30,000 annually.
11 cost-cutting strategies to help nurse leaders save millions
A common problem
Patients who present in an emergency situation often arrive without a bag for their belongings, Ochs noted. As such, hospitals typically provide them with a disposable bag.
Meanwhile, sterile blue wrap—packaging material for surgical supplies—makes up a significant portion of a hospital's waste stream, generating roughly 255 million pounds of waste nationwide each year, according to the Environmental Protection Agency.
Hospitals can contract with vendors to do away with the waste, but that can be costly, according to Michael Atanasio, director of food and nutrition, parking and patient transportation at Overlook.
A nurse's solution
For Ochs, the waste problem presented an opportunity for a better approach to the bag dilemma.
"One day, when I was discharging a patient, I (thought), 'Why don't I make bags and replace the single use plastic bags we are currently using?" Ochs said.
So she did.
Today, Ochs makes bags for the hospital out of recycled blue sterile wrap. She does this in her spare time. "I find sewing very relaxing, so I'll sit and sew for a couple hours," Ochs said.
She's also recruited her patients to help out. "They really enjoy it," Ochs said. "We'll spend two hours in [the facility dining room] sometimes, and they'll help me get organized and they have a really good time."
Now, the hospital gives Ochs' bags to patients, and they're available for sale for $2.99 in the hospital gift shop.
The savings
Ochs' solution allows the hospital to repurpose blue sterile wrap that would otherwise be thrown away, and reduces the hospital's reliance on plastic bags for patients' personal belongings. Atanasio estimated the effort saves the hospital about 100,000 plastic bags annually.
On top of that, the bags save Overlook money. Atanasio estimates Overlook "can save up to $30,000 per year with the replacement of the plastic bags."
Right now, Ochs—and her patients—are the only ones working on this project, so Atanasio said Overlook is looking at how to scale up operations. "[R]eally, the next step for us is, looking at the financials, how can we increase this without adding a significant amount of cost" (Khemlani, ROI-NJ, 6/3; Bean, Becker's Hospital Review, 6/3).
11 cost-cutting strategies to help nurse leaders save millions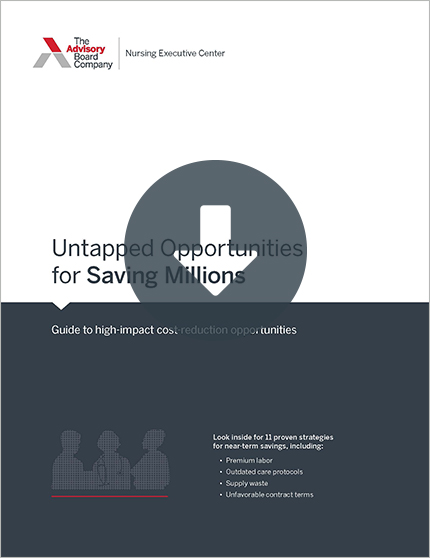 Health care leaders are setting ambitious cost-cutting goals to fund new resources and care delivery investments. To achieve these goals sooner rather than later, they'll need to target areas of expenditure with the biggest near-term savings potential—which aren't those you might expect.
This study equips nurse leaders to act on the four ripest cost-saving opportunities: reducing premium labor, modernizing outdated care protocols, eliminating supply waste, and restructuring unfavorable contract terms.
Then, download our infographics: