A number of well-known hospitals "have entered the lucrative business of stem cells and related therapies" to treat conditions such as joint pain and arthritis—despite a lack of clear evidence the treatments are effective, Liz Szabo reports for Kaiser Health News.
Stem cell therapies—and 7 other innovations that could transform health care
What is 'regenerative medicine'?
The treatments fall under the broader umbrella of "regenerative medicine," Szabo writes, which typically involves injecting a patient with their own stem cells found in fat tissues or bone marrow, or with platelet-rich plasma cells, Szabo writes.
For example, in a video released by Swedish Medical Center advertising its regenerative medicine therapies, Adam Pourcho, a sports medicine specialist, says he used platelet injections to treat his knee pain and to heal a tendon injury in his elbow, saying now the elbow is "completely healed."
Mayo Clinic, meanwhile, focuses its program on specific conditions, such as arthritis, where injections present less risk, even if they aren't the standard of care, according to Shane Shapiro, program director for the Regenerative Medicine Therapeutics Suites at Mayo.
But Shapiro emphasizes the therapies aren't for everyone. "Most of the patients do not get a regenerative [stem cell] procedure," Shapiro said. "They don't get it because after we have a frank conversation, they decide, 'Maybe it's not for me.'"
Shapiro added that doctors try to prescribe regenerative treatments carefully, and will explain the different options a patient has and clear up any misconceptions about regenerative medicine.
Are hospitals getting ahead of the evidence?
Right now, FDA generally doesn't stop doctors from providing treatments such as these. While doctors typically need preapproval to treat patients with human cells, the agency has created a few exceptions so long as doctors meet certain criteria, Barbara Binzak Blumenfeld, an attorney who specializes in food and drug law at Buchanan Ingersoll & Rooney.
But even if the treatments are legal, some experts question whether hospitals should be bringing in money off these procedures, given the limited evidence they actually work.
Freddie Fu, chair of orthopedic surgery at the University of Pittsburgh Medical Center, said, "People will say, 'If you inject [platelet-rich plasma (PRP)], you will return to sports faster' … But that hasn't been proven."
While a 2017 study found that PRP worked slightly better for knee pain than hydraulic acid, James Rickert, president of the Society for Patient Centered Orthopedics, pointed out that the finding doesn't say much, as hydraulic acid itself doesn't actually work. Further, a 2016 review in the Journal of Bone and Joint Surgery concluded that "the value and effective use of cell therapy in orthopaedics remain unclear."
The evidence on bone marrow injections is also questionable, as Shapiro discovered in a study he published last year in Cartilage that found bone marrow injections were no better at relieving pain than saltwater injections.
 But that doesn't mean patients aren't still interested in the procedures. "We have patients in our offices demanding these treatments," Shapiro said. "If they don't get them from us, they will get them somewhere else."
Is more regulation coming?
In November 2017, FDA announced plans to take a "risk-based framework … to focus its enforcement actions against … products that raise potential significant safety concerns," including unapproved regenerative medicine treatments.
It's not yet clear what specifically that will mean for hospitals.
Peter Marks, director of FDA's Center for Biologics Evaluation and Research, said there's a broad "spectrum" of providers, ranging from reputable university scientists to less-reputable doctors promising stem cell treatments "for just about anything."
Hospitals are operating somewhere in the middle of that spectrum, Marks said, adding that "[t]he good news is that they're somewhat closer to the most rigorous academics" (Szabo, Kaiser Health News, 4/2).
Stem cell therapies—and 7 other innovations that could transform health care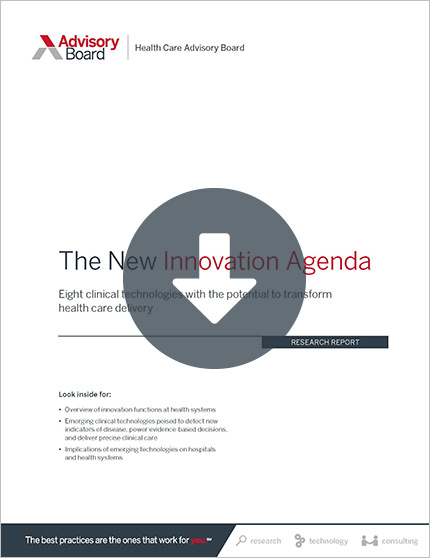 Our new report explores the clinical technology pipeline to help health care leaders become more conversant in the major vectors of innovation, leading applications of new technologies, and the business implications for established providers. Read on to unpack the new innovation agenda.