Sharing a name with an infamous public figure can do "lasting damage" to a person's image, Elizabeth Holmes, a journalist who shares a name with the disgraced Theranos founder, writes in Marie Claire.
Theranos and Elizabeth Holmes charged with 'massive fraud'
Along with sharing her own experience, Holmes interviews other people with infamous name twins to highlight the perils of sharing identity with a notorious celebrity.
Being 'the other' Elizabeth Holmes
First, Holmes wants to get one thing straight: "I have not dropped out of Stanford University, started a secretive and much-hyped blood-testing company, had my net worth estimated at $4.5 billion, or been charged with fraud by the SEC," she says.
"That's the other Elizabeth Holmes," Holmes writes, referring to the founder of the blood testing company Theranos who falsely claimed that the company's finger-prick technology could conduct comprehensive blood tests from just a few drops of blood.
Aside from sharing a first and last name, the only thing Elizabeth Holmes, the journalist, has in common with the former Theranos founder is that "now neither of us are billionaires," she writes. Regardless, sharing a name with the entrepreneur has created problems for the journalist, especially online, Holmes writes.
"Her controversies have ruined my Google results, which I spent more than a decade building and relied on as a writer," Holmes writes. When you search "Elizabeth Holmes," someone can read all about the Theranos founder, but "you have to add a qualifier, like 'journalist,' to find any mention of me or my work," Holmes writes. To add insult to injury, the women have nearly identical middle names. "'Elizabeth Ann Holmes' (me) redirects to 'Elizabeth Anne Holmes;' (her)," Holmes writes.
And there are plenty of other people who share a name with the Theranos founder, Holes writes. "Another Elizabeth Holmes … slid into my Instagram [direct messages] to ask, 'is there a support group," Holmes writes.
The name twin phenomenon
According to Holmes, "the name pool is not quite as vast as you might think." According to the Social Security Administration, Elizabeth was the fourth most popular female name in the United States over the last century, and Holmes is in the top 200 most frequently occurring surnames.
Some names have always been more popular than others, but before the internet, there were smaller odds that people would find their "name twin," as Holmes calls it. And as her experience shows, "name confusion online can be a problem … resulting in misfired emails, inaccurate search results, and social media firestorms," she writes.
Some other name twins
But despite her name twin's scandalous past, Holmes says she's "lucky" compared with other people who share names with celebrities, adding that most people outside the tech or health care industries have never heard of "the other Elizabeth Holmes."
But that's not necessarily the case for author and journalist Stephanie Clifford, who shares a first and last name with the adult film star who goes by Stormy Daniels. Clifford said her phone and social media "exploded" when reports came out last year that Daniels had an alleged affair with President Trump. Clifford writes, "The Instagram and Facebook followers … who think I'm Stormy have been … absurdly nice." She adds that they've been "liking' [her] cat photos" and that "one dude proposed marriage."
But other people have less luck, and have gotten "caught up in [social media] crossfire" just for having a name that is similar to someone else's, Holmes writes.
Mark Zuckerman, a sportswriter, has received "nasty" tweets and messages that were directed at Facebook founder Mark Zuckerberg, according to Holmes. At the time of the Cambridge Analytica scandal, Zuckerman said he received almost 100 messages each day. "His usual response is to laugh and occasionally retweet," Holmes writes. But Zuckerman said his "biggest fear is that [Zuckerberg's] going to end up running for public office," adding "[i]f that ever happens, I'm in serious trouble" (Holmes, Marie Claire, 4/11/18).
Read more about (Theranos founder) Elizabeth Holmes with our spring book list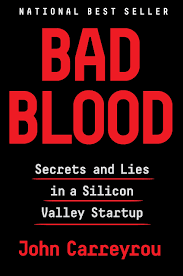 Want to learn more about Elizabeth Holmes and her company, Theranos? Curious how her story relates to Ulysses S. Grant?
Read our expert's 10 recommendations on what you should read now to master leadership, understand loss, and explore contemporary issues within and beyond health care.