Following days of chest pressure and dizziness, Trymaine Lee went to the doctor and after an electrocardiogram was told not to worry, it was likely "just gas"—but less than 48 hours later, he had a so-called "widow maker" heart attack. In a New York Times opinion piece, Lee, an MSNBC correspondent, shares the "trauma" that comes after suffering a heart attack.
Just updated: Download the heart failure benchmarking report
Lee's heart attack
Lee writes that he had been generally healthy throughout his life. He never smoked, he didn't have high cholesterol or high blood pressure, and he had no family history of heart disease or premature death. But at age 38, Lee began to feel some chest pressure that got progressively worse over a few days. So Lee visited a clinic.
A doctor at the clinic performed an EKG and discovered the left side of Lee's heart was slightly enlarged. However, the doctor told Lee that his discomfort likely stemmed from gas. "Your heart's not just going to stop," the doctor told Lee, adding, "You're not going to drop dead tomorrow."
Yet, the next day, Lee writes, "I was, doubled over in bed, nauseated, dizzy and drenched in sweat." Lee later learned he'd had a "widow maker" heart attack, which has gained its name because of how frequently victims of this type of heart attack die. Lee's doctors told him that some plaque had broken off in his left anterior descending artery and formed a blood clot, leaving his artery almost 100% blocked.
Lee didn't arrive at New York University's Langone Hospital until over six hours after he started feeling the most acute pain. According to Lee, an hour is the ideal treatment window for a heart attack patient. If individuals who experience a heart attack aren't properly treated within that hour, their heart muscle starts to die. Individuals who don't receive treatment within six hours of a heart attack face the possibility of irreversible damage, according to Lee.
According to George Fernaine, chief of cardiology at the hospital, Lee likely would have died if he hadn't gotten to the hospital when he did.
Miraculously, Lee suffered only minimal heart damage—enough to tire him out for a few days, but after months of cardiac rehab, the physical damage began to repair. However, "the emotional rehab continues," Lee writes.
The 'trauma' of having a heart attack
Heart-attack survivors all react to the experience differently, Lee writes. "Some will fall into anxiety and depression. ... Others will become hypervigilant, waiting for another heart attack to strike."
Lee found himself in the latter group. "I kept replaying the terrifying moments of my heart attack, trapped in a cycle of fear and resignation—fear of dying and resignation that it was probably going to happen sooner rather than later," Lee writes, adding that, he "now recognize[s] those worries and that constant mulling of death as trauma."
Brad Stolbach, a trauma psychologist at the University of Chicago, said this type of trauma often "lives by itself," explaining that the trauma "doesn't get integrated with the rest of your memory, the rest of your brain, the rest of yourself. Then we go to great lengths to keep it out of awareness." If people are unable to integrate that trauma, it can transform the way they live their lives, Stolbach said. "We function as if we are in there, in that moment, under constant threat, as if it's still happening to us, or we function as if it never happened."
Lee writes that his heart attack has done exactly that—changed his perspective on life. "On nights when I see my wife and daughter together, dancing across our living room floor, Beyoncé on the speaker and my baby leading the choreography, I'm almost brought to tears," he writes. "It's not that every small moment is now overflowing with emotion—I'm just more present while deciding on a board game to play or what takeout to order, less distracted, less focused on what's happening tomorrow, or how dominant I am in a game of Uno."
Lee writes that he's still frightened that he might experience another heart attack, but he's also realized "it's important not to be numb." He notes, "It's important to say: I could have died. I didn't. I have tomorrow, or at least this moment. I want to live" (Lee, New York Times, 1/19).
Your guide to launching a hypertension program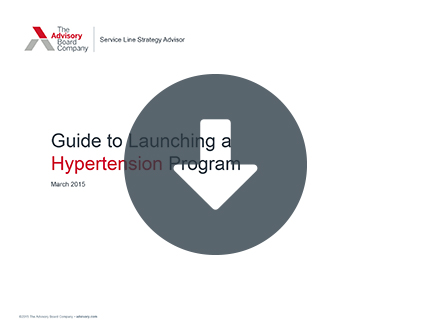 Hypertension affects 67 million American adults, but only 47% have their disease under control. Read this brief to learn how to build a program that offers patients the necessary combination of medication and lifestyle management to fight high blood pressure.