Editor's note: This popular story from the Daily Briefing's archives was republished on Dec. 18, 2019.
When it comes time to write an out-of-office autoreply, most people opt for a few bland, staccato sentences: "I am out of the office for X days and will respond to your message when I return."
But an increasing number of workers are taking this dullest of office communications in radically new directions, Maria Koren writes for The Atlantic.
Is this the most honest out-of-office reply?
Koren began exploring the autoreply genre when she received an especially blunt out-of-office message from Mason Peck, an engineer at Cornell University and a former NASA chief technologist.
The message opened conventionally enough: "I am out of the office and expect to have only infrequent email access." Then, it took a sharp turn: "Email received between [these dates] will be deleted from this server eight hours from now. Please send your message again after [this date]."
At first, Koren was bewildered. Then, her "bewilderment quickly mutated into offense," she writes. "This out-of-office message seemed to flout all the rules of email that we, as an internet-based society, had imposed on ourselves and others—and it was doing so unabashedly!"
After reflecting a little longer, Koren thought, "My reaction doesn't seem ... healthy." So she reached out to Peck to try to understand his autoreply—and her own reaction to it.
Peck told her he'd simply grown tired of dealing with the sheer number of distracting emails that showed up in his inbox while he was away.
"It's a little cynical, I know, but I typically see emails as an uneven balance of trade," Peck said. "Every email I answer, on average, helps other people more than it helps me."
The out-of-office messages you wish you'd written
Other officer workers take a gentler approach to setting expectations about their out-of-office availability.
Michael Merschel, an editor at The Dallas Morning News, left this one: "If you are annoyed with me for leaving the office, I want you to imagine a middle-aged man who fell in love with a beautiful baby girl almost 18 years ago, and now he is driving her to a gigantic college in a distant city filled with all kinds of people who do the things people do at college ... and he has to leave her there. And drive home alone. In the dark. In a minivan. Alone."
The Slate editor Dan Kois, meanwhile, has taken to drafting elaborately poetic autoreplies: "Today I travel, if fortune be fair; I am armed with Virtue; I shall make the Journeye from Tampa to Charlotte and then, anon, to Washington National. Neither Ice nor Wynd shall delay me, and I shall not be waylaid by Ruffians. I may not see your Emaile, however, until Tomorrow."
If you lack poetic skills but still need of your own out-of-office message, don't fret: Technology can help. The travel site Kayak offers an autoreply generator that incorporates your favorite food and beverages, your backup contact, and details of your availability, all with tone settings that vary from "keep it professional" to "6 shots in at the office party."
Or you could always take after the writer Daniel Mallory Ortberg, who once left an autoreply that read, "I am currently on vacation and not accepting any emails about anything. I'm not planning on reading any old emails when I get back, either, because that feels antithetical to the vacation experience."
The message's subject line: "Nope" (Koren, The Atlantic, 6/11; Bould, New York Times, 8/27/15).
Next, learn how to be a better manager—by becoming an inbox ninja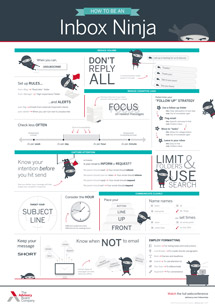 So, what does it take to be an inbox ninja? Check out our infographic to get best practices for email-specific writing and email management. You'll also find tips for email formatting, scripting, and structure, plus approaches to collaboration and decision-making over email.