It's not uncommon for cancer patients to turn to aromatherapy or other forms of alternative medicine to lessen the side effects of standard evidence-based treatments—but for the small subset of patients who choose those unproven therapies over standard care, the outcomes can be deadly, according to a recent study in Journal of the National Cancer Institute.
It's time for docs to learn more about acupuncture, chiropractic care, FDA says
Study details
For the study, researchers at Yale School of Medicine examined the effects of alternative medicine treatments on 281 patients with potentially curable cancers that had not spread. The researchers defined alternative medicine as "an unproven therapy that was given in place of conventional treatment."
The researchers focused on patients with nonmetastatic breast, colorectal, lung, and prostate cancer who chose to use unproven alternative medicine rather than standard evidence-based cancer treatment.
The risk of death rises
Overall, the researchers found patients who used alternative medicine in place of standard evidence-based medicine had a death rate 2.5 times higher than patients who received standard evidenced-based therapies.
Women with nonmetastatic breast cancer who received alternative medicine had about a six-fold increase of death during a median follow-up period of five and half years, compared with women who received standard evidence-based treatments. The researchers also found when patients with colon or rectal cancer chose alternative treatments, their death rate was 4.5 times higher than those receiving standard treatments. For patients with lung cancer who chose alternative medicine, the death rate was twice as high as the death rate of lung cancer patients who chose to receive standard medical treatments.
The one exception the researchers found was men with prostate cancer: The researchers saw no difference in mortality rates between patients who chose to receive alternative medicine and those who chose standard treatments during the median follow-up period. The researchers said the finding likely reflects prostate cancer's slow progression.
What the findings mean for providers
Skyler Johnson, a therapeutic radiologist who led the study, said it is important for providers to understand the study focused on patients who chose to forgo standard treatments in favor of alternative medicine. According to the Times, that populations consists of "a small but significant number of cancer patients" who may want tofeel empowered to make their own treatment decisions and avoid toxic side effects of standard care.
But the research suggests these patients may be placing themselves at an increased risk, by delaying proven care and allowing their cancers to grow and spread throughout the body, the Times reports. A better solution, the Times notes, is for patients to use alternative medicine as a complement to standard medical treatments, as opposed to a replacement. This form of medicine, also known as "integrative medicine" combines a medically proven treatment with one or more alternative medicines to reduce the side effects of standard treatments and improve well-being.
10 alternative cancer treatments and how they can be used safely
Mayo Clinic compiled a list of 10 alternative cancer treatments patients can consider as a complement to their standard treatment. The list includes:
Acupuncture to address nausea and pain;
Aromatherapy to address nausea, pain, and stress—but Mayo warns patients should not use large portions of lavender and tea tree oil on their skin;
Exercise to address stress and fatigue;
Hypnosis to address pain and stress;
Massages to address pain, anxiety, fatigue, and stress—but Mayo warns it might be unsafe for patients with low blood counts;
Meditation to address anxiety and stress;
Music therapy to address pain, nausea, and vomiting;
Relaxation techniques such as muscle relaxation to address anxiety, fatigue, and issues with sleep;
Tai Chi to address stress and build strength and balance; and
Yoga to address stress, fatigue, and issues with sleep.
But the American Cancer Society (ACS) has cautioned that even these alternative treatments need to be chosen carefully to not interfere with standard medical treatments. ACS in an advisory to patients wrote, "[M]any doctors may not know about the use, risks, and potential benefits of these unconventional treatments," but patients should let their doctors know when they are using unconventional treatments "to make sure it won't interfere with" standard treatments.  (Brody, New York Times, 10/1).
Next, see the latest clinical innovations in oncology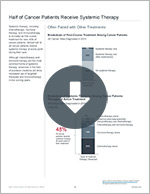 Find our take on the latest innovations in oncology and practices for maximizing a return on investment in our four research briefings.