In the aftermath of Hurricane Michael, hospitals across the Florida Panhandle are reporting significant structural and water damage from the storm, prompting a new wave of patient evacuations and leaving one state psychiatric hospital "entirely cut off" from ground transport.
Advisory Board's take: 5 ways to prepare for the health impacts of a disaster
Hurricane Michael made landfall Wednesday afternoon in Mexico Beach, Florida, as a Category 4 storm with maximum winds of 155 miles per hour. The hurricane carved a destructive path up the Florida Panhandle and entered Georgia as a Category 3 storm. According to CNN, at least 11 people, including five in Virginia and four in Florida, have died from the storm, and officials expect that number to rise.
'I lived through [Hurricane] Katrina ... the wind damage here was far worse'
Officials at the two largest hospitals in Panama City―Bay Medical Sacred Heart and Gulf Coast Regional Medical Center―on Thursday said the facilities had sustained significant damage from the hurricane and that they would be evacuating patients. Both hospitals plan to keep their EDs open and accepting patients.
Gulf Coast Regional Medical Center said it had suspended all non-ED services and was evacuating about 130 patients to sister hospitals in response to "the infrastructure challenges in our community." The hospital in a statement said, "Until we can be certain of stable public power, water, and sewage systems, our patients will be safest in our neighboring hospitals."
At Bay Medical Sacred Heart, hospital staff at 4 a.m. Thursday began transferring about 200 patients, including 39 in intensive care, to hospitals in Pensacola and Jacksonville, as well as in Mobile, Alabama. The first evacuees left by ground ambulance, and a helicopter arrived at 7:24 a.m. CT to pick up another patient, according to Martha Crombie, VP of marketing and planning at Ardent Health Services, Bay Medical's parent company. Hospital officials estimated the entire process would take up to 48 hours.
The hospital—which ABC News reports had taken in families and pets of hospital staff, first responders, as well as some area residents ahead of the storm—suffered significant structural and water damage during the storm. Officials reported blown-out windows, a crack in an exterior wall, and a roof collapse in a maintenance building that houses long-term care supplies.
In a statement the hospital said, "Hurricane Michael also caused substantial broken glass, cooling and plumbing issues, and loss of information systems."
Sam Patel, a cardiologist at the hospital said, "I lived through [Hurricane] Katrina in New Orleans before coming here, and the wind damage here was far worse in my experience."
At one point, according to Doug Scott, Bay Medical's emergency medical director, the storm blew down the outside ED doors, creating a wind tunnel in the ED. "We had to block off doors with stretchers and bolts and everything to be able to shut down the wind tunnel that was coming through the hospital like a freight train," he said.
Brian Roake, who leads Bay Medical's anesthesiology department, said hospital staff also scrambled to move around 40 patients—including critically ill septic patients, post-heart surgery patients, and respiratory failure patients on ventilators—after outer window panes in the hospital's intensive care unit began to blow out. According to Roake, staff members and nurses carried some patients down stairways because they feared the elevators could be unsafe.
A spokesperson from Florida Department of Children and Families said damage from the storm left Florida State Hospital in Chattahoochee, the state's largest psychiatric hospital, "entirely cut off." The spokesperson said many of the roads surrounding the facility have been blocked, and the hospital lost use of landlines, cellphones, and water.
The hospital, which has nearly 1,000 residents and more than 300 staff, has been relying on emergency generators, and staff are using emergency radios to stay in contact with first responders. A helicopter on Thursday delivered water and food to the facility, and about 50 staff from two other state mental health facilities are being brought in to help. Monica Corbett, a spokesperson for the Florida Hospital Association, on Thursday said the hospital did not have plans to evacuate.
Meanwhile, HHS on Thursday declared a public health emergency in Georgia, which gives Medicaid and Medicare providers greater flexibility to meet the medical needs of Medicaid and Medicare beneficiaries.
Georgia Gov. Nathan Deal (R) said 35 hospitals or nursing homes in the state lacked power and were operating on generators.
Federal health officials, hospitals aid in recovery
According to the New York Times, federal health officials plan to deploy about 400 medical and public health responders into affected areas. The responders will include six disaster teams that can set up outdoor medical operations.
Some federal medical personnel were being sent to assist search-and-rescue teams with patient triage. University of Florida Health Shands Hospital dispatched ambulances and four helicopters to support rescue efforts, while Ardent Health Services in Nashville on Thursday morning flew staff to Panama City to deliver 1,000 ready-to-eat meals to Bay Medical (Fausset et al., New York Times, 10/11; Diamond, "Pulse," Politico, 10/12; AP/Modern Healthcare, 10/11; Francis/Strauss, ABC News, 10/11; Chavez/Hanna, CNN, 10/12).
From hurricanes to shootings: How can hospitals prepare for disasters?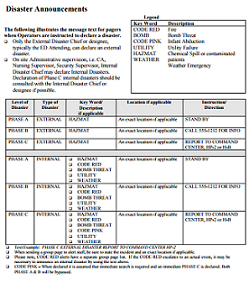 Hospitals must be prepared for myriad disasters that can stress health care systems to the breaking point and disrupt delivery of vital health care services.
Advisory Board has compiled step-by-step procedures for various threats your facility may encounter—though we hope you'll never need to use them.