CVS was all over the news this week as its planned $69 billion merger with Aetna cleared regulatory hurdles—but somehow, most outlets failed to address the mystery that has confounded CVS shoppers for years: Why are the store's receipts so darn long?
CVS-Aetna $69B merger: What are the implications of this deal?
Rachel Sugar with Vox's "The Goods" dug in, and here's the long and the short of it: CVS receipts are so lengthy because they're much more than a proof of purchase—they're also a key part of the company's broader branding and loyalty strategy.
Just how long are CVS receipts? (Very, very long.)
It's tough to say who holds the record for receiving the world's longest CVS receipt, but the internet for years has curated stories of innocent shoppers who dropped by the drugstore for a modest purchase and walked away with comically long receipts.
One man who was ill with a cold, for instance, visited CVS to buy ibuprofen, cough drops, and NyQuil. He reportedly walked away with a nearly 6-foot-long receipt.
Another shopper tweeted a photo of her receipt after she purchased a single item at the drugstore:
So why does this happen—and how can you avoid it?
The fundamental reason why CVS receipts are so long, Sugar reports, is that they include numerous targeted coupons and messages from the company's ExtraCare loyalty program.
Of course, many drugstores offer loyalty programs—but for CVS, the super-lengthy receipts are the keystone of a broader marketing strategy. Rob Price, the company's former chief marketing officer, in 2013 told the Boston Globe that the receipts allowed the company to build a personal connection with shoppers. Further, he said, even lengthy receipts still use less paper than traditional direct-mail marketing campaigns.
Because the lengthy receipts are so tightly tied to CVS's loyalty program, there's a simple way to get a shorter receipt: Just decline to scan your ExtraCare card at checkout. When Sugar tested that method by purchasing a single item at CVS without scanning her card, her receipt was only 10.5 inches long—compared to more than 4 feet when she used her ExtraCare card.
Of course, ditching your loyalty card has a downside: You won't receive any discounts or deals associated with the ExtraCare program.
But if you're committed both to saving paper and to receiving loyalty rewards, CVS has an option for you, too. As of 2016, the chain offers digital receipts—but only if you ask a cashier to enroll you at checkout.
The digital option has saved the company "more than 3 billion inches of paper," according to a CVS spokesperson.
Are shorter receipts for everyone on the horizon?
After mounting complaints, CVS in 2013 announced a decision to reduce the length of all receipts by 25%, according to Sugar. Immediately after the change, "redemption rates reached all-time highs," a spokesperson for CVS said.
Further, a spokesperson for CVS said that the company has "taken a number of steps over the past several years to redesign elements of our receipts and the ExtraBucks Rewards that print on them to make sure we're making them shorter where we can" (Sugar, "The Goods," Vox, 10/10; Luna, Boston Globe, 8/31/2013).
Next, learn how mega-mergers could impact your organization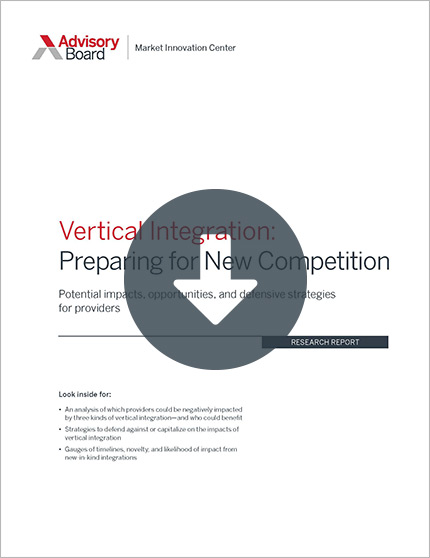 Health care mergers and acquisitions are hardly new, but many recent transactions involve vertical integration: new-in-kind combinations of major players resulting in unprecedented scale and scope.
Use this research report to plan for integrators' possible moves, forecast potential effects on your organization, and create a plan to defend against or capitalize on the changes.