States that have deeply integrated midwives into their health care systems are associated with better outcomes for mothers and infants, according to a new study published in PLOS One.
Just updated: Get our women's services clinical technology compendium
Background
Midwives are commonly integrated into maternal care in many developed nations, including Great Britain, France, and Norway. But in the United States, midwives in many states face both cultural and regulatory barriers to providing care. According to ProPublica, midwives attend about 10% of U.S. births, and the extent to which they can participate in a patient's care varies among each state.
But a new study suggests that removing those barriers and empowering midwives might improve U.S. maternal and infant mortality rates, while helping to address a shortage of OB-GYNs that affects nearly half of U.S. counties, particularly those in rural areas, ProPublica reports.
Study details
For the study, researchers from the United States and Canada analyzed laws and regulations related to midwives in all 50 states and the District of Columbia and compared the requirements with state data on nine maternal and infant health indicators, including rates of breastfeeding, cesarean sections, neonatal deaths, and premature births. According to ProPublica, the researchers did not include rates of maternal deaths and severe complications because those data were unreliable.
Findings
The researchers found a correlation between states that have integrated midwives into their health care systems and positive outcomes for mothers and infants, as well as improved access to care across birth settings.
For instance, the researchers found states with less restrictive midwife laws—including Washington, New Mexico, and Oregon—had some of most positive outcomes for mothers and infants. In contrast, states with more restrictive laws—such as Alabama, Ohio, and Mississippi—generally had poorer outcomes for maternal and infant health.
The researchers found the correlations held even after controlling for the proportion of African American births in each state. According to ProPublica, many states with lower health outcomes and more restrictive midwife laws also have large black populations, suggesting that empowering midwives in those states could reduce racial disparities in maternity care.
The study found Washington, which has some of the least restrictive laws and regulations related to midwives, scored the highest on integrating midwives into its health care system.  For instance, midwives in Washington can be licensed without a nursing degree and often work closely with OB-GYNs, enabling midwives to easily transfer care to hospitals when pregnancy-related risks emerge. Midwives also sit on the state's perinatal advisory committee, are actively involved in state health policy discussions, and are eligible for Medicaid reimbursements for home births.
In comparison, in North Carolina—which scored lower than Washington on outcomes, such as low-birthweight and mortality rates for infants—midwives are required to be registered nurses and must have a physician sign off on their license application. Suzanne Wertman, president of the American College of Nurse-Midwives North Carolina affiliate, said the requirement for a doctor's signature has prevented midwives from working in 31 counties that lack an obstetrical care provider.
Saraswathi Vedam, the lead study author, who is an associate professor of midwifery who heads the Birth Place Lab at the University of British Columbia, said, "In communities that are most at risk for adverse outcomes, increased access to midwives who can work as part of the health care system may improve both outcomes and the mothers' experience."
Comments
Timothy Fisher, a study author who teaches OB-GYN at Dartmouth University and is the medical director of the Northern New England Perinatal Quality Improvement Network, explained, "What we found is that where [midwifery] is well-integrated, the outcomes for mother and baby tend to be better."
Neel Shah, an assistant professor at Harvard Medical School, called the study "a remarkable paper—novel, ambitious, and provocative." He added, "Growing our workforce, including both midwives and obstetricians, and then ensuring we have a regulatory environment that facilitates integrated, team-based care are key parts of" solving the provider shortage (Martin, ProPublica, 2/22; DanDurant, Fosters, 3/8).
Create your women's health strategic plan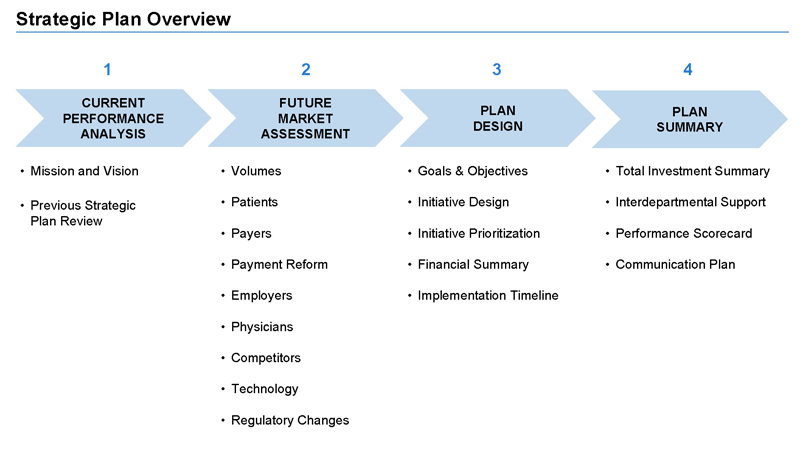 Ready to create a goal-oriented, actionable, and presentation ready plan? This women's health-specific tool provides guidance on the four steps of the strategic planning process.
Follow the step-by-step instructions to develop a women's health plan that you can update across time to reflect your institution's changing priorities.