UnitedHealthcare this month announced that beginning in 2019, it would pass along the "overwhelming majority" of the rebates it gets from drugmakers to beneficiaries who take the rebated medications. 
How pharmacy can help reduce employee benefit costs
The Daily Briefing is published by Advisory Board Research, a division of Optum, which is a wholly owned subsidiary of UnitedHealth Group. UnitedHealth Group separately owns UnitedHealthcare.
About drug rebates
According to the Wall Street Journal, drugmakers regularly issue rebates to insurers and pharmacy benefit managers (PBMs) on brand-name drugs to offset the drugs' full list price. Rebates can vary substantially depending on the type of drug, with certain medications—such as Humira and Enbrel, which both treat rheumatoid arthritis—garnering significant discounts, and other medications—including some to treat rare diseases that have little competition—receiving few or no rebates, the New York Times reports.
Insurers and PBMs have traditionally used the rebates to curb costs and lower premiums for all customers, the Journal reports. However, amid increasing pressure to reduce drug prices and boost transparency, critics—including some drug manufacturers—say more of the rebate savings should go directly to the consumers who take a rebated medication.
According to the Times, the Trump administration recently said it was considering requiring private drug plans offered through Medicare to pass on rebate savings to consumers of the specific medications involved. However, many insurers, including UnitedHealthcare opposed the idea, saying it would cause premiums to rise.
UnitedHealthcare's plan
UnitedHealthcare said beginning in 2019 it will pass along most of the drug rebate savings to members who take the relevant medications within UnitedHealth's fully insured employer plans—making it the first insurer to enact such a policy, according to UnitedHealthcare President Dan Schumacher.
Under the policy, rebates will be applied to the pre-deductible out-of-pocket costs and coinsurance payments for patients who take the rebated drugs. Consumers who currently pay a flat copayment will maintain that amount unless the post-rebate cost is lower, in which case the consumer will pay the lower cost.
According to Schumacher, "The benefit could range from a few dollars to hundreds of dollars to over a thousand." He added, "We see it, for those most directly affected, as an opportunity as an opportunity to provide greater benefit and lower costs."

Overall, the policy will affect about 7.5 million policyholders. According to Schumacher, because of the way UnitedHealthcare structures its employer products—as opposed to its Medicare plans—the effect of the policy on overall premiums will be negligible.

The new policy will not affect the approximately 18.6 million consumers participating in UnitedHealthcare's "self-insured" plans, in which the employer is the payer, the Journal reports. Schumacher said employers that opt to self-insure already have the option to pass along rebate savings to consumers of rebated drugs—but while there's been "some customer interest," it hasn't taken off. "It's in the early innings," Schumacher said.
Other insurers, meanwhile, assert that they pass along the savings from rebates to consumers in other ways. Anthem said, "Rebates are used in helping to make premiums and copays more affordable," and Aetna said, "The majority of rebates we receive go toward lowering premiums and fees for members," according to the Wall Street Journal (Abelson, New York Times, 3/6; Wilde Mathews/Walker, Wall Street Journal, 3/6).
Next: How pharmacy can help reduce employee benefit costs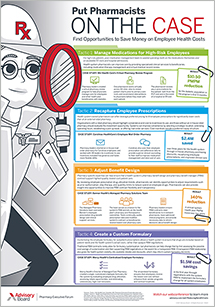 Learn four pharmacy-led tactics to improve employee medication management and support HR leaders in reducing employee benefit costs.