In the past 35 years, hospitalizations have declined by more than 10% as more patients migrate to urgent-care centers, physicians' offices, and at-home care—and the disappearance of hospitals is "inevitable and good," Ezekiel Emanuel writes in a provocative op-ed for the New York Times.
Here are 5 characteristics of the most successful M&A deals
Emanuel, a prominent physician and vice provost at the University of Pennsylvania, writes that U.S. hospitalizations reached their peak more than 35 years ago, in 1981. There are now fewer hospitalizations than in 1946.
Due to this decline, the number of hospitals has fallen as well, from 6,933 in 1981 to 5,534 this year.
Why hospitals are disappearing
One reason hospitals are disappearing, according to Emanuel, is that patients increasingly view hospitals as potentially dangerous places to be—"less therapeutic," he writes, "and more life-threatening."
In 2002, there were 1.7 million cases of hospital-acquired infections, resulting in nearly 100,000 deaths, according to CDC research. Plus, hospitalizations create risks of medical errors and falls—and constant interruptions in the middle of the night "are not conducive to recovery," Emanuel writes.
Further, providers increasingly can provide complex care outside of the hospital, Emanuel writes. For example, anti-nausea medications and new forms of treatment mean that many cancer patients no longer have to receive their chemotherapy at hospitals. Similarly, hip and knee replacements are often performed at ambulatory surgical centers rather than at the hospital. Births frequently happen either at home or at birthing centers.
These trends will continue, Emanuel contends, and as they do, more hospitals will downsize, merge, close, or turn into doctors' offices or outpatient clinics. The hospitals that remain, he writes, will focus on their ED, complex procedures like organ transplantation or brain surgery, and similarly urgent and high-complexity services.
Emanuel's provocative argument about how hospitals will respond
Emanuel writes that, while he believes the shift away from hospitals will benefit patients, special interest groups within the hospital business may find it threatening. As such, he argues that hospitals are likely to lobby for higher payments from the government and insurers "to retain the 'good' jobs hospitals offer."
But Emanuel argues that "the shift of medical services out of hospitals will create other good jobs—for home nurses, community health care workers and staff at outpatient centers."
Further, revenue pressures will lead even more hospitals to consolidate and merge into massive health systems. Emanuel writes that the hospitals will claim that these mergers will create cost savings for the consumer, but he argues that these "mergers create local monopolies that raise prices to counter the decreased revenue from fewer occupied beds." Federal antitrust regulators, he argues, should oppose these mergers.
"Instead of trying to forestall the inevitable, we should welcome the advances that are making hospitals less important," Emanuel writes. "Any change in the health care system that saves money and makes patients healthier deserves to be celebrated" (Emanuel, New York Times, 2/25).
There's more than just M&A. Get the cheat sheet for hospital partnership and affiliation models.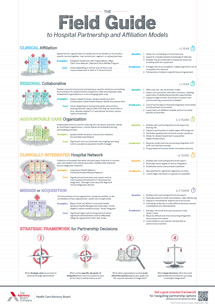 Behind the flurry of M&A in recent years, a deeper trend of hospital integration is underway: the emergence of alternative partnerships that secure many of the same benefits of M&A without the financial and legal commitment: Clinical affiliation, regional collaborative, accountable care organization, and clinically integrated network.
This guide defines these types of partnerships and offers benefits, drawbacks, and examples of organizations in each.