Ride-sharing company Uber on Thursday announced the launch of Uber Health, a platform that health care providers can use to book rides for their patients.
Mar. 7 webconference: Learn the key health care trends to watch for in 2018
In announcing the platform, Uber cited studies showing missed appointments cost the health care system $150 billion annually and that 3.6 million patients miss or postpone appointments because of transportation barriers. Chris Weber, the general manager of Uber Health, said, "Transportation barriers are the greatest for vulnerable population."
What Uber's doing
Hospitals and doctors' offices will able to use the Uber Health dashboard to call an Uber to take a patient home from the office or hospital as well as to bring patients from their home to the provider. Providers can schedule the ride up to 30 days ahead of when it's needed, and they are able to track the trip status in real time to see when patients were picked up and when they're anticipated to arrive.
According to Uber, patients do not need to have the Uber app or a smartphone to use the service. Patients will receive ride information via SMS text message when their ride arrives, and Uber intends to introduce an option for passengers to select a landline call reminder if they prefer. For patients getting a ride home from their doctor visit, the dashboard allows providers to print a sheet on which providers can write down the Uber's license plate number and circle the car color.
A beta group of about 100 hospitals and doctors' offices have tested the platform since July. The service will be deployed to health care organizations gradually, NPR reports.
One early tester—Pro Staff Physical Therapy, which has several offices in New Jersey—started using Uber Health in summer 2017. Many of the patients have several appointments a week and might not be able to drive because of their injuries. Carlos Ospina, the chief clinical officer at Pro Staff, said the office pays for patients' Uber rides, which cost less than cabs. He said that while older, less tech-savvy patients had some initial reservations about the service, they became more comfortable over time and with explanations from staff.
Jay Holley, the head of partnerships at Uber Health, said many hospitals are paying for the rides themselves, saying it's less costly than missed appointments. He said he's not aware of a payer that's currently reimbursing for Uber rides. According to The Atlantic, Uber did not provide an average price for Uber Health rides.
Liability, privacy questions
Weber said providers will use their discretion to decide whether it's appropriate to have a patient take an Uber and that the service won't be used for patients with urgent medical needs. "It's not a replacement to ambulances," he said but rather a means to help patients access non-urgent services and reduce missed appointments. Holley added that if something happens to the patient during the Uber ride, the Uber driver should call 911.
According to Holley, the platform is HIPAA compliant. Drivers will not know which riders are using the Uber Health platform, and drivers will not have a choice in whether to opt into Uber Health. Just as the case in a conventional Uber ride, drivers will only know a passenger's name, pickup location, and drop-off address
Separately, Arun Sundararajan, a business professor at New York University and the author of "The Sharing Economy," said while Uber's entry into health care, which comprises one-sixth of the economy, is good for the ride-share company, liability might present a challenge for the service. "The burden on the platform and the health care provider to ensure against something going wrong with the patient is a lot higher than if the patient is calling the car themselves," Sundararajan said. "The fact that they are only launching this service now and not in the past is because it's likely taken a while to work out the details" (Khazan, The Atlantic, 3/1; Sullivan, "Shots," NPR, 3/1).
What your patients expect from their care—from millennials to the silent generation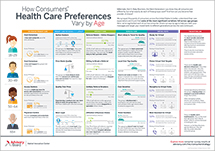 Millennials, Gen X, Baby Boomers, the Silent Generation—what exactly do each of these groups want from their health care?
We surveyed thousands of consumers across the United States to find out. Download this infographic to learn how to tailor your messages and target your investments to each generation.