New nurses in the state now must obtain a bachelor's degree within 10 years of first becoming licensed, in today's bite-sized hospital and health industry news from New Jersey, New York, and Texas.
New Jersey: Hackensack Meridian Health and JFK Health on Wednesday announced they have finalized plans to merge. The combined system will encompass 16 hospitals and an ambulatory network of 160 facilities. According to officials from both health systems, the combined organization has little overlap in geography and services and the merger could expand its neurological and cancer service lines (Kacik, Modern Healthcare, 1/3).


New York: New nurses in the state will be required to obtain a bachelor's degree or higher within 10 years of first becoming licensed, under a new state law. New York is the first state to pass such a law. The requirement will be effective in 30 months, though the law takes effect immediately. According to research, a 10% increase in nurses with a BSN degree correlates with a 5% decline in risk-adjusted mortality (Thew, HealthLeaders Media, 1/2).


Texas: Hendrick Medical Center in Abilene treated more than 200 patients for influenza last week. Flu activity increased about a month ahead of when it usually does at the hospital, according to Beth Lantrip, infection preventionist at Hendrick Medical Center. Lantrip called for residents to get a flu shot, saying, "It's not just about you, it's about our entire community" (Zimmerman, Becker's Clinical Leadership & Infection Control, 1/3).
Millennial nurses are a third of the workforce—here's how to retain them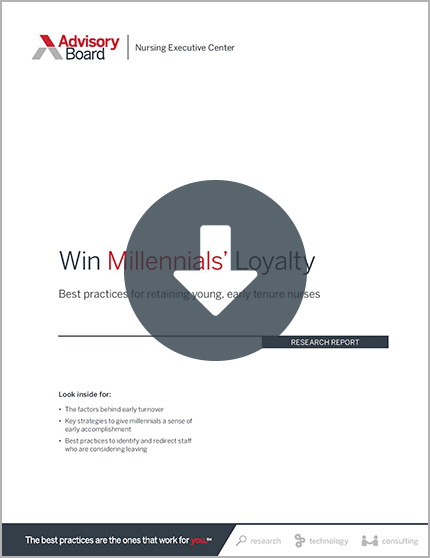 In 2016, millennials surpassed Baby Boomers as the largest living generation in the United States. As more millennials have entered the nursing workforce, health care leaders have confronted a growing challenge: young nurses are turning over at higher rates than their older peers, especially early in their careers.
Use the strategies and best practices in this study to build a millennial-specific retention strategy for your organization.