Covid-19 has pushed the revenue cycle into uncharted waters, and leaders must adapt operations to account for the immediate cash crunch. For most hospitals and health systems, the costs associated with cancelling elective procedures will far outweigh the revenue generated from Covid-19 patient care.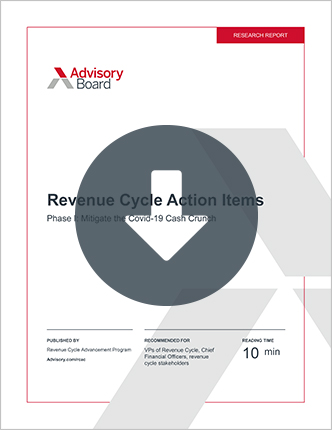 Maximizing reimbursement under Covid-19 requires intense focus on revenue capture across the entire revenue cycle. It is critical to spend time developing a Covid-specific strategy, starting with updating the chargemaster, providing training on new CPT and HCPCS codes, mitigating Covid-19 denials, and understanding how payers have changed or altered policies around preauthorization and out-of-network definitions. Our revenue cycle team identified the following seven mandates for decreasing the cash crunch caused by Covid-19.
---
Preview of what's inside
Revenue cycle leaders should focus on seven strategies:
Double down on accounts receivable by redeploying staff to revisit AR work queues and identifying opportunities to collect revenue.
Adjust the patient financial experience during these difficult times by waiving missed appointment fees, suspending collection calls, and extending payment plans.
Reallocate revenue cycle staff to high utilization departments to accommodate patient need.
Design your Covid-19 claims strategy to flag and monitor all claims associated with Covid-19 care to better evaluate reimbursement and patient obligations.
Improve debt position and reevaluate bond covenants and associated risk.
Partner with stakeholders across the system to confirm reimbursement implications for managed care and identify fundraising efforts through philanthropy.
Prioritize payment accuracy to maximize reimbursement opportunities.