Covid-19 hospitalizations are on the rise in the United States, leading health systems to evaluate how they'll deal with potential surges from highly transmissible omicron subvariants.
Access our Covid-19 variant surge toolkit
Covid-19 hospitalizations are on the rise
As of July 15, the reported daily average of new Covid-19 cases was 126,023, compared with around 31,000 three months ago, according to CDC data. However, recent case numbers are likely underreported because of the availability of at-home tests.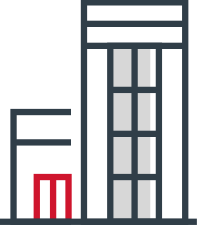 How Baylor Scott & White Health restructured its care team model to prepare for the Covid-19 surge
Currently, the seven-day daily average for new hospital admissions of patients with Covid-19 is 5,851—a 14.4% increase from the prior average of 5,115. Over the past three months, the seven-day average for hospital admissions has increased by almost 300%.
Hospitalizations increased the most in HHS region 6, which includes Texas, Arkansas, Louisiana, New Mexico, and Oklahoma—with a 21.5% increase—followed by region 7, which includes Iowa, Kansas, Missouri, and Nebraska—with a 15.3% increase.
From July 3 to 9, the BA.5 omicron subvariant represented 65% of new cases, according to CDC. While hospitalizations from BA.5 are around 78% lower than they were during their peak in January, hospitalizations have increased by 11% over a seven-day period.
Some subvariants evade vaccine protection
A new study recently found that the BA.5 omicron subvariant—which is considered "hypercontagious," according to the Mayo Clinic—can partially evade the protection offered by Covid-19 vaccines.
Even so, unvaccinated individuals face about a five times higher risk of contracting the virus than those who are vaccinated and boosted. According to Gregory Poland, head of the Mayo Clinic's Vaccine Research Group, their chances of hospitalization are 7.5 times higher, and their chances of death are 14 to 15 times higher.
"Let me make a clear, clear point here that's a little tough to hear: Whether you've been vaccinated, whether you've been previously infected, whether you've been previously infected and vaccinated, you have very little protection against BA.5 in terms of getting infected or having mild to moderate infection," Poland said. "You have good protection against dying, being hospitalized or ending up on a ventilator."
Health systems respond to increasing hospitalizations, potential surges
Amid rising hospitalizations with Covid-19, health systems around the country are evaluating their response and preparing for potential surges.
For example, Edward-Elmhurst Health in the Chicago area has experienced a steady increase in hospitalizations in recent months. In particular, one hospital within the system, Edward Hospital, is currently averaging around 35 Covid-related admissions per week—an increase from around 10 admissions per week in March, according to Jonathan Pinsky, the hospital's medical director of infection control and prevention.
While the hospital reported an average of 168 admissions per week during omicron's peak, Pinsky noted that fewer patients require ICU beds this time around, and their length of stay is typically shorter.
"We need to be concerned, but it's kind of a different concern now than it was two years ago. Two years ago, we had a population that was not immune, not infected, not vaccinated," Pinsky said.
Many health systems are remaining vigilant in anticipation of future surges. For example, at Ochsner Health, isolation rules and PPE requirements remain in effect. Still, the system does not use designated Covid-19 units until there are at least 15 to 20 Covid-19 patients at a hospital.
"We've done it at least four or five times, so we can certainly stand them up and stand them down," said Sandra Kemmerly, an infectious disease specialist and system medical director of hospital quality at Ochsner Health.
Meanwhile, providers continue to encourage vaccination. This fall, a new vaccine based on the omicron variant is expected to be available. In addition, combination Covid-19 and flu vaccines may become available.
"I think we're beyond the state where we think this is going to end. It's not ending. We're … living with it, but living with it doesn't mean giving up and giving in to the virus. It means adjusting your lifestyle to that," Pinsky said. (Hudson, Modern Healthcare, 7/13; Reed, Axios, 7/14; Archie, NPR, 7/15)