Six hospital and health system CEOs made Glassdoor's annual Employees' Choice Awards list, which recognizes CEOs who have received the highest employee ratings on the career website.
New: What's keeping today's C-suite leaders up at night?
Methodology
Glassdoor compiled the ratings list, released Tuesday, based on voluntary, anonymous feedback that site users provide when they review their organization on Glassdoor. The review form asks for ratings of workplace and job attributes as well as qualitative feedback about the best reasons to work at the organization and areas that need improvement. The latest list covers reviews submitted between May 2, 2018 and May 1, 2019.
Glassdoor released one list for large employers—those with 1,000 or more employees—and another for medium and small employers—those with fewer than 1,000 employees.
The large employers list included CEOs at six hospital and health systems. Those CEOs are:
Michael J. Dowling, Northwell Health* (No. 44);
Peter Pisters, MD Anderson Cancer Center* (No. 47);
Bob Quattrocchi, Northside Hospital* (No. 49);
Randy Bufford, Trilogy Health Services (No. 60);
Robert I. Grossman, NYU Langone Health* (No. 74); and
Steven J. Corwin, NewYork-Presbyterian Hospital* (No. 91).
*Denotes an Advisory Board member
The list also included CEOs of several other health care and health care adjacent organizations, including:
Pat Gelsinger, VMware* (No. 1);
Gary S. Guthart, Intuitive Surgical* (No. 9);
Kevin A. Lobo, Stryker* (No. 13);
Matt Scantland, CoverMyMeds (No. 14);
Randy Richardson, Vi (No. 19);
Erhardt Preituaer, CareSource* (No. 20);
Steven Bilt, Smile Brands (No. 29);
Jamie Dimon, J.P. Morgan* (No. 36);
Mike Roman, 3M* (No. 45);
Sundar Pichai, Google (No. 46);
Mark Zuckerberg, Facebook (No. 55);
Francis deSouza, Illumina* (No. 65);
Alex Gorsky, Johnson & Johnson* (No. 68);
Tim Pierce, Morrison Healthcare (No. 76);
Bobby Kutteh, Crothall Healthcare (No. 78);
Kenneth Frazier, Merck (No. 87);
Ken Burdick, WellCare (No. 92);
Pat Bauer, Heartland Dental (No. 95);
David Cordani, Cigna* (No. 96); and
David Baiada, BAYADA Home Health Care* (No. 99).
Several CEOs of health care organizations also made the small-and-medium employer list:
Dan Burton, Health Catalyst* (No. 1);
Mario Schlosser, Oscar Health (No. 3);
Sanjiv Lakhanpal, Center for Vein Restoration (No. 9);
Steve Grau, Royal Ambulance (No. 25); and
Anne Wojcicki, 23andMe (No. 41) (Glassdoor Employees' Choice Awards list, accessed 6/20; Glassdoor Employees' Choice Awards list methodology, accessed 6/20; Glassdoor release, 6/18).
15 things your C-suite needs to know in 2019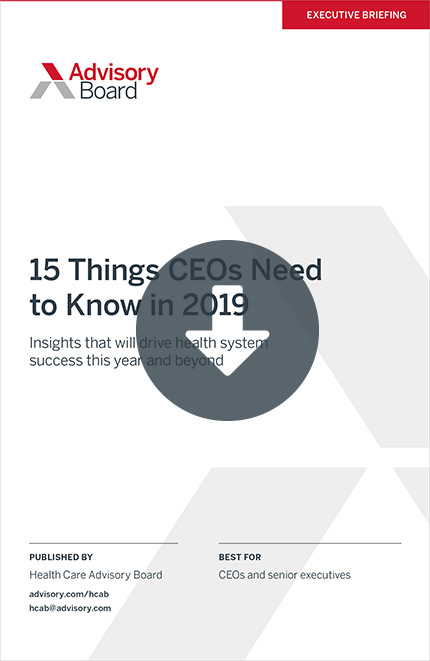 No hospital or health system leader can afford inaction amid intensifying margin pressures and a rapidly restructuring market. Use this briefing to learn the top 15 insights that will drive health system success in 2019 and beyond.