Other viral nurses
Other viral nurses include Katherine Lockler, an RN who works at several EDs in northwest Florida. In Feb. 2018, she recorded a Facebook video that went viral, warning people of the "cesspool of funky flu" in the ED and bluntly advising them to "wash your stinking hands" to avoid spreading the virus.
In another viral Facebook post, Faye Lewis, an RN at Memorial Medical Center, posted a picture of her work badges over the years, tracing her journey from a KFC employee to an RN working on her Ph.D.
The post, which outlines Lewis' career trajectory as she pursued her nursing degree while juggling two jobs, school, and raising a child, clearly connected with many viewers. After it went viral, Lewis said, "You know it warms my heart that people can get inspired and motivated by my story" (Fox5, 2/13; Simmons, Los Angeles Times, 7/3/13; Wade, USA Today, 4/27/15).
Advisory Board's take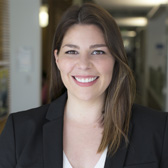 Anne Herleth, Senior Consultant, Nursing Executive Center
While nurses aren't the only caregivers to have their work go viral (remember the neurosurgeon who "saved" a wounded teddy bear?), nurses seem to get more than their share of viral fame.
The reason for that may be that, for many patients and families, nurses are the most visible, present member of the care team. Long after surgeons have packed up their scalpels and doctors have moved on in their rounds, nurses are still at the bedside, managing symptoms, tracking recovery, and building the sorts of meaningful relationships that sometimes give rise to a viral Facebook post or YouTube video.
"That's why it's so important to make sure we're returning the favor and taking care of nurses."
To me, this underscores just how central caregiving is to nursing. Nurses put all their energy into their patients—going above and beyond and often overlooking their own needs in the process. As a result, many nurses today report symptoms of caregiver fatigue—including stress and burn out. While nurses are incredibly resilient people, even the most resilient nurses need help bouncing back from constant caregiving and the stresses in today's care environment.
That's why it's so important to make sure we're returning the favor and taking care of nurses. One important way hospital and health system leaders can better support nurses is by addressing the 'cracks in the foundation' that can undermine their resilience. Through our research, we've identified four of the most pernicious cracks:
The rise of violence and point-of-care safety threats in health care settings;
Nurses' sense that they must make compromises in care delivery;
An overwhelming set of responsibilities that forces nurses to bounce from traumatic experiences to other care activities with no time to recover; and
New technology and responsibilities that lead nurses to feel "isolated in a crowd."
To learn more about these cracks—and what strategies you can use to fight them—download our recent infographic on the four foundational cracks that are undermining your nurses' resilience.
Then, be sure to read our full research study on how to Rebuild the Foundation for a Resilient Workforce.