Read Advisory Board's take: Why organizations should invest in pharmacists
Many older adults are taking "a risky pileup of prescribed medication," and while efforts to address the issue have focused on physician intervention, research suggests that pharmacists may be a "powerful lever" for addressing the problem, Aaron Carroll writes for the New York Times' "The Upshot."
How many pills older adults are taking?
About two-thirds of older adults take five or more pills per day, and 27% take 10 or more pills per day, according to Cara Tannenbaum, a professor of medicine and pharmacy at the University of Montreal and director of the Canadian Deprescribing Network.
One top of that, in the United States and Canada, about 30% of adults ages 65 and older in the last few years have filled a prescription for a medication that the American Geriatrics Society has deemed "inappropriate" for older adults. These drugs, according to Carroll, "can lead to more harm—like cognitive impairment or falls—than good, and often safer options are available."
The common way to address these medication problems is to look at the traditional doctor-patient relationship, Carroll writes. But he notes getting a patient to stop taking inappropriate medications is "not easy."
He explains, "Physicians often don't have enough information about what patients are taking, or may lack the time to talk to patients about these medications. They fear that stopping the drugs might cause harm or make patients upset."
Enter: Pharmacists
But recent—as well as some older—research suggests pharmacists are well situated to address the issue. 
Tannenbaum in a study published in JAMA last year, explored the role of pharmacists in inappropriate prescribing efforts. For the study, Tannenbaum  conducted a randomized control trial over four years with almost 500 patients ages 65 years of age and older. "In the intervention group, pharmacists gave both patients and their physicians educational materials on the specific drug that might have been inappropriately prescribed," Carroll writes. "The control group got the usual care, with no educational materials."
"Within six months, 43% of the patients in the intervention group had stopped taking one of the selected medicines," compared with "12% in the control group."
Studies that emphasize pharmacists' role in inappropriate prescriptions are "rare," but the ones that exist often reflect similar results to Tannenbaum's study, Carroll writes.
For instance, a JAMA study published in 1998 "encouraged pharmacists to contact physicians by alerts when they were employing drugs that were not ideal in the care of older people," Carroll writes.  The alerts changed physicians' prescribing practices about 25% of the time, Carroll writes.
Carroll also cites a more recent JAMA study published in 2014 for which pharmacists provided older patients with educational materials to reduce inappropriate prescriptions. The materials improved patients' prescriptions 27% of the time compared to 5% for patients in usual care, Carroll writes.
Why it works
According to Tannenbaum, "communication" between pharmacists, physicians, and patients "was essential" to improving patients' prescriptions for her study. "When pharmacists equipped patients with the same information, applied specifically to medications the patient had been taking for a while, everyone was on board and keen to initiate a conversation," she said.
While some aspects of the Canada-based study might not apply seamlessly to the United States, the results "provid[e] evidence that seemingly intractable problems can be overcome by expanding the focus of our interventions," Carroll writes. "There are many more professionals involved in health care besides physicians. They can help make health care better" (Carroll, "The Upshot," New York Times, 1/28).
Advisory Board's take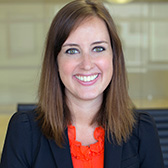 Rebecca Tyrrell, Senior Consultant, Pharmacy Executive Forum
I'm always thrilled to see articles bringing attention to the value that pharmacists can bring to patients. These pieces always raise the question: How can we systematically expand the role these superheroes play in our health systems to increase their impact?
As I've mentioned previously, engaging pharmacists in deprescribing protocols has the potential to reduce readmissions, patient out-of-pocket costs, and overall health care spending. Plus, as this article mentions, pharmacists can bring peace of mind to patients by reducing the number of medications they have to keep track of. However, the benefits a pharmacist can provide to patients and to the clinical care team don't stop at deprescribing.
"The benefits a pharmacist can provide to patients and to the clinical care team don't stop at deprescribing."
Pharmacists are also uniquely positioned to optimize medication regimens (e.g., adjusting dosages), and can also provide patient education and chronic condition management support; smooth transitions between care settings; and resolve potential medication adherence barriers. Plus, nearly every pharmacy leader I speak with across the country is eager to expand their clinical pharmacy footprint—especially in ambulatory settings.
Despite the clear-cut benefits and interest, many organizations are hesitant to invest in funding new pharmacist positions because of upfront cost. They shouldn't be. Our research consistently shows that the upfront costs can be quickly offset by prevented medication errors and associated readmissions, improved care team efficiency, patient satisfaction and loyalty, lessened physician burnout, and reduced drug costs.
What pharmacy leaders need to roll out more of these positions is your support. Offer to fund a pilot program, share the cost of supporting a pharmacist's salary, or advocate to your senior leadership team for adding a pharmacist to your unit or practice. For specific ideas for how pharmacists are being deployed for maximum impact, view our infographic about the six ways your pharmacist can save the day. Or contact me at TyrrellR@advisory.com with your ideas and questions.
6 ways your pharmacist can reduce costs and improve quality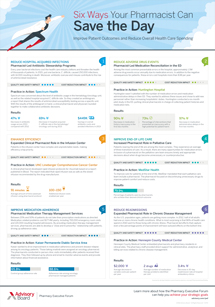 From improving medication adherence to reducing hospital-acquired infections, pharmacists can play a significant role in critical organizational goals.
Our infographic outlines six pharmacist-led practices that can help improve patient outcomes and reduce overall health care spending. Download it now to get details about each practice, examples of how your peers put them into action, and the resulting impact on quality, safety, and cost reduction.