Read Advisory Board's take: What these changing mortality trends mean for providers.
Americans are still more likely to die from heart disease than from any other cause, according to a new report from the National Safety Council (NSC), but cancer may soon overtake heart disease as the nation's No. 1 killer.
Here's what the newly released data, along with other CDC mortality statistics, reveal about how Americans die—including the top causes of death, how they've changed over time, and how the opioid epidemic is taking a toll on U.S. lifespans.
1. The top 10 ways Americans die
In 2016, the most recent year for which full statistics are available, heart disease was the likeliest cause of death in America—a distinction that it has held for decades:
2. The biggest killers in each age group, from age 1 to 65+
The way Americans die varies widely by age. For instance, congenital malformations are responsible for nearly 10% of deaths among Americans ages 1 to 9, but they aren't a significant cause of death beyond that age range. Alzheimer's, meanwhile, doesn't show up in the data until the 65+ age bracket—but in that age range, it's responsible for nearly 6% of deaths.
But perhaps the sharpest distinction between deaths of the young and the old is the role of injuries. From ages 1 to 44, unintentional injuries are the leading cause of death—but from 45 to 64, cancer is the leading cause of death, while heart disease causes the most deaths among those aged 65 and over.
3. The 8 biggest preventable causes of death
Because deaths at young ages are so frequently caused by injuries, suicide, and homicide, many early deaths are considered "preventable" by the NSC. (For the purposes of its preventable deaths report, NSC doesn't consider deaths caused by potentially modifiable lifestyle factors such as smoking or obesity to be "preventable.")
Ken Kolosh, NSC's manager of statistics, said while the United States has "made significant strides in overall longevity," the country is experiencing accidental deaths "at rates we haven't seen in half a century."
The biggest category of preventable deaths is a broad bucket described as "nontransport accidental injuries," which include falls (which carry 1 in 114 lifetime odds of death), drowning (1 in 1,117), and "contact with venomous animals in plants" (1 in 37,333).
Perhaps most notably, this category also includes deaths from accidental poisoning, including opioid overdoses. As of 2017, Americans were more likely to die in their lifetime from opioid overdose (1 in 96 lifetime odds) than from a car crash (1 in 103).
4. The sharp rise in opioid-related deaths
Even though opioid overdoses are now a major killer of Americans, that hasn't always been true. A 2018 CDC report reveals just how sharply opioid-related deaths have risen since 1999:
Although that data set ends in 2016, some evidence suggests that the rate of opioid deaths may have plateaued since then. In remarks on the subject in late 2018, HHS Secretary Alexa Azar said, "We are so far from the end of the epidemic, but we are perhaps at the end of the beginning."
5. The stunning fall in heart disease mortality
A more encouraging picture arises when looking at the long-term trend in heart disease deaths. While heart disease remains the nation's No. 1 killer, its mortality rate has fallen precipitously over the last 50 years—even as the rate of death from America's No. 2 killer, cancer, has fallen much more slowly.
As these trends continue, CDC predicts that cancer will become the leading cause of death in the United States by 2020 (Mazzei, New York Times, 1/14; Molina, USA Today, 1/14; Associated Press, 10/23/2018).
Advisory Board's take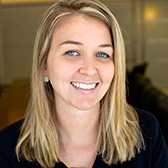 Deirdre Saulet, Practice Manager, Oncology Roundtable
The one trend that stuck out the most to me in this report was how narrow the gap has become between one's risk of dying of cancer (1 in 7) compared to the leading killer of Americans, heart disease (1 in 6). While heart disease has been the leading cause of death in the US since 1921, the gap has been slowly narrowing since 1969, when heart disease death rates were at their peak. And the shift between them is poised to happen soon. It's already occurred in 22 states, and CDC predicts it will happen on a national level by 2020 (if current trends continue).
"This has the potential to mask an impending challenge for providers: The number of new cases of cancer is still rising"
Part of this shift spells good news for public health. We're getting better at detecting and treating both conditions, and, as a result, heart disease mortality rate decreased by 28% between 2003 and 2015, while cancer mortality rates fell by 16% during the same time period. Yet, the overall declining mortality rates also has the potential to mask an impending challenge for providers: The number of new cases of cancer is still rising—and expected to jump significantly in the coming years. 
As Baby Boomers, the largest generation in US history, reach Medicare age, obesity rates continue to climb upwards, and people generally live longer, new cases of cancer are projected to rise substantially. Estimates from the Advisory Board's Cancer Incidence Estimator predict that new cases will grow 11.1% in the next five years, while other research predicts a 45% growth in the number of new cases between 2014 and 2030. And not only will cancer programs be managing more patients, but these patients will be more complex. In 2014, 92% of Medicare cancer patients had at least one comorbidity—and this percentage will likely rise.
So how should your program prepare? Here are three steps providers can take:
Focus on providing coordinated, multidisciplinary care. Today's cancer patients have a high number of comorbidities—67% of Medicare cancer patients report three or more additional chronic conditions. And, as most people in health care know, patients with a high number of comorbidities drive a significant amount of total health spending. Therefore, to control costs and improve quality for these patients, you'll need to provide multidisciplinary care beyond oncology and grow cross-service line specialties, like cardio-oncology and geriatric oncology.
Improve transitions back to primary care. As we get better at treating cancer, we're seeing a growing population of survivors—expected to number more than 20 million by 2026. These survivors are often left out of the current model of care delivery. That's why it's essential for cancer programs to build transition pathways for survivors, especially by strengthening the connection back to patients' PCPs.
Build your oncology workforce with a clear strategy. With oncology staff and clinician shortages looming, programs need to bolster their workforce pipeline to ensure enough staff to meet rising patient need. You can develop your pipeline by forming community partnerships, expanding education and outreach, and offering clinical rotations.