Editor's note: This popular story from the Daily Briefing's archives was republished on July 7, 2021.
In Harvard Business Review, Intermountain Healthcare CEO Marc Harrison shared how the health system's tiered escalation huddles improve patient safety increase transparency in operations, and he offered three tips for implementing the program at other organizations.
The science—and strategy—behind having a 'great meeting'
The daily tiered escalation huddle process
Intermountain launched the current version of its daily tiered escalation huddle process in April 2017. A Continuous Improvement Team oversees the process, which, due to the size of the Intermountain system, includes 2,500 huddles every morning.
The process begins with the frontline staff huddling for up to 15 minutes at 8:45 a.m. to talk about concerns or issues that they're facing, as well as to report on well-defined metrics such as "units at capacity." Those concerns and metrics are then escalated through management throughout the morning, so that by 10 a.m., five levels of huddles already have happened—from the frontline staff, to local managers, to regional managers, and all the way to the health system's executive team.
At that point, Harrison said, the executive team—including Harrison himself—commences its own meeting, called the "tier six huddle." By the time the huddle ends, Harrison said he is aware of all "serious safety events, hospital acquired infections, downtime on major equipment of IT systems, caregiver injuries, power outages, capacity constraints, and pharmacy shortages" occurring in the system.
According to Harrison, the meeting structure provides him and his executive team with a "snapshot of the entire system," which enables leadership to strategize on which issues need to be addressed and how to solve them.
Huddles lead to more positive results
According to Harrison, the huddles give the system a head start on addressing patient safety issues such as outbreaks of infectious diseases by identifying potential exposures quickly.
This year, for instance, staff at an Intermountain clinic reported the early development of a community-wide outbreak of hepatitis B in a morning huddle. The report gave the system time to prepare by ensuring proper staffing levels, increasing supplies of necessary drugs, and preparing safety guidelines for the system's clinics, Harrison writes.
The process also benefits the "business side" of the health system by providing increased visibility into day-to-day operations, allowing system executives to easily identify areas for improvement and successes, Harrison writes. Through the tiered escalation huddles, the system can track extended hours of access for the Medical Group clinics, including appointment and phone availability, for 90% of clinics—up from 49% before the huddles were implemented.   
The 3 keys to implementing the huddles at your system
According to Harrison, "continuous improvement is a constant quest," and health systems can learn three lessons in particular from Intermountain's experience with huddles:
"Focus on trends and continually add and address issues being tracked." It's not enough to just host huddles every morning; it's important also to pull up over time to gauge trends and determine whether new metrics need to be tracked. According to Harrison, Intermountain analyzes trends and performance metrics quarterly and often notices changes over time, "because new needs arise and because previous efforts have improved metrics."
"Accountability is vital to the efficiency of the process." When an Intermountain huddle identifies a problem, all actions taken to resolve that issue are tracked and assigned a specific timeframe for resolution. Once the issue has been fully addressed, the results are reported through all tiers, according to Harrison. The process "provid[es] a constant reminder and tangible evidence that the commitment is real and ongoing," Harrison writes.
Huddles "must be tied to the organization's overall strategy and performance goals." In every huddle, the frontline staff and leadership team tie in Intermountain's four fundamentals of extraordinary care to ensure that all reports, complaints, and resulting actions support the organization's goals (Harrison, Harvard Business Review, 11/29).
The science—and strategy—behind having a 'great meeting'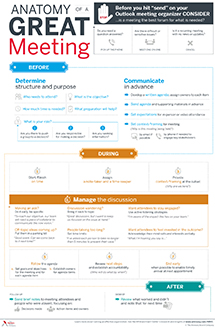 There are about 11 million formal meetings in the United States every day—and more than half of them may be unproductive. Why? Because many meetings are inefficiently run. They don't set or achieve clear goals. And we hold them out of habit.
Drawing on best practices—as well as lessons from across our own organization—we've created this useful infographic to guide if you really need a meeting (and if so, how to maximize everyone's time).