Editor's note: This popular story from the Daily Briefing's archives was republished on Oct. 14, 2019.
Read Advisory Board's take: Why health care CEOs aren't immune from this trend
New research has found that, due to the growing impatience of boards, CEOs aren't staying in their positions as long as they used to—and that may be a good thing for businesses, John Stoll reports for the Wall Street Journal.
CEO tenures on the decline
According to research by firm Equilar, CEO tenure at large U.S. companies averaged five years in 2017, one year less than the average CEO tenure in 2013. And things aren't looking any different this year, Stoll reports. As of September, there've been 51 CEO exits this year—already outpacing last year, according to Equilar.
Jeffrey Sonnenfeld, a business professor at Yale School of Management, said a lot of the CEOs that left their positions this year, including leaders from Campbell Soup, Mattel, and Game Stop Corp, had tenures shorter than two years. John Flannery was CEO of General Electric (GE) for just 14 months when the board dismissed him earlier this year, citing poor business performance.
The benefit of shorter tenure...
However, this may not be a bad thing. A widely cited 2012 study concluded the "optimal tenure length" for a CEO is 4.8 years.
Stoll reports that leaders often perform best in the first few years, when they're less risk-averse and more willing to consider outside opinions. But Xueming Luo, a professor at Temple University's Fox School of Business and one of the authors of the 2012 study, said, "The search for external knowledge tends to end."
Michelle Andrews, who also worked on the 2012 study, explained, "It eventually becomes a situation where the CEO surrounds themselves with a lot of 'yes' people … and there are diminishing returns."
... and the risks
Regardless, Sonnenfeld said that abrupt exits come with risk. For instance, after replacing Mark Fields with Jim Hackett just three years after Fields became CEO, Ford Motor's stock price stumbled, Stoll reports.
Bill George, professor at Harvard Business School and former CEO of Medtronic, also warned that in some cases CEOs who are dismissed too early may be not have been given the time to fix problems stemming from their long-tenured predecessors. For instance, George noted, at GE, Flannery succeeded former CEOs Jeffrey Immelt and Jack Welch, who held their positions for 16 and 20 years respectively. "I empathize with [Flannery] because the problems were buried, and it's taken him this year-to-14 months to try to dig out," George said. (Stoll, Wall Street Journal, 10/4).
Advisory Board's take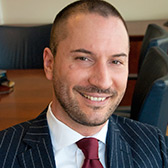 Eric Larsen, Managing Partner
It's clear that publicly traded companies are increasingly impatient with their CEOs—and increasingly willing to jettison a once-promising executive at the first sign of bad news. The good news for health system CEOs is that, thus far, they've been insulated from the ruthlessness of driving quarterly profits, but that doesn't mean they'll remain immune from the economy-wide movement toward constant disruption. 
In fact, we've seen lately that when a health system CEO's office opens up, many boards have embraced disruptive newcomers. Out-of-industry hires are particularly shaking things up: Consider Intermountain's Marc Harrison, Fairview Health Services' James Hereford, and Baylor Scott & White's Jim Hinton. Their outside perspectives may well have given them the courage to try more radical approaches—such as Hinton's decision to have his health system merge with Memorial Hermann.  
"Out-of-industry hires are particularly shaking things up"
What's notable to me is that many of these systems didn't seem to need disruption. Intermountain, for instance, certainly didn't need to innovate to stay on top, but they still embraced a newcomer in Harrison—who didn't move up from within the system. Indeed, Harrison's decision to commit to a radical restructuring of the system from a geographic-based to a community- and specialty-based system, and his launch of a generic drug company, likely were possible in part because he didn't feel encumbered by legacy structures and programs.
Still, that doesn't mean that long-tenured CEOs can't disrupt the industry. If you look at Modern Healthcare's "Most Influential" list, you'll see that a mix of newcomers and more-established players like Ascension's Anthony Tersigni. Tersigni's partnership with Australian-based Ramsay Health Care, for instance, aimed at creating a global supply chain, could prove transformational for the industry. Part of Tersigni's success appears to be his ability to think outside the box—and his ability to take important lessons from others. For instance, when he realized that many other systems who had launched their own health plans had accrued large losses, he decided to partner with Centene, a payer, in pursing Ascension's Medicare Advantage strategy.
So my takeaway is that, if health care CEOs want to survive in their seats beyond the five-year average, they have to be willing to self-disrupt, which means taking lessons from others and having the courage to fail. The real risk for all CEOs—in health care or not—is getting too invested in legacy decisions and letting their competitors win the future.
Why you're in danger of building the wrong workforce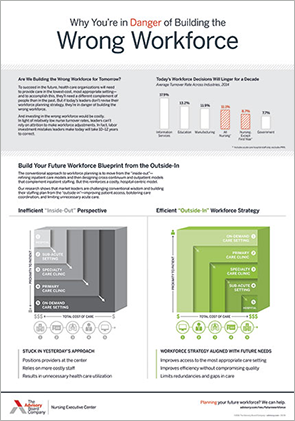 To succeed in the future, health care organizations will need to provide care in the lowest-cost, most appropriate setting—and to accomplish this, they'll need a different complement of staff than in the past.
But if today's leaders don't revise their workforce planning strategy, they're in danger of building the wrong workforce, a mistake that will be costly in the long run and could take 10 to 12 years to correct.
Find out what you need to do to revise your approach—starting from the "outside-in."