Editor's note: This story was updated on December 13, 2018.
A Boston-based company this month opened the first mental health retail clinic in a Walmart store in hopes of expanding access to mental health services—but some mental health experts are skeptical of the endeavor, reports for the Boston Globe.
Get 10 insights for your retail and urgent care clinic strategy
Mental health retail clinic opens in Walmart
Boston-based Beacon Health Options is "an intermediary between insurers and providers" and oversees mental health care services for 40 million individuals, Freyer reports.
Beacon recently launched a new company called Beacon Care Services to open a mental health retail clinic in a Walmart in Carrollton, Texas. The Texas clinic opened earlier this month.
The retail clinic allows patients to schedule an appointment over the phone or walk in to receive mental health care treatment from a licensed clinical social worker. The worker can treat patients experiencing anxiety, depression, grief, relationship issues, and everyday stress.
According to Freyer, the clinic is set up to help with milder types of mental illness. Patients requiring a prescription or experiencing serious forms of mental illness or a crisis will be referred to a provider within Beacon Health's network, Freyer reports. If the clinic reaches capacity, patients will be able to speak with a provider remotely using Skype or another service.
Beacon Health is currently seeking approval to receive Medicaid reimbursements in Texas and uses a sliding-fee schedule for uninsured patients.
The retail clinic aims to improve mental health care access
The company's retail clinic is part of a larger program that Beacon Health launched to provide mental health care to underserved communities around the United States.
Russell Petrella, Beacon Health's president and CEO, said the company is not trying to compete with existing providers in the market, but aims to "fill in the gaps in care." He said the company is "trying to do it in a reasonable way, with low stigma, and make it convenient" to ensure patients receive care before they reach a crisis or seek to address mental health conditions using drugs or alcohol.
Petrella added that the program's primary goal is to streamline the process of connecting individuals to mental health care services and reduce the stigma surrounding mental health conditions. Petrella said, "People don't know how to find a behavioral health or mental health professional. People don't know where to go and what to do."
According to Freyer, it remains unclear whether patients will feel as comfortable seeking mental health care services in a Walmart as they do seeking care for an ear infection or sore throat.
Beacon has not decided whether it plans to open other retail clinics, according to Petrella.
Some observers welcome the clinic—but others question whether it is necessary
Some observers are optimistic about the new clinic. Bonnie Cook, executive director of Mental Health America of Greater Dallas, said it likely will help Texas residents receive mental health care services they need. Mental Health America recently rated Texas as having the lowest access to mental health out of all 50 states. Cook said, "As a mental health community, we have to start thinking outside the box."
But others are unsure whether the clinic will achieve its stated goals. Gary Chinman, president of the Massachusetts Psychiatric Society, said, "Offering mental health care in a retail setting is innovative and imaginative, and it could work," but he said Beacon Health "would have to change a lot more about their business model for it to be successful." Chinman said the company is known is Massachusetts for requiring multiple authorizations that can present barriers to care.
Ian Lang, executive director of the Brookline Center for Community Mental Health, said opening a retail clinic is "treating the symptom, [but] not the real problem." Lang said, "If you truly want to move the system forward, you've got to pay providers"
Petrella acknowledged the administrative hassles providers face and said the company is working to address them. He added that the company's reimbursement rates depend to some degree on the amount insurers and Medicaid programs allocate for mental health, Freyer reports (Freyer, Boston Globe, 11/26).
Primer: Here are 9 innovative behavioral health care delivery models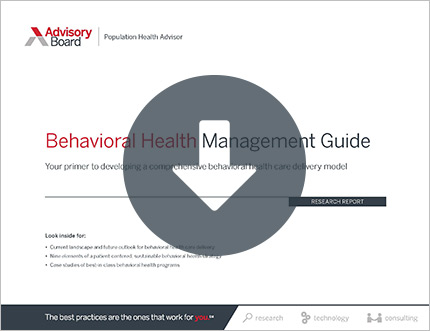 Behavioral health conditions are prevalent, often undiagnosed or untreated, and deeply entangled with chronic disease management, which makes them one of the most costly conditions today. To devise an effective behavioral health system strategy, providers must prioritize programs tailored to their patients' specific needs and acuity levels, while still ensuring financial and operational sustainability.
This research report outlines nine targeted behavioral health program models designed to more effectively address the needs of patients with behavioral health conditions.