In 2007, a private equity firm purchased the nation's second-largest nursing home chain. Four years later the firm sold HCR ManorCare's buildings to a real estate investment firm, and by March of this year the nursing home company had filed for bankruptcy—but not before experiencing a significant increase in health-code violations and lawsuits, according to a Washington Post investigation.
According to the Post, private equity firms increasingly are purchasing nursing homes, but some critics say the companies are not equipped to care for some of the nation's most vulnerable residents.
The Post's journalists examined what happened after the one of the wealthiest private equity firms, Carlyle Group, acquired HCR ManorCare. Journalists analyzed financial documents from 2009 through 2016, inspection records, and public Medicare data on health-code violations spanning 2005 to 2017. Journalists also interviewed several nurses who worked at ManorCare as well as former residents and family members.
The investigation focused on the 230 HCR ManorCare nursing homes that were part of the company from 2007 to 2018, when the Carlyle Group owned the company.
HCR ManorCare filed bankruptcy in March and was purchased by ProMedica Health, a nonprofit group.
HCR ManorCare's health-code violations rise after private equity firm acquisition
According to the Post's investigation, data suggest HCR ManorCare's nursing homes saw an increase in health-code violations after Carlyle Group and investors in 2011 entered a "sale-leaseback" deal and sold HCR ManorCare's property and facilities to a real-estate firm for $6.1 billion.
The deal, according to the Post, allowed Carlyle Group to recoup the $1.3 billion in equity they used to purchase HCR ManorCare back in 2007, but required the chain to pay rent to its new landlord. Within a few years, the Post reports, several nursing homes were unable to make their rent. Shortly after the deal, the Post reports HCR ManorCare laid off hundreds of employees, and over the next several years the company implemented cost reduction programs.
Between 2013 and 2017, the Post found health-code violations at HCR ManorCare nursing homes rose by 26%, increasing from 1,584 to 2013 to nearly 2,000 in 2017. In particular, HCR ManorCare saw an increase in health-code citations for:
Committing medical errors;
Failing to assist patients with eating and personal hygiene;
Failing to prevent or treat bed sores; and
Failing to provide patients who need special services—such as colostomies, injections, and prostheses—with appropriate care.
When the Post's journalist examined only the most serious health-code violations—which are categorized as "potential for more than minimal harm," "immediate jeopardy," and "actual harm"—they found the number of health-code violations increased by 29% in the years preceding bankruptcy.
Between 2013 and 2017, the Post found, HCR ManorCare nursing homes on average had more violations than other for-profit nursing homes, though the average number of violations rose by about the same rate each year. For example, the Post reports HCR ManorCare nursing homes had 9.7 violations per home in 2017, compared with 8.9 violations per home among other for-profit nursing homes.
When the journalists examined health-code violations in five states where HCR ManorCare owns the most nursing homes, they found nursing homes in four out of the five states saw a steady increase in health-code violations, which outpaced increases seen at other nursing homes. For example, the journalists found HCR ManorCare's nursing homes in Pennsylvania saw health-code violations increase 12% faster than violations at other nursing homes in the state. However, the journalists found no clear trend in health-code violations among HCR ManorCare's nursing homes in Florida, where the number of health-code violations increased for two years and then decreased for two years.
According to the investigation, state inspectors reported finding patients at HCR ManorCare's nursing homes with bedsores and infections—which are issues experts say indicate a nursing home lacks qualified nurses, the Post reports.
Charlene Harrington, a nurse and professor at the University of California at San Francisco, who has examined nursing homes for years, said, "Almost all of these issues relate to staffing—either not enough people or not enough training. That's why this is so frustrating. It's just basic hands-on care."
The investigation found HCR ManorCare scored below the national average in terms of hours of nurse staffing—including registered nurses, licensed practical nurses, and nurse aides—per patient, which is a rate adjusted by Medicare to reflect the number of patients in the home. According to the Post, HCR ManorCare "operated for years with fewer nurses compared to other homes."
HCR ManorCare disputes claims
HCR ManorCare disputed the Post's conclusions and in a statement said the Post's investigation misused Medicare data, but did not provide further details. HCR ManorCare said, "The Post's internally created system is not a valid approach to evaluate and compare nursing home quality. It is inconceivable to us that you are not using the [Medicare] data as it is designed to be used."
Carlyle and HCR ManorCare said care at the nursing homes were never compromised by financial constraints and that cost-cutting efforts did not include reducing nursing costs. The Post noted that self-reported data to the government show the number of nursing hours provided per patients remained the same in the years leading up to bankruptcy.
HCR ManorCare officials noted that ManorCare nursing homes averaged 3.2 stars on Medicare's ratings system, which the Post noted is just below the national average, in the years before bankruptcy, and they rejected assertions that quality at the homes had suffered.
Vincent Mor, a Brown University health policy professor whom HCR ManorCare hired to serve on an expert quality committee, said when he periodically visited the nursing homes, he did not see signs of the HCR ManorCare's cost-cutting measures affecting nursing home staffing levels. He said, "We never heard that any cost-cutting prevented an administrator from hiring a new person."
When Mor reviewed data on HCR ManorCare's most serious health-code violations, he said he did not see an upward trend in violations after Carlyle acquired the firm. However, when asked about the upward trend identified by the Post, Mor said, "It certainly shows that there may have been something going on there" (Whoriskey/Keating, Washington Post, 11/25).
What do consumers want from post-acute care?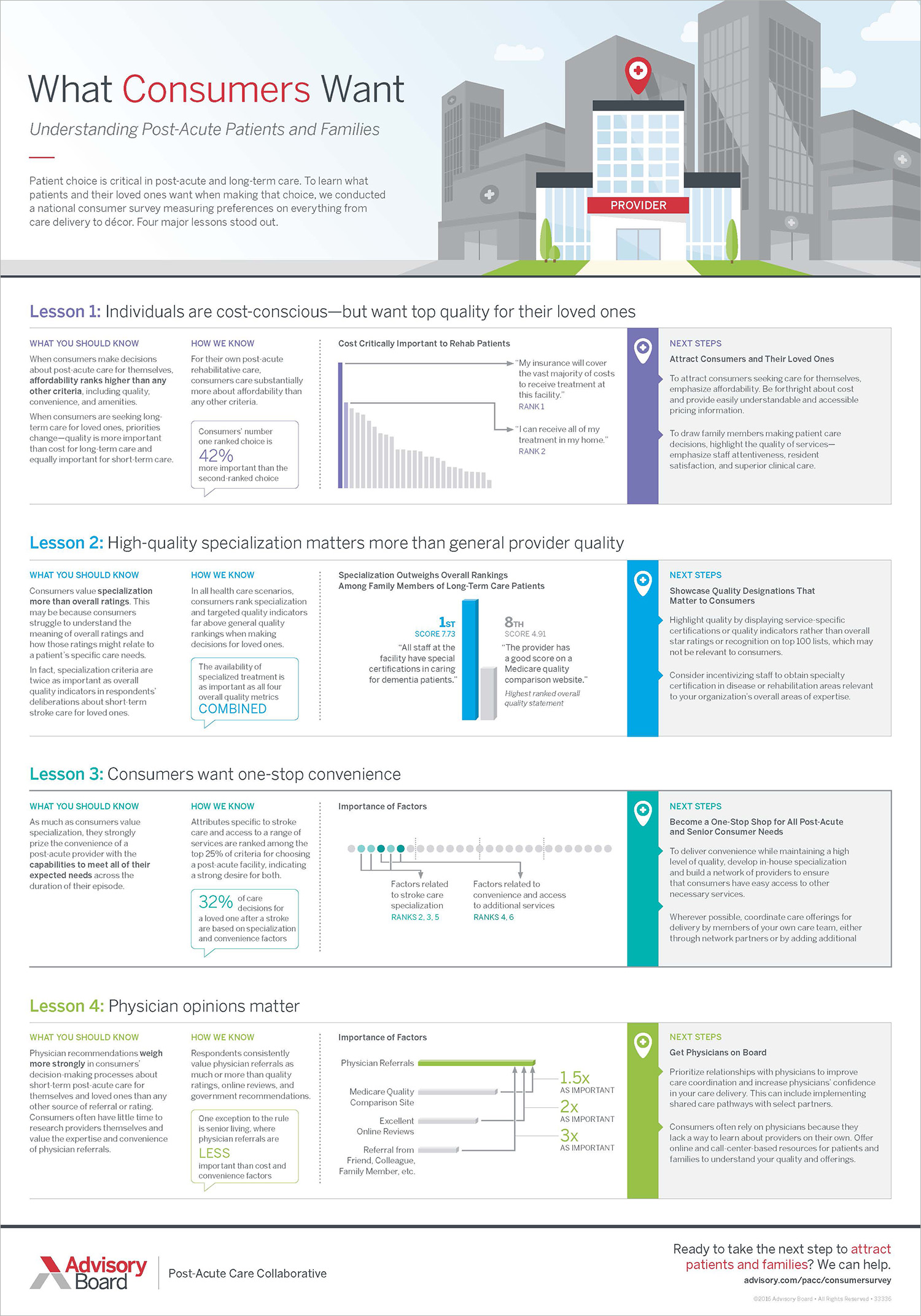 Patient choice is critical in post-acute and long-term care. To learn what patients and their families want when making that choice, we conducted a national consumer survey measuring preferences on everything from care delivery to decor. Four major lessons stood out.
Get our infographic to find out if high-quality specialization matters more to consumers than general provider quality, why patients want one-stop convenience, and more.