Editor's note: This popular story from the Daily Briefing's archives was republished on March 13, 2019.
Not exercising is worse for your health than smoking, diabetes, and heart disease, according to a Cleveland Clinic study published in JAMA.
Understand the wellness spectrum—and promote healthy habits at work
For the study, researchers looked at data on more than 122,000 patients who participated in exercise treadmill testing at the Clinic between Jan. 1, 1991 and Dec. 31, 2014. Unlike many studies, the researchers did not rely on patient-reported exercise data. Wael Jaber, a cardiologist at the Cleveland Clinic and senior author of the study, said, "This is not the patients telling us what they do. ... This is us testing them and figuring out objectively the real measure of what they do."
Sedentary lifestyle linked to 500% higher death risk
The researchers found that, compared with the top exercise performers, patients with sedentary lifestyles had a 500% higher risk of death. For people who exercised infrequently, the risk of death was 390% than it was among the top exercise performers, according to Jaber.
To put the results in context, Jaber explained, "If you compare the risk of sitting versus the highest performing on the exercise test, the risk is about three times higher than smoking." Similarly, Jaber said, "People who do not perform very well on a treadmill test have almost double the risk [of death] of people with kidney failure on dialysis." However, Jaber also cautioned that the study did not account for how long people smoked, so it's hard to make a risk assessment.
The benefits of exercise were fairly even across ages and genders, though they were "probably a little more pronounced in females," Jaber said. The study did not control for socioeconomic factors.
On top of highlighting the risks associated with a sedentary lifestyle, the study shed light on the benefits of exercise. The researchers found that fitness was tied to a longer life, and there was no limit to the potential benefit of aerobic exercise. Experts have been concerned in the past that those who exercise the most may have a higher risk of death, Wayne Drash reports for CNN, but this study found that was not the case.
However, Jaber warned that being fit does not cancel out or reduce the risks associated with smoking.
Jaber said that researchers have to now ensure the public knows that "being unfit should be considered as strong of a risk factor as hypertension, diabetes and smoking—if not stronger than all of them. It should be treated almost as a disease that has a prescription, which is called exercise."
Satjit Bhusri, a cardiologist at Lenox Hill Hospital who was not involved in the study, said that a sedentary lifestyle has led "to a higher incidence in heart disease and this [study] shows that it's modifiable. It's reversible."
He added that doctors are good at treating patients who have cardiovascular events, but that these events can be prevented. "We're meant to walk, run, exercise. It's all about getting up and moving" (Drash, CNN, 10/20; Reynolds, New York Times, 10/31).
Understand the wellness spectrum—and promote healthy habits at work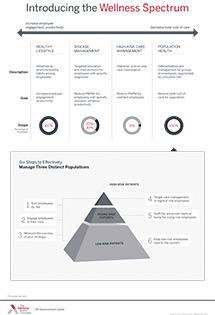 Programs aimed at promoting healthy habits among employees are likely to lead to improved employee engagement and productivity—but they're unlikely to reduce the total cost of care. To do that, you'll need to take a population health approach.