Modern Healthcare has released its 32nd annual list of "Up & Comers," recognizing young health care leaders who are making a big difference in the industry.
Cheat sheet: How Modern Healthcare chooses its 'Best Places to Work'
Methodology
To be eligible for the list, nominees had to be 40 years old or younger. Magazine readers nominated promising young health care leaders serving at various levels of provider, insurance, supplier, and vendor organizations. Modern Healthcare selected its "Up & Comers" based on actions taken by the nominee to:
Establish a culture of innovation and transformation within their organization; and
Help their organization achieve or exceed its financial, operational, and clinical goals.
2018's 'Up & Comers'
This year's list features 15 up and comers at various health care companies.
Tiffany Berry, VP and CMO at Baylor Scott & White Quality Alliance (Dallas). Under Berry's leadership, Baylor Scott & White has hit a number of milestones, including getting 20,000 hypertension patients' blood pressure under control, providing 16,000 patients with chronic care management services, and saving $78 million in medical costs over six years.
Michael Dalton, director of state government relations at MetroHealth System (Cleveland). During his time at MetroHealth, Dalton led a group of safety-net providers who received $200 million from CMS to help combat Ohio's opioid epidemic. He has also led a group of health facilities that are pushing against cuts to the 340B discount drug program.
Chris DeRienzo, chief quality officer for Mission Health (Asheville, North Carolina). Under DeRienzo, Mission Health has seen noticeable improvements in the number of people leaving the ED without being seen, as well as increases in ED volume and reductions in length of stay. He is also just the fourth person to have been elected and re-elected to the American Medical Association's board of trustees as a medical student.
Seth Edwards, principal of population health management at Premier (Charlotte, North Carolina). Edwards began his professional life as a graphic designer but changed careers when he saw the compassionate care his father received when he was diagnosed with a tumor. Since Edwards came to Premier, it's seen 23% growth in the population health services. According to Modern Healthcare, the ACOs that Premier has partnered with under Edwards have outperformed other leading ACOs on quality and cost savings.
Laura Fegraus, VP of external affairs, communications, and brand at The Permanente Federation (Oakland, California). During her time at The Permanente Federation, Fegraus has worked with The Permanente Medical Groups to build a new brand identity. She has also helped the company achieve important financial and clinical goals through her strategic plans.
MaCalus Hogan, vice chair of orthopaedic surgery and medical director for outcomes and registries at the University of Pittsburgh Medical Center (Pittsburgh). Hogan was recently appointed medical director for outcomes and registries at the Wolff Center for Quality, Safety, and Innovation at UPMC, and has implemented new metrics that have led to outcomes data being collected on 80% of pre-op patients and 60% of post-op patients.
Joanne Inman, president of Sentara Leigh Hospital (Norfolk, Virginia). Under Inman's leadership, Sentara Leigh Hospital has reduced care variation and improved quality, including seeing drops in hospital-acquired infections and readmissions. Sentara has also been scored by IBM Watson Health as a top-five hospital across five different measures.
Leslie Jurecko, VP for delivery system quality, safety, and experience at Spectrum Health (Grand Rapids, Michigan). Jurecko has worked in quality and safety roles at Spectrum since 2009 and was promoted to VP in June 2017. During her time there, Jurecko has implemented programs to combat physician burnout and created processes to examine differing health outcomes across different ZIP codes.
Brittany Lavis, market CFO at Detroit Medical Center (Detroit). Lavis is the youngest CFO within Tenet Healthcare, DMC's parent company, and has worked to achieve a number of major operational and financial goals. During her time with DMC, she's improved patient satisfaction scores and turned Placentia-Linda Hospital, where she previously served as CFO, from one of Tenet's worst-performing hospitals into one of its best.
Jessica Melton, VP of medical, surgical, and critical care services at Duke University Hospital (Durham, North Carolina). During Melton's time at Duke, the hospital has seen a 45% drop in ED patients leaving without being seen and volume has increased by 23%. Not only that, but 30-day readmissions from high-impact populations have dropped too. Melton has also worked to reduce workplace violence at Duke.
Corbin Petro, president and CEO of Benevera Health (Bedford, New Hampshire). One of Petro's most significant accomplishments at Benevera has been designing and implementing health insurance exchanges under the Affordable Care Act. Benevera has also seen 33% lower utilization rates, 65% lower inpatient admissions, and 58% lower ED usage under Petro's leadership.
Jim Pursley, chief commercial officer for Livongo Health (Chicago). Since Livongo launched in 2014, Pursley has been its chief commercial officer. In that time, he's helped Livongo grow its revenue tenfold, leading the company to place on Forbes' list of the Next Billion-Dollar Startups. The company has also partnered with Cambia Health Solutions to develop a personalized care product.
Duane Reynolds, chief of inclusion and diversity at Optum Advisory Services. Under Reynolds' leadership, Optum Advisory Service's has improved its internal hiring culture, according to Modern Healthcare. The organization has boosted minority hiring and promotions by 33% and 19%, respectively, and female hiring and promotions by 21% and 13%, respectively. Reynolds has helped produce similar outcomes for several other clients, according to Modern Healthcare.
Daily Briefing is published by Advisory Board, a division of Optum, which is a wholly owned subsidiary of UnitedHealth Group.
Ben Salinas, VP of ambulatory services at Children's Health, Dallas. Inspired in part by his own experience as a pediatric patient, Salinas leads Children's Health, Dallas' efforts to improve patient satisfaction. Modern Healthcare recognizes Salinas for his work to reduce staff turnover—which has dropped from 25% to 14%—and for his efforts to expand hospital programming to topics such as gender identity.
Coleen Santa Ana, president of Sentara Albemarle Medical Center. Since Santa Ana took the helm, Sentara Albemarle Medical Center's finances have improved significantly, with the hospital getting out of the black within a few years of her leadership. Santa Ana came on as president the same year—2014—Albemarle Health joined Sentara. "I chose this position specifically because it was an opportunity to turn around a new acquisition for Sentara," Santa Ana said. "This made it an exciting opportunity to improve the healthcare of a community" (Modern Healthcare "Up & Comers 2018" list, accessed 10/31; "Up & Comers" 2018 methodology, accessed 10/31).
Next, here are 4 ways to be a less-stressed leader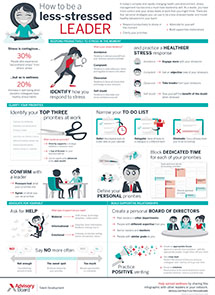 Stress is endemic in today's health care workforce, but the good news is that leaders have much more control over their stress levels at work than they might think. The most effective leaders take steps to proactively keep their own stress in check—while modeling healthy habits for their teams.
Use this infographic to review effective stress management strategies that can help you become a less-stressed leader.