Crowdfunding sites such as GoFundMe are often used to help pay for medical treatments, but a new study published in JAMA finds that many of those campaigns are for unproven and potentially dangerous treatments.
Learn 4 essential strategies to surpass monumental campaign goals
Study details
For the study, researchers focused on the largest four crowdfunding sites that allowed medical crowdfunding:
CrowdRise;
FundRazr;
GoFundMe; and
YouCaring.
The researchers then searched for terms related to five previously selected treatments determined to be unproven and potentially dangerous:
Homeopathy or naturopathy for cancer treatment;
Hyperbaric oxygen for brain injury;
Experimental stem cell therapy for brain injury
Experimental stem cells for spinal cord injury; and
Long-term antibiotics for chronic Lyme disease.
What the money is funding
Overall, the researchers identified 1,059 campaigns that raised money for the five unproven and potentially dangerous treatments. The overwhelming majority of campaigns in the study—98%—were hosted on GoFundMe.
In total, the campaigns aimed to collect over $27 million. However, they raised roughly $6.78 million— about 25% of that goal.
The researchers found that the:
474 campaigns for homeopathic or naturopathic treatment for cancer raised the most money, at $3.5 million;
190 campaigns for hyperbaric oxygen for brain injury raised about $785,000;
281 campaigns for stem cell therapies for brain and spinal cord injuries raised about $1.8 million; and
114 campaigns for long-term antibiotic therapy for chronic Lyme disease raised almost $690,000.
Experts raise concerns with crowd-funding for unapproved treatments
Experts said the findings present two ethical questions: Whether crowdfunding sites should restrict the types of health care fundraisers they allow and whether people who run campaigns for unapproved treatments should be required to disclose that information.
Ford Vox, an author on the study and a professor at Emory University, said that patients "can be desperate in these situations [and] can be taken advantage of." He added that this has been the case for some time, but that the practice is "on full display on these crowdfunding campaigns."
Art Caplan, co-author on the study and a medical ethicist at the NYU School of Medicine, said the study shows that large amounts of money "are being raised for dangerous, fringe, known-to-be ineffective interventions with no accountability on the part of the fundraisers or the providers of what are often hugely expensive, useless, or even harmful procedures."
He added that the donors to these campaigns "are being ripped off and desperate patients and families are being exploited by charlatans, quacks and dubious providers." Caplan argued that the sites "should insist on standard campaigns that say where money goes, what happens if all the money sought is not raised, what the return policy is and that something should be posted on the outcome of the intervention if it is obtained."
Experts also raised concerns about the message these public campaigns send. Valorie Crooks, a health geographer at Simon Fraser University, said that this type of crowdfunding "is facilitating the normalization of experimental therapies."
Campaign weighs in
Heidi Hagberg, a spokesperson for GoFundMe, said the company "always encourage[s] people to fully research whatever it is they are raising money for and to be absolutely transparent on their GoFundMe page, so donors can make an informed decision on what they're donating to." She added that it is "up to the GoFundMe community to decide which campaigns to donate to" (Thielking, STAT News, 10/23; Carroll, Reuters, 10/23; Vox et al., JAMA, 10/23).
How to surpass monumental campaign goals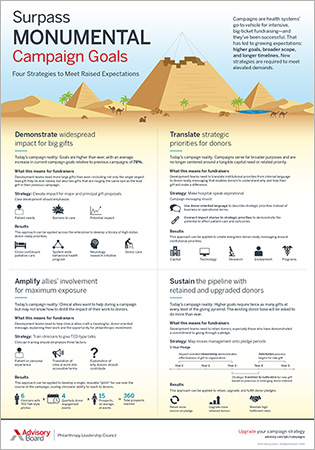 The reality of today's campaigns calls for new strategies to meet the elevated demands of both health systems and donors. This infographic is your guide to four essential strategies to maximize campaign performance.