Editor's note: This popular story from the Daily Briefing's archives was republished on Dec. 14, 2018.
New research shows fecal transplants are as effective as antibiotics as a first-line treatment for Clostridium difficile (C. diff) infection—but donating stool for fecal transplants is not an easy process.
Antibiotic overuse: Health care's $20 billion problem
C. diff is an "an often intractable and debilitating bacterial infection" caused by the microbes, the Times reports. The bacterial infection "can take over a person's intestines." It causes severe cramps, diarrhea, fever, and vomiting, and it kills 14,000 U.S. residents annually.
While antibiotics currently are considered the first line of treatment, FDA allows patients to receive fecal transplants after antibiotics have failed to treat C. diff infections.
How do fecal transplants work?
A fecal transplant involves providing a patient with a healthy dose of gut bacteria, extracted from the feces of healthy people and delivered as either an enema or a capsule. The bacteria then multiply and ultimately crowd out the C. diff microbes. An average-size stool can provide transplants for five patients, the New York Times reports.
In a recent trial, Norwegian researchers randomly assigned 20 patients with C. diff to receive either fecal transplants or antibiotics, according to recent correspondence published in the New England Journal of Medicine. Five of the nine patients who received fecal transplants immediately had their infections cured, compared with five of the 11 patients who received antibiotics.
Three of the four remaining patients who received fecal transplants then received antibiotics, which cured two of them from C. diff within days. The six remaining patients who received antibiotics, meanwhile, did not respond to a second round of antibiotics.
Researchers plan to conduct a larger and more conclusive study with 200 patients this summer.
Where do donated feces come from?
Existing stool banks offer sufficient supply to meet current demand for fecal transportation, according to the Times. But if the method becomes more widely used, the demand for donated feces could rise significantly in the years ahead—raising a question: Where will all those donated feces come from?
The good news is that many people are willing to donate, the Times reports. Canadian researchers surveyed 802 people in the United States, Canada, and England on the subject, and more than half of the respondents demonstrated a high willingness to donate stool.
While respondents generally considered the unpleasant nature of collecting stool samples off-putting, and the time commitment—most labs require donations at least three times a week—a deterrent, nearly half said their desire to help a patient with C. diff would serve as "powerful incentive," the Times reports. In addition, a third of respondents said the financial compensation—about $15.50 to $23 in U.S. dollars—would make them more willing to donate.
Breanna McSweeney, the study's lead author and a medical student at the University of Alberta, said, "Just telling people how much it helps patients when they receive the transplants could make them even more motivated."
How hard is it to become a stool donor?
The screening process to donate stool is intensive, and many would-be volunteers don't qualify to donate their stool.
At OpenBiome, a Boston-based stool bank, volunteers must first fill out a health questionnaire. Depending on their answers, they might be invited to an hour-long clinical interview that includes questions about the prospective donor's health status, health history, and family health history.
If the prospective donor passes the interview stage of the process, their blood and stool must then undergo extensive tests to screen for infectious disease and pathogens. If a donor is accepted, they must commit to providing at least three samples a week for at least two months. Each donation must be provided at the clinical center, and donors receive $40 for each stool that meets the required standards.
Carolyn Edelstein, the executive director of OpenBiome, said, "Only about 3% make it through our screening process. We like to joke with our donors that it's easier to get into Harvard or M.I.T. than be a stool donor."
Edelstein said applicants may be rejected for a number of reasons. For instance, applicants who have allergies or asthma, autoimmune diseases, a high body mass index, or a family history of colon cancer are typically disqualified. She said, "If you traveled to certain regions of the world or recently got a tattoo or recently changed sexual partners, that might exclude you or put you on hold for a few months. We count on people to be honest."
For those who are able to donate their stool, Edelstein said, "We encourage them to come every day. Some donate multiple times a day—it depends how productive they are" (Rabin, New York Times, 6/5; Kolata, New York Times, 6/2).
Need to reduce antibiotic usage? Start here.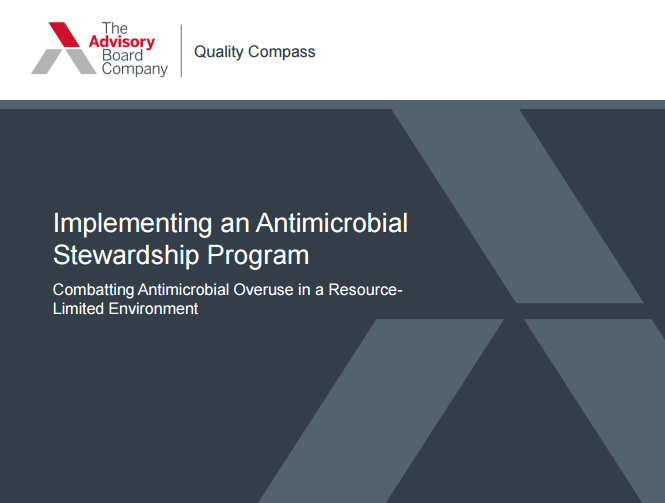 Antibiotic-microbial organisms infect approximately two million Americans each year. CMS recently announced its plan proposing that all hospitals must have an antimicrobial stewardship program (ASP) in place by 2017 in order to participate in Medicare. Many hospitals still lack ASPs, especially smaller community hospitals where resource limitations present a major barrier.
Watch to hear case studies and tips from hospitals that have successfully implemented ASPs, despite these resource challenges. We focus specifically on three top issues: leadership and governance, intervention selection, and impact measurement. We also demonstrate how Quality Compass can help you take the first steps toward reducing antimicrobial overuse.