Editor's note: This popular story from the Daily Briefing's archives was republished on Feb. 14, 2020.
As health care executives from the baby boomer generation look to retire, health systems are preparing new leaders to helm the organizations, Modern Healthcare reports.
US labor force shifts as baby boomers retire
In 1994, baby boomers represented the largest share of workers in the U.S. labor force, at 50%. More than 20 years later, baby boomers in 2017 represented 25% of the U.S. labor force, and millennials represented the largest share of workers in the U.S. labor force, at 35%. 
In the health care industry, the shift in the U.S. labor force has become increasingly apparent, with the leaders of several health care systems announcing their retirements, including former Cleveland Clinic CEO Toby Cosgrove, former Mayo Clinic CEO John Noseworthy, and former Sharp HealthCare CEO Michael Murphy. As a result of the shift, health care organizations are taking steps to search for new leaders to take the helm.
Mark Armstrong, VP of consulting operations at Quorum Health Resources, said health care organizations have a lot at stake when replacing retiring executives. However, he said, "Even when systems know someone is retiring, it is interesting how few of them still don't have an assertive plan in place." Armstrong added, "Any kind of turnover can be disruptive, especially if there has been a trend of declining performance. It's not unusual for a ratings agency to have heightened concerned when a CEO leaves."
Health care systems launch programs to prepare new leaders
According to Modern Healthcare, several health care systems have launched leadership development programs to prepare executives to fill future vacancies. 
For example, TriHealth about six months ago launched a leadership institute. The institute is intended to prepare roughly 1,000 administrative and physician executives for new roles by developing their skills and exposing them to the corporate operations and culture of other organizations. TriHealth's leadership program centers around recognizing potential leaders within the system. Under the program, executives are placed on a multiyear track in which they receive several development opportunities, including quarterly leadership training and chances for senior executives at TriHealth to shadow executives at affiliated health systems.
According to TriHealth CEO Mark Clement, the leadership institute led to improvements in employee engagement and patient experience. In particular, Clement said employee engagement improved from the 26th percentile to the 74th percentile, which helped the company achieve one of its highest operating margins in recent years, at 3.5%. Clement said patient experience scores at the organization also increased from the 50th percentile to the 75th percentile.
Clement said promoting executives from within the organization ideally will motivate executives and ensure operational and cultural continuity. "When you bring new senior executives in from other organizations, it can be a threat to the culture," Clement said, adding, "For an organization like ours that has invested a lot of money in building a culture based on value, engaging team members and flattening the organization, it's often best to promote from within."
Similarly, Ascension launched a leadership development program involving a series of classes, quarterly leadership meetings, and pairings between administrators and clinician executives in each of the system's market segments. Under the program, executives are shuffled within the system's network to offer new perspectives and fill vacancies in regions where it is difficult to recruit qualified candidates. Ascension also recently created a diversity inclusion campaign designed to cultivate minority leaders.
Elsewhere, Providence St. Joseph last year partnered with the University of Providence to provide certificate and professional development programs for Providence St. Joseph's more than 111,000 employees. The partnership is partly designed to establish a pipeline of managers for the health system. Providence St. Joseph also created mentorship and leadership development programs. According to Modern Healthcare, the programs over a three-year period increased the system's female executive cohort by 50%.
External development
Meanwhile, other health systems are looking to recruit and train industry outsiders for executive roles, Modern Healthcare reports. According to Modern Healthcare, as health systems become more technology-oriented and consumer-focused, the organizations are seeking to prepare executives who have experience in technology, nutrition, fitness, and other areas to take on leadership roles within a health system.
For instance, Novant Health is launching a leadership program designed to train community leaders in North Carolina's Charlotte-Mecklenburg area for roles within the health system. Tanya Blackmon, EVP and chief diversity and inclusion officer at Novant, said the program involves mentoring and teaching sessions intended to help people who would not otherwise have access to such programs build their leadership skills.
David Schmahl, executive vice president of consultancy SmithBucklin, said although industry outsiders face a steep learning curve, they have valuable experience in marketing, technology, and other fields that can make them better equipped to handle challenges in the health care industry. "The experience people are obtaining in leadership roles outside the health care field is critical," he said (Kacik, Modern Healthcare, 5/5).
Next, follow these 4 steps to build a high-impact succession plan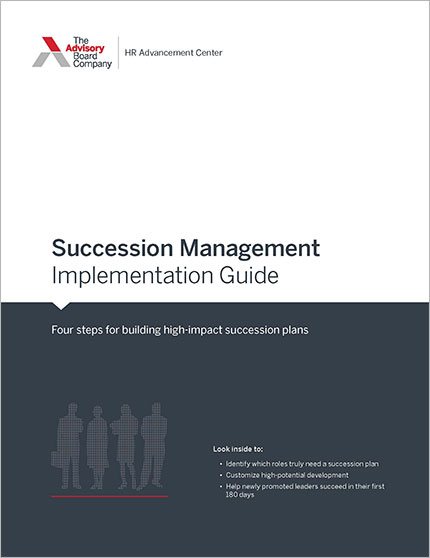 Building a succession plan can seem like a formidable task—but it doesn't have to be. There are four key steps to the process: pinpointing future leadership gaps, identifying top talent, customizing high-potential development, and personalizing onboarding for internal hires.
Find 12 ready-to-use tools to help you build effective succession plans for the most critical roles in your organization.