Editor's note: This popular story from the Daily Briefing's archives was republished on Dec. 18, 2018.
Hypnotherapy is commonly viewed as a type of alternative medicine, but some of the country's leading medical centers are adopting the practice to treat gastrointestinal disorders such as irritable bowel syndrome, Sumathi Reddy reports for the Wall Street Journal.
Get 10 lessons to help you successfully implement personalized medicine
Why hypnotherapy could work for gastrointestinal diseases
In hypnotherapy, patients are lulled into a trance-like state using relaxation and visual images. A growing body of research has shown that hypnotherapy is effective in helping treat gastrointestinal disorders, Reddy writes. And some studies have suggested it can extend remission of colitis and ease symptoms among patients with functional heartburn.
Experts believe that hypnotherapy works for patients with gastrointestinal disorders because of the connection between the brain and the digestive tract, Reddy writes. The digestive tract and brain are communicating constantly, so when something interrupts that communication, the brain becomes overly sensitive to stimuli in the digestive tract, which can cause pain. Reddy writes that experts believe hypnotherapy focuses the brain's attention away from the stimuli in the digestive tract.
John Pandolfino, chief of gastroenterology and hepatology at Northwestern Memorial Hospital, said that hypnotherapy "doesn't get rid of the stimulus," but rather it changes "the threshold of perception so you're not paying attention or feeling it with the same intensity."
More doctors are embracing hypnotherapy
Olafur Palsson—a professor of medicine and clinical psychologist at the University of North Carolina at Chapel Hill, who developed the first script for irritable bowel syndrome hypnosis treatment in 1995—estimated about 600 therapists across the country use the treatment.
According to Reddy, hypnotherapy is also being offered at a growing number of hospitals, including:
Northwestern Memorial;
Beth Israel Deaconess Medical Center;
Baylor College of Medicine;
Mount Sinai Health System;
University of Michigan; and
University of Washington.
Northwestern began offering the therapy in 2006 and plans on expanding to two regional hospitals, Reddy writes, and the Mayo Clinic is also exploring adding hypnotherapy for irritable bowel syndrome patients, Reddy writes
Pandolfino noted that there aren't many treatments for irritable bowel syndrome, so for many providers hypnotherapy has become "the front-line therapy" for the disease. Shoba Krishnamurthy, a gastroenterologist at the University of Washington, said the treatment is "mostly for patients who have had a work-up but we haven't found anything abnormal in tests, so there is not a specific abnormality to treat."
Andrea Bradford, an assistant professor of medicine at Baylor, which started offering hypnotherapy in 2016, said that some patients "get a little uneasy about the word 'hypnosis'" because it "conjures up images of some guy in Vegas making you bark like a dog. It takes some education to explain to them what it constitutes and what it does not." Ultimately, though, Bradford said that about a third of patients tend to be open to it (Reddy, Wall Street Journal, 5/7).
Get ready-to-use slides on the latest neurosciences market trends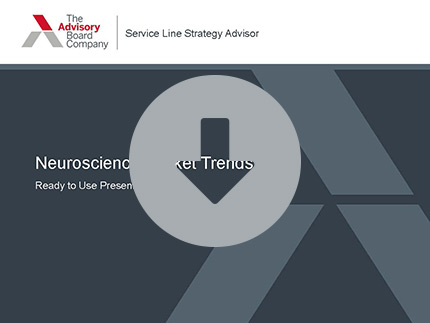 Download the slides to learn everything you'll need to know about the neuroscience market in 2018, from growth outlook and financial considerations to new care management priorities and technology innovations.