Esports is now a multi-million dollar industry, and its popularity has inspired a new and growing field of medicine focused on preventing and treating video game-related injuries, John Gaudiosi writes for Variety.
Get ready-to-use slides on the latest orthopedic market trends in 2018
Background
According to research firm Newzoo, esports is expected to reach a global audience of 380 million this year and drive revenues of $1.4 billion by 2020. A growing number of traditional sports teams, such as the New York Yankees, New England Patriots, and Philadelphia 76ers, are investing in esports teams and offering players the same access to nutritionists, trainers, and medical staff that professional athletes receive.
Levi Harrison—a Los Angeles-based provider who according to Variety established the country's first esports-focused practice—said, "Having a medical professional who's been a gamer and understands the body as well as the ergonomics of gaming is important to not only win, but to play for a long time."
The injuries gamers suffer
Professional gamers often play between eight to 16 hours each day on strict schedules, whether they're currently competing or preparing for a competition—putting them at risk for various physical and cognitive injuries.
Harrison said he often sees stress injuries that cause "pain in the hands, wrists, elbows, knees, feet, and neck." He said, "Tendinitis in the wrist, fingers, or elbows, like tennis elbow or golfer's elbow or carpel tunnel or rotator cuff tendinitis," is common.
One injury that's unique to esports players is "gamer's thumb," in which the thumb and trigger finger lock, leaving patients unable to bend or extend their thumb, Harrison said.
Harrison said he also places a large emphasis on cognition and mental well-being. "When it comes to esports players, the brain is the first instrument players use to strategize, and the second instrument is the body, using your hands, wrists, elbows, and arms," said Harrison.
How Harrison is keeping gamers healthy
Harrison's approach to esports care focuses on the whole person rather than just the hands and wrists, Gaudiosi writes. "We go through a whole diatribe of other issues, including posture, eye health for eye fatigue and strain, their mental status as it relates to depression or anxiety about injury or job security," he said. "The hand is part of it, but I treat the athlete from a whole body and mind perspective."
Harrison has also created a series of YouTube videos aimed at educating gamers about the importance of stretching, taking breaks, and increasing circulation to avoid injuries associated with excess gaming.
According to Gaudiosi, esports and esports medicine are both nascent fields, and as such there haven't been any long-term studies to examine the effect of prolonged gaming. Harrison studies the data he collects from his patients and is hoping to use those findings to develop equipment "specifically geared for gamers," including a device that gamers can use to exercise their hand. At the moment, Harrison said, console controllers and mouses "aren't ergonomically well-balanced for the amount of time professionals spend playing."
Nick Scolari, a former patient of Harrison's, has also become an advocate for keeping gamers healthy. Scolari developed atrophy in his shoulders and pecs as well as wrist tendinitis so severe that he was not able "to lift a water bottle, put on a shirt, or drive a car," he said. His original doctor had told him to go home and rest, but his condition wasn't healing, which led him to Harrison.
"It was a complete 360," Scolari said, adding, "He was more proactive with exercises and stretches that targeted the supporting areas" and helped Scolari get back to gaming within a few months.
Esports medicine grows
Other esports-focused practices have opened in recent years. For instance, Gaudiosi writes 1HP Gaming, a practice with physical therapists in Washington D.C. and Los Angeles, began by working with gamers individually but has since expanded to work with entire teams and to deploy onsite during tournaments.
Caitlin McGee, a physical therapist at 1HP Gaming who specializes in gaming and esports clients, said, "Our primary goal is to prevent the need for surgery to address an injury in the first place by incorporating ergonomics, exercise, and nutrition management," adding, "The kinds of cases we refer to surgeons usually involve either traumatic injuries or a patient ignoring and mismanaging an injury for a prolonged period of time" (Gaudiosi, Variety, 5/3).
Get ready-to-use slides on the latest orthopedic market trends in 2018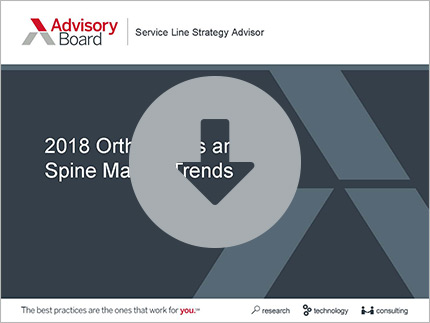 Want the latest information for your next orthopedics meeting? This ready-to-use presentation contains the Advisory Board's most popular slides on orthopedic market trends, from growth outlook and financial considerations to new care management priorities and technology innovations.