Ascension and Providence St. Joseph Health have halted talks regarding a proposed merger that would have created the largest hospital operator in the country, sources familiar with the discussions told the Wall Street Journal.
Get the field guide to hospital partnership and affiliation models
Scope of the deal
St. Louis-based Ascension operates in 22 states and Washington, D.C., while Providence, which is based in Renton, Washington, has hospitals in seven states. Both organizations currently have hospitals in Texas and Washington state. Ascension is the largest non-profit hospital system in the country, according to the Journal. Providence is also a significant non-profit hospital owner.
According to the Journal, news of the proposed merger surfaced last December amid a wave of health care sector mergers. At the time, the Journal reported that a merger between the two organizations "would create an entity of unprecedented reach." The merged organization would have had 191 hospitals in 27 states with annual revenue of $44.8 billion based on the most recent fiscal year. It would have overtaken HCA Healthcare as the largest hospital operator in the country, according to the Journal.
The financial terms of the potential deal were not clear. A merger between the two Catholic organizations would require approval from church authorities.
Latest developments
Sources familiar with the situation told the Journal that Ascension and Providence halted the talks to focus on restructuring their respective organizations as care moves away from hospitals. The sources said a major merger would divide attention between restructuring and combining. If the merger talks resume, it would not happen soon, the sources added.
Providence is putting its attention toward better financial performance and bolstering digital, retail, and ambulatory care, the sources told the Journal. The system—which itself formed as a result of a merger between Providence Health & Services and St. Joseph Health System in 2016—about broke even last year, according to the Journal.
Meanwhile, Ascension's directors recently backed a new strategic plan, focused on growth and labor productivity. One of the sources cited the plan as the reason why the merger timing would not work.
According to the sources, both Ascension and Providence will likely remain active deal makers amid their restructuring. Ascension, which on Tuesday said it would divest a hospital in Connecticut, earlier this month acquired Presence Health, a 10-hospital system based in Chicago. And Providence plans to keep growth as a priority following the 2016 merger, one of the sources told the Journal (Evans, Wall Street Journal, 3/28).
Get the field guide to hospital partnership and affiliation models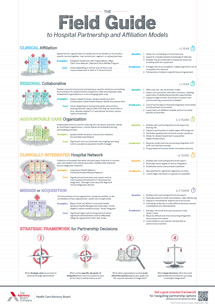 Behind the flurry of M&A in recent years, a deeper trend of hospital integration is underway: the emergence of alternative partnerships that secure many of the same benefits of M&A without the financial and legal commitment: Clinical affiliation, regional collaborative, accountable care organization, and clinically integrated network.
This guide defines these types of partnerships and offers benefits, drawbacks, and examples of organizations in each.