Editor's note: This story was updated on February 15, 2018. 
Amazon wants to expand its medical supplies business and offer health systems a new, simplified purchasing model—but first, the company must convince hospitals to try out the new system, Melanie Evans and Laura Stevens write for the Wall Street Journal.
Amazon's shaking up the medical supply business. Here's how we're thinking about it.
Currently, hospitals typically contract directly with manufacturers or distributors to purchase medical supplies. Some hospitals have joined or formed group-purchasing organizations that negotiate better prices for providers.
Amazon executives believe their business model offers a better approach—and they're looking for ways to enter the market.
What Amazon is telling hospital executives
Amazon in recent months has met with hospital executives to discuss entering the medical supply industry, Evans and Stevens report—a move that Advisory Board's Rick Conlin said marks the company's active foray into the hospital distribution business. Executives who have attended the meetings said Amazon discussed ways the company could expand its existing business-to-business marketplace—Amazon Business, which currently offers some medical supplies—to give hospitals a new place to shop for medical supplies to stock outpatient facilities, operating suites, and EDs.
Chris Holt, head of global health care at Amazon Business, said the company does not want to just replicate existing supply-distribution models. "Our goal is to be something new," he said, adding, "We've been actively building out new capabilities and features" to improve the process.
Amazon is testing the concept at a health system in the Midwest, which has not been publicly identified, to determine whether Amazon Business can handle medical supply orders for the system's roughly 150 outpatient facilities, according to a hospital official involved in the project. The move follows the company's recent approval to be designated a wholesale distributor by several state pharmaceutical boards, a designation required to sell medical supplies to licensed health care providers, Evans and Stevens report.
How the industry is reacting
Some hospitals have been hesitant so far to use Amazon Business, citing concerns including a lack of selection and little control over purchases and shipping, which hospitals currently have through their supplier contracts.
Phyllis McCready, the chief procurement officer for Northwell Health, said, "We can't be without supplies." She added, "It's a little different than being out of a size 6 dress. I can't be out of a six French catheter."
Donna Drummond, the SVP of consolidated business services for Northwell, raised another concern: Doctors and nurses typically are very familiar with certain products, and they may be hesitant to switch to a different product—even if it's available more cheaply online. Drummond said that Northwell is "not ready to move from our current model," but is "open to a competitive market."
According to Evans and Stevens, some medical supply distribution companies have expressed concern about Amazon's potential expansion into the sector. Cody Phipps, the CEO of Owens & Minor, during his company's November earnings call said that Amazon is "a formidable competitor in any distribution business," Evans and Stevens report. Owens & Minor did not respond to a request for comment.
However, other suppliers say that their services go well beyond distribution, which should give them an advantage over Amazon. For example, Ron Barth, the EVP of sales for Medline, said that Medline is developing custom products for its customers. Additionally, a spokeswoman for Henry Schein said that the company provides health care education and consulting to its small business customers.
Cardinal Health and McKesson declined to comment, Evans and Stevens report (Evans /Stevens, Wall Street Journal, 2/13).
What do consumers want from surgical care?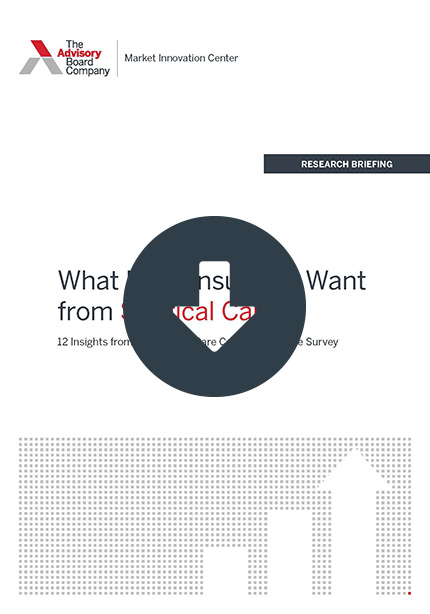 Get our analysis of over 2,400 responses from consumers on how they prioritize provider attributes like cost, travel time, and hospital affiliation when they need surgical care for representative surgeries of varying acuity—a colonoscopy, knee replacement, coronary bypass, or cancerous tumor removal.
Download the Brief