Videos are circulating on social media of a new fad dubbed the "Tide Pod Challenge," in which people eat the brightly-colored liquid laundry detergent packets—contributing to a sharp rise in related calls to poison control centers.
Download our ready-to-present slides on the latest health care trends
Why you shouldn't eat a Tide Pod
Needless to say, experts warn against eating Tide Pods.
According to Diane Calello, the medical director at the New Jersey Poison Information and Education System at the Rutgers New Jersey Medical School, "What we've seen is when children or adults bite into these things, that moisture-sensitive membranes basically just disintegrates and the contents explode inside your mouth."
Those contents, according to Calello, include highly concentrated detergent and chemicals that can severely burn the mouth, esophagus, or respiratory tract. If children or teens aspirate or ingest the liquid, the results can include changes in blood pressure and heart rate, loss of consciousness, or seizures.
Since 2012, the American Association of Poison Control Centers (AAPCC) has reported eight deaths of children five or younger from ingesting the packets.
So where did the Tide Pod Challenge come from?
It's not clear exactly how the Tide Pod Challenge originated, but for years, observers have noted the pods' resemblance to candy—and some have expressed, if only in jest, a deep-seated desire to eat one.
A satirical 2015 article in The Onion, written from the point of view of a child, said, "From the very second I saw those blue and red detergent pods come out of that shopping bag last week, I knew immediately that, come hell or high water, I would eat one of those things."
The website College Humor posted a similarly themed video last year, and across early 2018, many Twitter users have posted humorous photos in which the pods are served up as food—for instance, on top of pizza. 
But while the idea of eating Tide Pods may have initially been a joke, some teenagers appear to be taking the "Tide Pod Challenge" seriously. Videos circulating on social media show individuals biting into the pods and then spewing soap from their mouths.
Seemingly as a result, reports of ingestion of Tide Pods are on the rise. So far this year, poison control centers have reported a total of 86 cases in which teenagers were intentionally exposed to the detergent pods, The Hill reports. By comparison, in all of 2016, only 53 total cases were reported.
Reining in the 'challenge'
As reports of the "challenge" have spread, Proctor & Gamble, which manufactures the pods, has strongly discouraged the practice. "Laundry pacs are made to clean clothes," a company spokesperson said. "They should not be played with, whatever the circumstance, even if meant as a joke."
Similarly, the AAPCC has upgraded its alert discouraging the intentional consumption of the pods to a "high alert." 'Since our first alert to this life-threatening activity, the trend of intentionally ingesting single-load laundry packets has increased in its popularity despite repeated warnings," Stephen Kaminski, CEO and executive director of AAPCC, said. "We cannot stress enough how dangerous this is to the health of individuals."
And this past Wednesday, YouTube announced that it would remove videos of people engaging in the challenge. According to spokesperson Jessica Mason, YouTube's policies prohibit "content that's intended to encourage dangerous activities that have an inherent risk of physical harm" (Bever, "To Your Health," Washington Post, 1/17; Chokshi, New York Times, 1/20; Anapol, The Hill, 1/25).
What thousands of patients—from the Silent Generation to Millennials—told us about their care preferences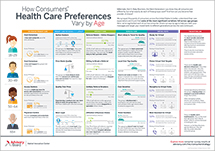 Millennials, Gen X, Baby Boomers, the Silent Generation—what exactly do each of these groups want from their health care?
We surveyed thousands of consumers across the United States to find out. Download this infographic to learn how to tailor your messages and target your investments to each generation.