U.S. hospitals in recent months have been experiencing a shortage of intravenous (IV) fluid bags, and some have developed creative ways of dealing with the shortage when it comes to patient care.
Hurricane Maria, heavy flu season spur IV bag shortage
According to the State Journal-Register, IV bags are one of the most commonly used medical supplies. The bags often are manufactured containing saline solution, which hospitals use to administer and dilute patient medications.
From outbreaks to shortages: How can your hospital prepare for disasters?
The United States has been experiencing a shortage of the bags since Hurricane Maria hit Puerto Rico in September 2017, causing damage to many of the commonwealth's medical supply manufacturers. For instance, Linda Jones, VP of operations at Memorial Medical Center in Illinois, said Baxter—the health care company that supplies Memorial and most other U.S. hospitals with IV bags—is just now having electricity restored to its Puerto Rico-based productions sites, which manufacture small IV bags. She added, "The situation on the island continues to be fragile," noting that productions could be hindered for several months.
Shortages of the small IV bags prompted many hospitals to rely more heavily on larger IV bags. But the United States' virulent influenza season increased hospitalizations throughout the country, and increased demand for larger IV bags that are used to hydrate flu patients, Reuters reports.
How hospitals are dealing with the shortage
In response to the shortage, hospitals throughout the country have adopted innovative strategies to ensure patients are getting the medications and care, while minimizing the use of IV bags.
For instance, Memorial—which had been using nearly 11,000 small IV bags each month, according to the State Journal-Register—purchased 200 single-use IV syringe pumps for $772,000 to automatically administer medications to patients.  
The IV syringe pumps are filled with a combination of the patient's medication and saline solutions. The medication is then automatically pumped from the syringe into a patient's veins over a 10- to 30-minute period. As a result, Jones said the hospital has "not encountered a problem in meeting the demand."
Brandi Strader, director of pharmacy at HSHS St. John's Hospital, said St. John's also is using syringe pumps to help reduce the facility's dependence on IV bags.
Both Memorial and St. John's also are relying on nurses to manually inject medication into patients' IV lines, the State Journal-Register reports. Hospital officials said although the practice takes more time than using an IV bag or syringe pump, it eliminates the need for the devices.
Meanwhile, some hospitals—including Memorial—are experimenting with ways to hydrate patients orally. Tara Tehan, nurse director of the neuroscience intensive care unit at Massachusetts General Hospital, said the hospital is considering whether it can use Gatorade to rehydrate patients as a way to reduce use of IV bags. In addition, Tehan said the hospital has looked into whether it can use IV bags for longer periods than recommended by manufacturers, and are identifying ways to use the entire bags.
According to the Columbus Dispatch, some hospitals also are using oral or skin-injected medications to help conserve IV bags when possible. Curt Passafume, VP for pharmacy services at OhioHealth, said, "We have gone into aggressive shortage-management mode." He continued, "I've never seen anything like this before. It's challenging us to think differently than we thought in the past, because we have to."
Curt Passafume, VP for pharmacy services at OhioHealth, said, "We're having to get more innovative in the way we deliver care as opposed to automatically doing the same things we always did every day," he said, adding, "We're going to learn a lot about patient care."
Gottlieb says shortage could begin to wane in 'coming weeks and months'
FDA Commissioner Scott Gottlieb in an update on the shortage published last week noted that the shortage could begin to taper "in the coming weeks and months." He wrote, "In addition to working with manufacturers to ensure that their Puerto Rico facilities can operate at full capacity, [FDA has] worked with manufacturers such as Baxter and B. Braun to import product into the US from their foreign facilities, including, most recently, from a Baxter facility in Brazil."
Baxter International on Wednesday said it had received FDA approval to import large saline bags from its manufacturing site in Mexico.
FDA this week also extended the shelf life of eight of Baxter's IV solutions as a way to mitigate the shortage, Becker's Hospital Review reports. The solutions will not have to be relabeled with the new expiration dates—which range from an additional 21 days to an additional five months—but FDA does expect providers to use newer IV solutions if and when they are available. FDA also advised providers to squeeze the IV bags before using them to ensure there are no leaks, Becker's reports.
Gottlieb also noted other ways manufacturers might be able to help mitigate the shortage. For example, he wrote, "If expiration dates can be (safely) extended, it would allow some near-expiry product that remains at the hospital level to be used" (Saker/Rudavsky, USA Today, 1/14; Olsen, State Journal-Register, 1/20; Frellick, Medscape, 1/18; Viviano, Columbus Dispatch, 1/22; Steenhuysen, Reuters, 1/24 Bean, Becker's Hospital Review, 1/25).
From outbreaks to shortages: How can your hospital prepare for disasters?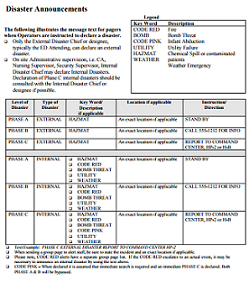 Hospitals must be prepared for myriad disasters that can stress health care systems to the breaking point and disrupt delivery of vital health care services.
Advisory Board has compiled step-by-step procedures for various threats your facility may encounter—though we hope you'll never need to use them.