1. How do I get providers to trust my referral data?
---
Align your data with what hospital leadership is already sharing with providers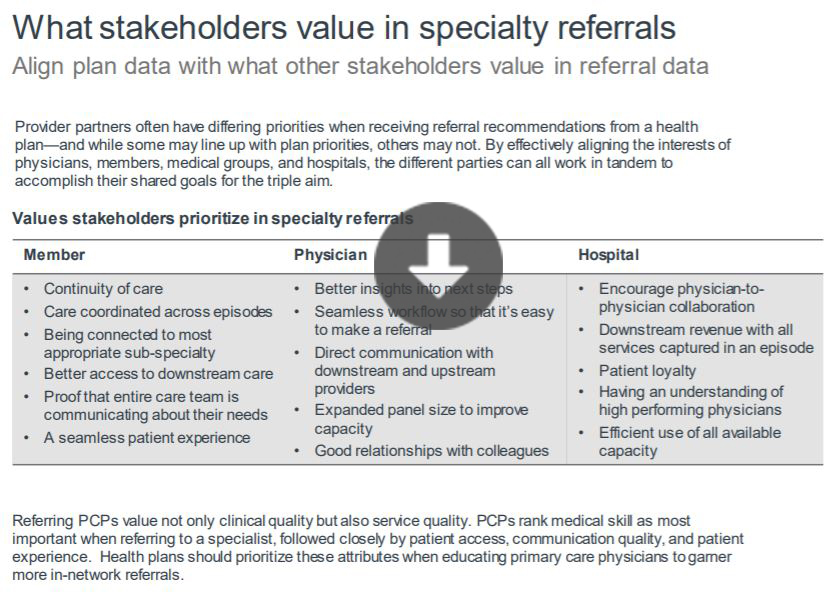 Providers get opposing recommendations because different stakeholders have different goals for specialty referrals. View what stakeholders value in specialty referrals to find out what members, physicians, and hospitals prioritize. Download.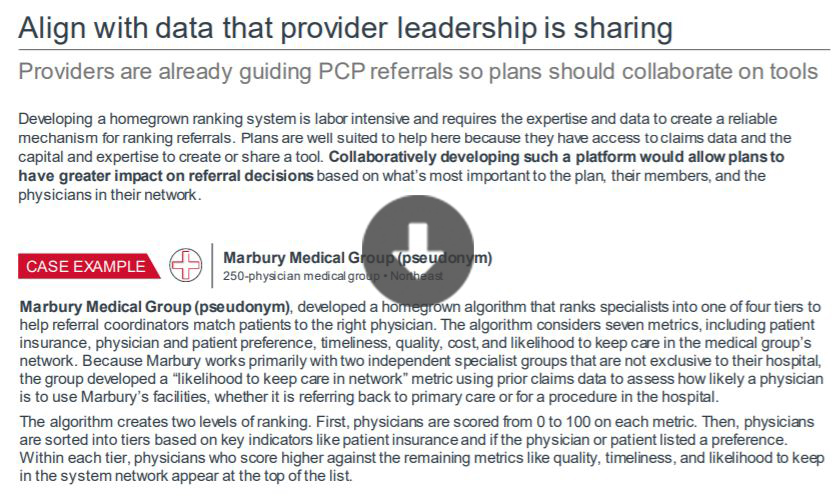 Read a case study on how progressive provider systems are already sharing data with referring clinicians to guide referrals and how your plan can collaborate to align with what provider leadership is sharing. Download.
---
Assure providers that your data is unbiased by using third party vendors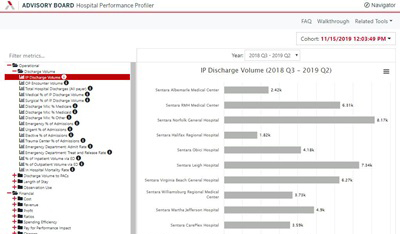 Many third party vendors offer specialist data sets and network optimization tools that providers and other plans already use and trust. The Hospital Profiler Tool is one such tool that you already have access to with your Advisory Board membership. Access the tool.
---
Incorporate provider expertise into plan recommendations to avoid undermining current PCP referral decisions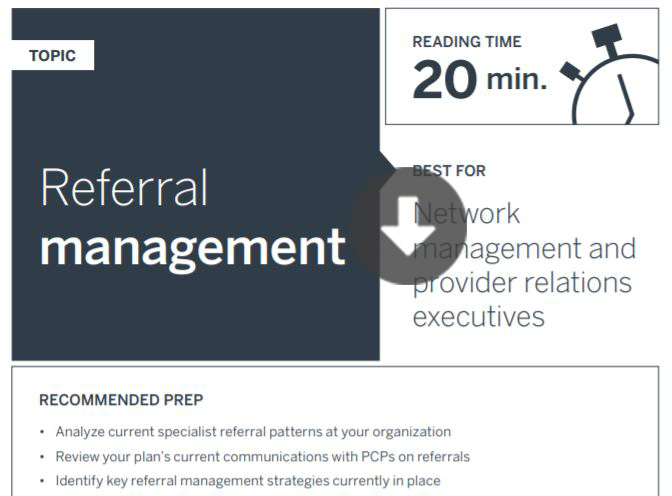 Read our Specialty Referral Management Toolkit for three case studies and associated resources on how to incorporate PCP expertise into plan referral recommendations. Download.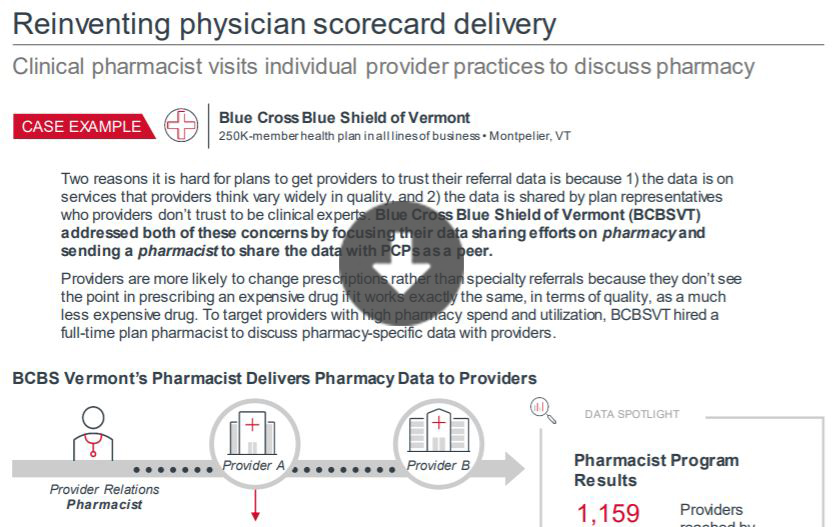 BCBSVT started guiding PCP referral decisions with pharmacy prescriptions rather than specialty referrals because pharmacy changes are more palatable for clinicians. They sent real pharmacists with clinical expertise to start the conversations with fellow clinicians. Download.
2. How do I share data without upsetting specialists?
---
Help specialists become high-quality before sharing their data with PCPs
BCBS Michigan Collaborative Quality Initiatives provide data to specialists to allow them to research and implement best practice care pathways for their own specialties. Download.
---
Then tout the high-quality specialists so that they can gain referral volumes
Independent Health Association organizes interactive PCP-specialist trainings so that high-quality specialists can advise on PCPs' top concerns while attracting more referrals. Download.
Northshore Hospital gives a tip sheet to specialists so that they can appeal to PCPs, based on what PCPs value, rather than hospital leadership or a plan representative. Download.
---
Finally, troubleshoot when providers inevitably pushback on your data
Specialists are still going to pushback, especially if you're telling them that their quality or their referrals are poor. View How to respond to provider pushback on data reports for potential plan responses. Download.
3. How should I format the data report for PCPs?
---
Focus on high-cost specialties to narrow both plan and PCP efforts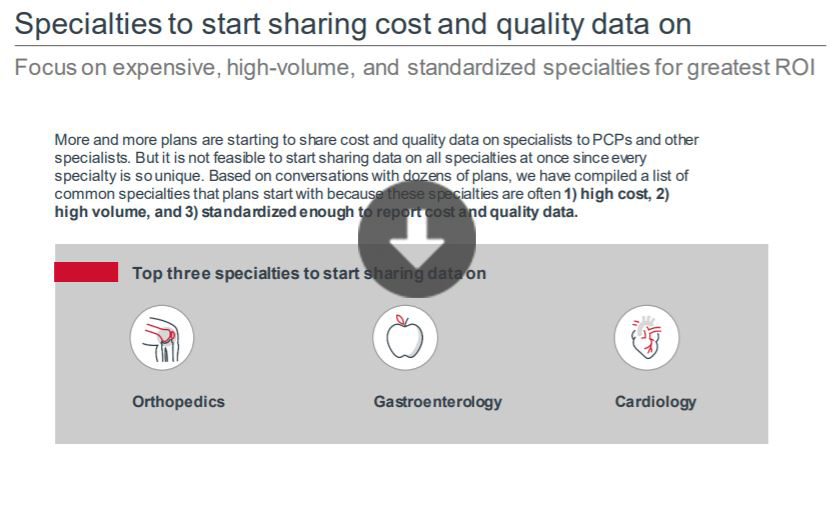 It's impossible to start sharing data with every specialty immediately, so view our list of specialties to start sharing data on for specialties that have high volume, high cost variation, and clear quality metrics. Download.
---
Make your data reports easy-to-use to get PCPs to actually read and apply them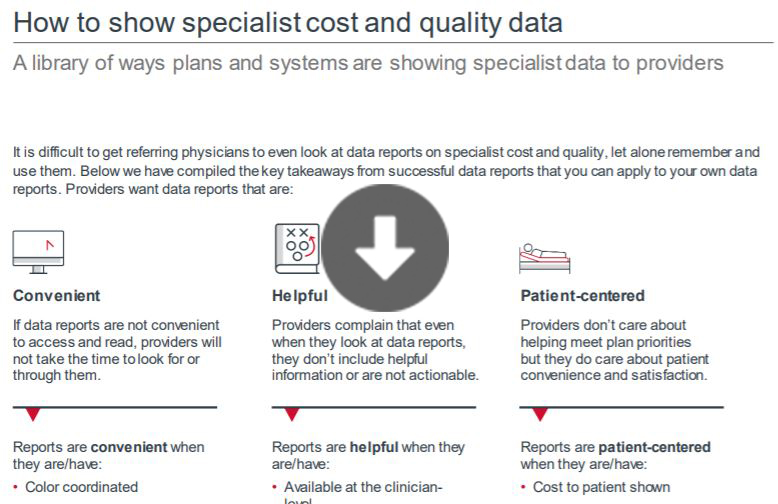 Our tool on How to show specialist cost and quality data has a library of plan and system data reports as well as key takeaways for you to apply to your own data reports. Download.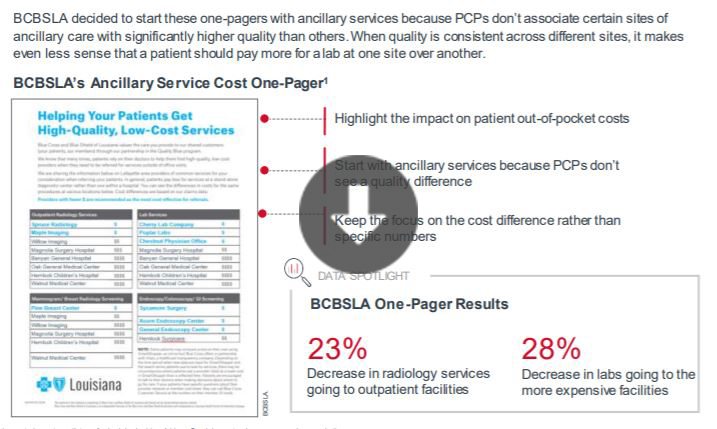 For a more in-depth case study, see how BCBS Louisiana created a one-pager to show PCPs cost variation in ancillary services without calculating real-time out-of-pocket contributions. Download. 
4. How can I show the benefit of appropriate referrals to PCPs?
---
Currently, plans are focused on sharing cost and quality information butt when a PCP makes a referral, he or she is bound to ask these three questions which encompass more than just cost or quality. Plans must expand the scope of the data they provide to include patient-centered preferences and provider actionability.
Providers follow their current referral patterns because they have already answered these three questions for their current patterns. Give simple and straightforward answers to these questions for plan-preferred referrals and PCPs will be more likely to choose that referral.
Is this referral high-quality clinically?
CareFirst offers a second opinion from a nationally-recognized specialist but only when the member expresses a concern about his/her care quality first. Download.
Centivo is a third party administrator that contracts only with high-value primary care clinics and then recommends specialists who are specifically qualified for the PCP's patient population. Download.
---
Is this referral convenient for my patient?
University of Pittsburgh Medical Center created teleconsult centers that rural members can access instead of driving for hours to see a specialist. Download.
Inland Empire Health Plan created telehealth centers that PCPs can refer members to for faster access to specialists. Download.
BCBS of Kansas City has Spira Care care navigators show members their specialist options on a map with cost and quality data so that the member can choose. Download.
---
Is this referral convenient for me?
Vera Whole Health only recommends specialists who have already agreed to send patients and their record's back to the original PCP. Download.
Mochi Health Plan (pseudonym) offers plan FTEs to help providers adapt their workflows to plan-preferred referrals—for example: making sure the specialists have availability for their patients. Download.