Health care is in the midst of another labor shortage. Vacancies are on the rise and demand for health care talent will continue to increase over the next decade.
To win talent in today's competitive labor market, organizations must revamp their recruiting playbook to be candidate-centric—rather than employer-centric. Follow the 12 best practices detailed in this study to win a greater share of talent.
---
Health care entering a labor shortage
All signs point to an emerging national labor shortage. Our benchmarks show that the trend for median health care vacancy rates has been steadily increasing over the past six years, reaching a high of 6.2% in 2015. While health care organizations are struggling to fill today's open positions, future projections confirm that the market will only become more competitive. The Bureau of Labor Statistics projects that one in four new jobs in the next decade will be in health care.
Recruiting playbook from the last shortage no longer sufficient
Health care leaders are investing more in recruitment just to keep up—paying more for sign-on bonuses, search firms, and premium labor. Unfortunately, these reactive tactics aren't paying off. Time-to-fill and first year turnover are trending in the wrong direction. Since 2013, time-to-fill increased by four days and the proportion of turnover due to first-year departures increased by 28%.
Most recruiting playbooks don't account for two major trends reshaping health care recruiting:
These shifts require a new recruiting playbook based on two key principles. First, you must shift from an employer-centric to a candidate-centric recruiting experience.
Two strikingly different candidate experiences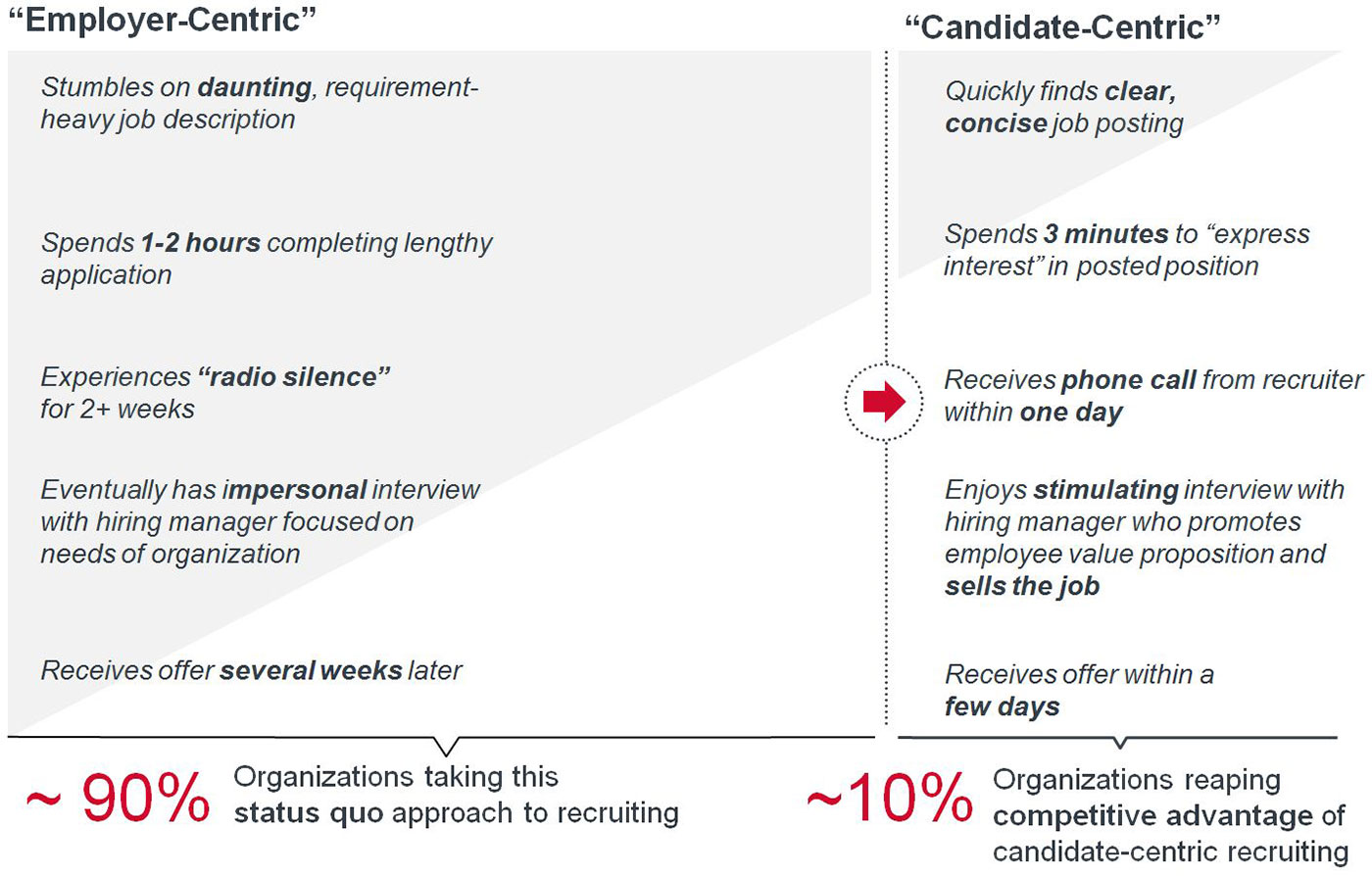 Second, you need to broaden your focus to passive candidates who are currently employed elsewhere. Data suggests they are open to exploring opportunities, but winning them over requires a different approach than winning active job seekers.
The strategies below offer a framework to help you find and win talent amid a labor shortage.
---
Four strategies to win talent in a competitive labor market
Make applying a no-brainer
In theory, online applications make applying to your organization easier than ever. In reality, the typical lengthy, impersonal application process creates more barriers for qualified candidates and ultimately pushes them away. Learn how to design an application process that is easy, personalized, and responsive.
Download Virtua's Visual Job Posting
Distinguish top prospects for hiring managers
Download related tools like the Recruiter's Role Immersion Toolkit
Prepare hiring managers to close the deal fast
The final interview is your last chance to sell a great candidate on your organization. Hiring managers play a key role in shaping the candidate's last impression, but they don't always have the time to prepare extensively or the training to close the deal. Ensure hand-offs from recruiters to hiring managers go smoothly, and that hiring managers are prepared to win candidates before they receive a competitor's offer.
Download related tools like the Manager Cheat Sheet
Court passive talent for future employment
As the labor market becomes more competitive, recruitment teams will have to pursue candidates who are already employed. While these candidates may be open to opportunities, they will rarely reach out proactively to speak to a recruiter. These best practices will help you plant the seed with passive talent so that they'll think of you as a future employer.
Download related tools like Scripps' email scripting to new hires about referrals