Two omicron subvariants, BA.2 and BA.2.12.1, are currently driving a rise in Covid-19 cases across the United States, largely due to their increased transmissibility and ability to partially evade immunity.
Access our Covid-19 variant surge toolkit 
The BA.2.12.1 subvariant dominates in the US
According to CDC data, the omicron subvariant BA.2.12.1 is now the dominant variant in the United States, displacing the BA.2 subvariant, which initially displaced the original omicron variant in mid-March. As of May 21, the BA.2.12.1 subvariant made up 57.9% of all Covid-19 cases in the United States, while BA.2 made up around 39.1% of cases.
So far, data suggests that BA.2.12.1 may be roughly 25% more transmissible than BA.2, which is already more transmissible than the original omicron variant.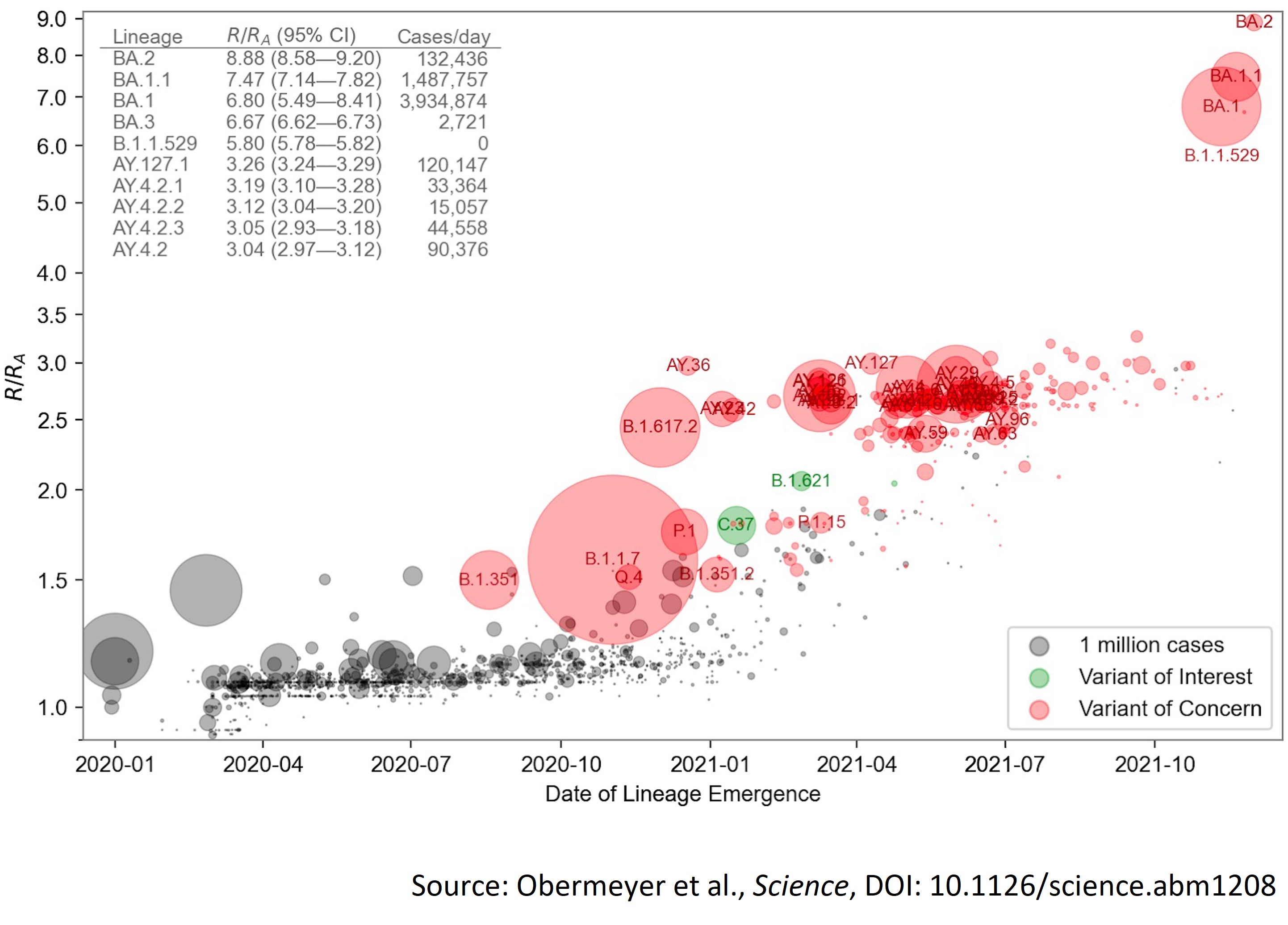 However, despite the subvariants' increased transmissibility, there is no evidence to suggest that they cause more severe illness than earlier coronavirus variants.
"Epidemiologically, it doesn't appear as if we're seeing more severe disease in places that are having more cases," said CDC Director Rochelle Walensky. "So we are not anticipating more severe disease from some of these subvariants, but we are actively studying it."
Meanwhile, Covid-19 cases have begun to surge again, averaging more than 100,000 new confirmed cases a day for the first time since February, according to a New York Times database. However, this may be an undercount of the true number of cases, since the results of many at-home Covid-19 tests often go unreported. In addition, Covid-19 hospitalizations have increased 28% over the last two weeks, averaging more than 24,700 hospitalizations nationwide.
Why omicron subvariants continue to drive new surges
According to Vox, the omicron subvariants in the United States, as well as similar subvariants in other countries, continue to fuel new Covid-19 surges because of their increased transmissibility and ability to partially evade immunity from both vaccination and prior infection.
In particular, data shows that this current increase in cases is largely being driven by reinfections. "The thing with omicron, though, and all the [subvariants] therein, is now a lot of the growth advantage is driven by reinfections," said Aaron Richterman, an infectious disease fellow at the University of Pennsylvania.
Despite predictions that the omicron surge would increase population immunity, research shows that Covid-19 reinfection is more likely with omicron, and that the variant shortens how long previous infection protects a person from the coronavirus. In addition, another study, which has not been peer-reviewed, found that the BA.2.12.1, BA.4, and BA.5 omicron subvariants are able to evade the immunity defenses provided by infection with BA.1, a different omicron subvariant.
"Omicron by itself sweeping through the world is not going to induce a very robust immune status protective against other variants in the future if you are not vaccinated," said Melanie Ott, a senior investigator at the Gladstone Institute of Virology and Immunology at the University of California, San Francisco. " … Even slight changes to omicron in these new variants seem to be sufficient to actually circumvent this neutralizing activity."
As Covid-19 cases continue to increase going into the summer, health officials are encouraging people to consider wearing masks again, especially in areas with high transmission. "I feel that very strongly, that in crowded indoor spaces, in places with high transmission, people should be doing that [wearing masks]," said Ashish Jha, the White House Covid-19 coordinator.
In addition, Jha emphasized the importance of being vaccinated and getting a booster shot when eligible. "What we know is vaccines continue to provide a high level of protection against people getting seriously ill," he said.
Currently, drugmakers are working to develop new vaccines, which are likely to be based on the omicron variant, for the fall, and Jha said he believes these vaccines "are going to provide a much, much higher degree of protection against the virus that we will encounter in the fall and winter." (Irfan, Vox, 5/24; Bean, Becker's Hospital Review, 5/24; Hassan, New York Times, 5/24)