After Karli-Rae Kerrschneider recently gave birth, she faced a bill of almost $5,000 for nitrous oxide—a bill that raised her ire because, as a nurse-midwife herself, Kerrschneider knew that the hospital where she works typically provides the same treatment for only $100, Lauren Weber reports for Kaiser Health News.
Infographic: Understand women's pregnancy care preferences
Why laughing gas is increasingly common in delivery rooms
Using nitrous oxide, also called laughing gas, for pain relief during childbirth has been common for many years in the United Kingdom and Canada—in part because it's typically an inexpensive option, Weber reports.
The treatment used to be rare in the United States: As recently as 2011, only two U.S. hospitals offered nitrous oxide for childbirth, Weber reports. Now, though, an estimated 1,000 hospitals and 300 birthing centers offer it, according to Michelle Collins, a professor and director of nurse-midwifery at Vanderbilt University School of Medicine.
Kerrschneider's labor
Kerrschneider had an uncomplicated vaginal delivery aided by a nurse-midwife and a doula at Hudson Hospital in Wisconsin.
During the labor, Kerrschneider elected to use nitrous oxide to cope with the pain, forgoing an epidural. She was provided a tank of the gas that she could take a breath from as needed, and she estimated that she breathed the gas 10 to 15 times an hour while in active labor.
After 11 hours of labor, Kerrschneider and her husband welcomed their son, Leviathan. "It was amazing," Kerrschneider said. "I would do it all over again."
Kerrschneider and Leviathan stayed in the hospital for two days after delivery.
The bill
Later, Kerrschneider received an $11,890 bill for her hospital stay, including $4,836 for her nitrous oxide, Weber writes.
The nitrous oxide charge was for 39 units of the gas, or roughly $124 for every 15 minutes the tank was in the room—whether Kerrschneider was using it or not, Weber reports.
Given her background as a nurse-midwife, Kerrschneider was surprised and upset by the bill. In fact, Kerrschneider said the hospital where she works charges a $100 flat fee for nitrous oxide during childbirth, and Weber reports that other facilities commonly bill between $100 and $500.
"I think it's ridiculous that they charged so much," she said. "I can buy my own machine for that."
While Kerrschneider was perhaps exaggerating, she wasn't too far off, Weber reports. According to CareStream America, a company that sells equipment for nitrous oxide gas, a brand-new nitrous oxide delivery machine costs around $6,500, and refills for the tank cost less than $50.
Why was Kerrschneider's bill so high?
One reason why the price of nitrous oxide varies so substantially is that there's no standardized billing code for its delivery, Weber reports. As such, while many hospitals charge a flat—and relatively low—fee, others assess by-the-minute charges that can add up over a long labor, as occurred with Kerrschneider.
Further, some hospitals bill nitrous oxide under an anesthesia code, which can lead to higher bills. That was one factor in Kerrschneider's case—although Kerrschneider noted that no anesthesiologist was present during her labor.
In a statement, Hudson Hospital explained that its billing category for anesthesia is "broad and does not necessarily indicate that an anesthesiologist or a certified registered nurse anesthetist performed a service."
At first, Kerrschneider thought she had been accidentally billed for an epidural. When she discovered she wasn't, she protested the charge.
Her insurer, Medica, refused to pay the $4,836 bill for the nitrous oxide, citing "provider responsibility"—meaning, according to Weber, that the hospital's total charges had exceeded the insurers' "agreed upon rate for childbirth with Hudson Hospital."
Eventually, Hudson Hospital reduced the price of Kerrschneider's nitrous oxide to a one-hour rate of $496.
The takeaway, Weber reports, is that "[p]rices, and billing methods, for childbirth can vary widely among hospitals," making it especially important for patients to "ask for an all-inclusive estimate and a pricing breakdown" before deciding where to give birth (Weber, Kaiser Health News, 5/29).
Take a closer look at women's pregnancy care preferences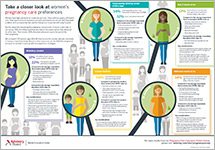 Explore the care preferences of five key pregnancy personas to consider in your growth and experience strategies.